---
Ousted Ukrainian Official Breaks Silence
Update: The original foreign media sources on this report have updated their reporting to no longer say the former ombudswoman "exaggerated" claims of mass rapes by Russian forces in order to garner more aid and arms. As such, we are updating our reporting as well.
Denisova said: "When, for example, I spoke in the Italian parliament at the Committee on International Affairs, I heard and saw such fatigue from Ukraine, you know? I talked about terrible things in order to somehow push them to make the decisions that Ukraine and the Ukrainian people need."
As for the claim that she was fired for lying about mass rape, Radio Svoboda - run by the US State Department, cites MP Pavlo Frolov, who lists three reasons for Denisova's dismissal:
According to him, among the reasons why they no longer want to see Lyudmila Denisova as an ombudsman are:

her failure to exercise her rights in human rights activities during the war ("she did not organize humanitarian corridors and exchange of prisoners");
"Unclear concentration of media work on numerous details of" sexual crimes committed in an unnatural manner "and" rape of children "in the occupied territories, which could not be confirmed by evidence";
stay abroad for a long time after February 24 "in warm calm western Europe".

It became known on May 30 that the Rada had started collecting signatures of no confidence in Ombudsman Denisova. She herself believes that her dismissal was initiated by the President's Office, but Bankova rejected the accusations.
We note that Politico's Christopher Miller cites "MPs" who "claimed her work focusing on the rape of Ukrainians by Russian troops which "couldn't be confirmed with evidence [...] only harmed Ukraine and distracted the global media from Ukraine's real needs."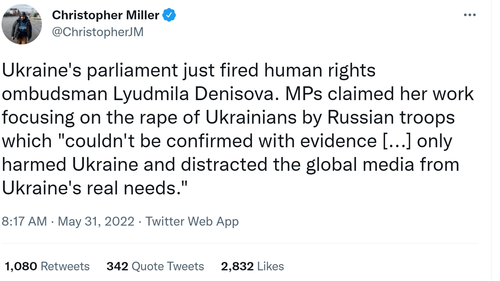 So - to clarify, Denisova promoted, but did not exaggerate, unconfirmed claims of mass rape, and MP Pavlo Frolov listed it as one of several reasons for her ouster.
Fact checking website Myth Detector corroborates the Radio Svoboda report:
Frolov names several reasons, stressing that Denisova did not use her authority to provide humanitarian corridors and exchange prisoners or to protect them, and did not do enough to prevent Ukrainian citizens, including children, from being deported from the occupied territories to Russia. Frolov noted that Ombudsman's responsibilities had to be fulfilled by the Minister of Reintegration of the temporarily occupied territories, Iryna Vereshchuk. Another reason for Denisova's dismissal, Frolov said, was that she had spent a lot of time abroad after Russia's full-scale military aggression on February 24th.

...

Another reason given by Frolov, which is highlighted in Russian-language posts, is that Denisova failed to gather enough evidence, and in this context, particularly on the issue of degenerate sexual violence in the occupied territories, which diverted attention from other issues. However, the post does not say that such facts did not happen and therefore, the assertion that the Rada officially acknowledged that Denisova was lying and that similar facts did not take place in Ukraine is false.
*  *  *
Authored by Paul Joseph Watson via Summit News,
The top Ukrainian official who was fired for spreading misinformation has admitted that she lied about Russians committing mass rape in order to convince western countries to send more weapons to Ukraine.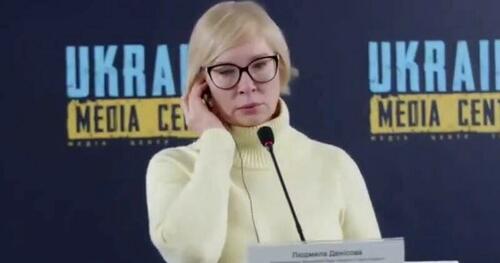 Lyudmila Denisova, the former Ukrainian Parliamentary Commissioner for Human Rights, was removed from her position following a vote of no confidence in the Ukrainian parliament which passed by a margin of 234-to-9.
Parliament member Pavlo Frolov specifically accused Denisova of pushing misinformation that "only harmed Ukraine" in relation to "the numerous details of 'unnatural sexual offenses' and child sexual abuses in the occupied territories, which were unsupported by evidence."
In an interview published by a Ukrainian news outlet, Denisova admitted that her falsehoods had achieved their intended goal.
"When, for example, I spoke in the Italian parliament at the Committee on International Affairs, I heard and saw such fatigue from Ukraine, you know? I talked about terrible things in order to somehow push them to make the decisions that Ukraine and the Ukrainian people need," she said.
Denisova noted that Italy's Five Star Movement was originally "against the provision of weapons to us, but after [her] speech, one of the party leaders… said that they will support [us], including by the provision of weapons."
Despite the fact that her claims about mass rape were false, they were repeatedly amplified by legacy media outlets like CNN and the Washington Post.
"The media was quick to put this woman's BS claims out but couldn't care less about correcting the record," writes Chris Menahan.
Indeed, there have been innumerable outright hoaxes and falsehoods throughout the war where so-called 'fact checkers' have been noticeable by their absence.
These include radiation leaks at besieged nuclear plants which turned out not to have occurred, the media's complete misinformation about what happened on Snake Island, the 'Ghost of Kiev Hoax, as well as the 'attack' on a Holocaust memorial that never happened.
*  * *
Brand new merch now available! Get it at https://www.pjwshop.com/
In the age of mass Silicon Valley censorship It is crucial that we stay in touch. I need you to sign up for my free newsletter here. Support my sponsor – Turbo Force – a supercharged boost of clean energy without the comedown. Get early access, exclusive content and behinds the scenes stuff by following me on Locals.
Loading...