Now five days into widespread protests in some one hundred Iranian cities after a dramatic gas price hike last Friday, Amnesty International reports that at least 106 have been killed. 
However, "The organisation believes that the real death toll may be much higher, with some reports suggesting as many as 200 have been killed," Amnesty said in a statement.
This as the government has cut off internet access across much of the country, resulting in few videos of clashes with police reaching the West, as in the early couple of days of the unrest.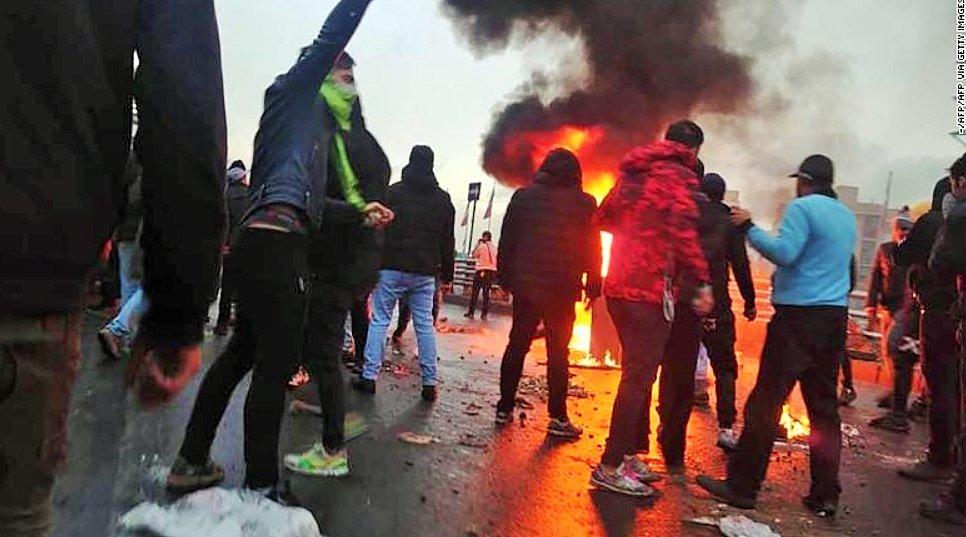 A statement from the global outage monitor Oracle's Internet Intelligence called it the largest blockage ever observed in Iran:
Protesters took to the streets shortly after the government announced an increase in fuel prices by as much as 300%. Social media images showed banks, petrol stations and government buildings set ablaze by rioters. Some protesters chanted "down with Khamenei," according to videos, referring to the country's Supreme Leader Ayatollah Ali Khamenei.

The internet blackout started on Saturday evening and continued through Monday, according to internet watchdogs. Oracle's Internet Intelligence called it the "largest internet shutdown ever observed in Iran."
The United Nations is now urging Iran to lift the internet blockage and to show restraint after what the international body called the "clearly very serious" extent of casualties.
The UN high commissioner also acknowledged it is looking into reports of live ammunition being used on demonstrators, which activists say there's ample video evidence for. 
The government-imposed internet block began on Saturday, leaving some 80 million citizens without online access. 
Update: 65 hours after #Iran implemented a near-total internet shutdown, some of the last remaining networks are now being cut and connectivity to the outside world has fallen further to 4% of normal levels 📉 #Internet4Iran #IranProtests

📰https://t.co/1Al0DT8an1 pic.twitter.com/uLWx3i0uBO

— NetBlocks.org (@netblocks) November 19, 2019
"We are especially alarmed that the use of live ammunition has allegedly caused a significant number of deaths across the country," UN spokesman Rupert Colville said.
With the information blackout he described it as "extremely difficult" to get an accurate overall death toll.
Gunfire has been observed in some of the recent unverified videos to have made it out of Iran:
Breaking: Amnesty International says at least 106 people have been killed in 21 cities across Iran. #IranProtests pic.twitter.com/ia4IPiytED

— Rana Rahimpour (@ranarahimpour) November 19, 2019
Official Iranian state figures put the death toll at 12, which included numbers of total protest and police deaths.
According to Tehran security officials, over 600 have also been arrested. 
Direct shooting of security forces at protesters in Marivan - Iran #IranProtests #Internet4Iran #SosIran pic.twitter.com/tpWi8i1m0U

— پسرخاله (@Pesarkhal) November 19, 2019
Days ago the US State Department predictably came out in favor of more protests, in a volatile situation in the sanctions-ravaged country which has already witnessed banks and gas stations torched in anger over soaring gas prices after the country's leadership slashed petrol subsidies. 
"The proud Iranian people are not staying silent about the government's abuses," Pompeo said in a statement published Sunday, saying that "the United States is with you," and will stand against Iran's "tyranny."
The statement said further, "We condemn the lethal force and severe communications restrictions used against demonstrators" and described the unrest as a "Cautionary tale of what happens when a ruling class abandons its people and embarks on a crusade for personal power and riches."
The Iranian people will enjoy a better future when their government begins to respect basic human rights, abandons its revolutionary posture and its destabilizing activities in the region, and simply behaves like a normal nation. The choice is with the regime. #IranProtests pic.twitter.com/OO6Z7ubJB3

— Secretary Pompeo (@SecPompeo) November 19, 2019
However, Iranian Foreign Minister Javad Zarif hit back, calling such solidarity hypocrisy, given it's Washington's crushing sanctions that are making life miserable for the common populace. 
"The regime that imposes coercive economic actions and bars delivery of food and drugs to the elderly and patients, can never claim that it's supporting the Iranian nation," Zarif said of the United States on Tuesday, as cited in Iran's semi-official IRNA news agency.