---
Over 120 Killed After ISIS Mass Prison Break In US-Occupied Northeast Syria
Authored by Dave DeCamp via AntiWar.com,
At least 120 people have been killed in clashes between ISIS and the US-backed Kurdish SDF in northeast Syria, Al Jazeera reported Sunday.
The clashes are still ongoing and were touched off Thursday night by an ISIS attack on a prison in Hasakeh, Syria. The SDF initially said they thwarted the prison break but later said some inmates took over parts of the prison.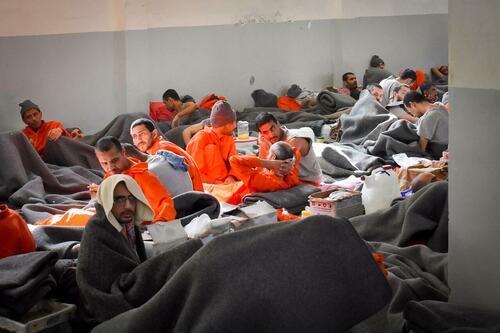 On Saturday, with US support, the SDF brought more fighters into Hasakeh to retake parts of the prison. Parts of Hasakeh are controlled by the Syrian government, and the governor of Hasakeh said about 4,000 civilians fled to those areas as the fighting escalated.
The SDF said Sunday that it recaptured about 104 prisoners, but it's not clear how many escaped. According to the UK-based Syrian Observatory for Human Rights, at least 77 ISIS fighters, 39 Kurdish fighters, and seven civilians have been killed in the clashes.
Though ISIS has long been in retreat, it reportedly still has "sleeper cells" across eastern Syria and western Iraq: 
The SDF's top military commander, Mazloum Abadi, said on Friday ISIL had mobilized "most of its sleeper cells" to organize the prison break.

The US Pentagon confirmed the coalition against ISIL carried out air attacks in support of the SDF as it sought to end the prison break.
The ISIS prison break in Syria is turning into an insurgency. They appear to control a portion of the prison and nearby streets. SDF is battling to take back control. Civilians are fleeing. This is how it started in 2013-14 pic.twitter.com/B1ypPf7keK

— Liz Sly (@LizSly) January 22, 2022
The US has been giving the SDF air support in its fight against ISIS in Hasakeh. The clashes come amid intense scrutiny over the enormous number of civilian casualties during the US air war against ISIS in Iraq in Syria.