---
Pence's Inaugural Foreign Policy Of Campaign: 'F-16s For Ukraine Now'
"President Joe Biden has been slow in providing military resources to Ukraine," former Vice President Mike Pence complained during a CNN town hall Wednesday. He launched his campaign for the 2024 Republican nomination this week.
"We are [still] waiting on F-16s to be transferred from somewhere," he said, arguing there should essentially be no limit to what Kiev receives from the United States.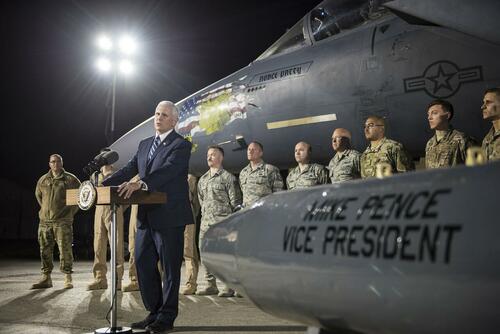 "I believe the United States of America needs to continue to provide the courageous soldiers in Ukraine with the resources they need to repel … the Russian invasion and restore their territorial integrity," Pence declared just on the heels of his official campaign announcement.
After a-year-and-a-half of wave after wave of anti-Russia sanctions, along with tens of billions pledged and spent for Ukraine, Pence still thinks the real problem is that Biden is not doing "enough". 
So it seems the Neocon foreign policy wing of the GOP will be well-represented in the upcoming 2024 debates, given also presidential hopeful Nikki Haley has been loudly denouncing the positions of Trump and DeSantis on Ukraine...
Haley, the only woman in the race for the Republican nomination, lambasted DeSantis for saying this year that Ukraine was a "territorial dispute", a comment that drew widespread criticism and that he has since walked back. "For them to sit there and say that this is a territorial dispute – that's just not the case, or to say that we should stay neutral," Haley told voters in the early nominating state of Iowa during a televised CNN town hall event.
She said: "It's in the best interest of our national security for Ukraine to win."
Democrats have tended to use the old Russiagate playbook and smear any Republican presenting a more dovish position as 'pro-Kremlin'. Certainly they've continued this rhetoric with Trump and are doing so with DeSantis as well.
Looking ahead, Trump in particular will have an easy time of pouncing on Pence and Haley during the primary related to their foreign policy stances. Prior to becoming president, Trump had been the first GOP nominee in history to condemn (and utterly mock) Bush's decision to invade Iraq. This non-interventionist stance proved popular among Republican voters, especially on the younger end of the spectrum. 
Loading...