---
Pentagon Alleges Russia Supplying Fuel For Chinese Nuclear Warheads
The Pentagon has voiced concern over "troubling" reports of increasing cooperation between Russia and China on Beijing's efforts to build new nuclear warheads. On Wednesday and Thursday the US Department of Defense (DOD) circulated the claims to the point of making an official accusation.
"It's very troubling to see Russia and China cooperating on this," John F. Plumb, assistant defense secretary for space policy, said before a Wednesday House Armed Services' strategic forces subcommittee hearing. "They may have talking points around it, but there's no getting around the fact that breeder reactors are plutonium, and plutonium is for weapons. So I think the [Defense] Department is concerned. And of course, it matches our concerns about China's increased expansion of its nuclear forces as well, because you need more plutonium for more weapons," Plumb added. However, as of Thursday the DOD still seemed confused as to precisely what's being alleged here...
CORRECTION: Russia Reportedly Supplying Enriched Uranium to China

— Department of Defense 🇺🇸 (@DeptofDefense) March 9, 2023
During the testimony Plumb referenced China diversifying its high tech weapons arsenal with help from Moscow, including high-altitude surveillance balloons and even nuclear-tipped hypersonic missiles.
Speaking on his area of expertise, Plumb said, "China is engaged in a significant and fast-paced expansion and diversification of its nuclear forces. Also, Russia and China view space as a warfighting domain."
Congress members called for the administration to disrupt the weapons technology sharing relationship between China and Russia: 
Subcommittee Chairman Rep. Doug Lamborn said he hoped the Biden administration would take steps to halt the Rosatom uranium transfers.

"I'm hopeful that we will see a comprehensive strategy from the administration to break this relationship — and ideally shatter Rosatom," the Colorado Republican said.
The accusations come dangerously at a moment the New START arms treaty has practically collapsed, after Moscow pulled out last month, with Putin declaring his country is suspending participation. 
On the issue of the defunct nuclear treaty, Subcommittee Chairman Rep. Doug Lamborn of Colorado said, "It is curious that we provide Russia with this benefit under the treaty when Russia is no longer reciprocating" - in reference to the exchange of treaty-required nuclear information.
Increasingly Washington hawks are viewing the Russian and China 'threats' as intertwined. Just at a point the Ukraine war recently hit the one-year mark, the US administration really dialed up the pressure on Beijing, also in the context of the 'spy balloon' incidents.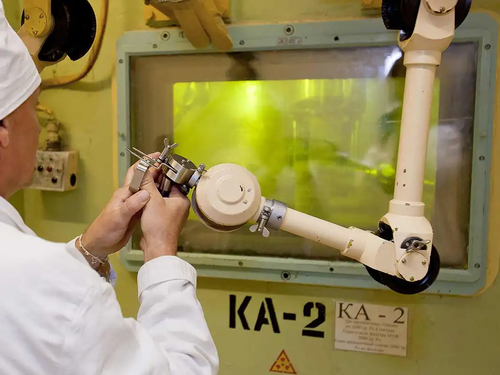 The China-Russia relationship has also been under the microscope given US intelligence allegations Beijing leadership is mulling transferring weapons to Russia. Last Sunday, for example, Rep. Mike Turner (R-Ohio) told NBC's Meet the Press that if this happened, there would be an "inexhaustible source of weapons" for Russia to use in its ongoing offensive against Ukraine.
"The problem with China entering this is because you've got the West giving weapons to Ukraine," Turner said. "You've got Russia depleting their stores. We obviously — the West together have an ability to impact Ukraine greater than Russia alone does."
All of this adds color to these current alarmist "reports say" accusations and headlines over plutonium and uranium being transferred to China. It's all geared toward piling the pressure on Beijing over its 'no limits' partnership with Russia.
Loading...