---
Pentagon Says 11 More US Troops In Syria Diagnosed With Traumatic Brain Injuries
The spokesperson for the US Central Command (CENTCOM) Colonel Joe Buccino disclosed on Thursday that 11 more US troops based in Syria have been diagnosed with traumatic brain injury after a series of retaliatory strikes against illegal US bases in March.
According to CNN, Buccino affirmed that the US military's medical teams are continuing to evaluate and assess their troops for indications of permanent and traumatic brain injuries.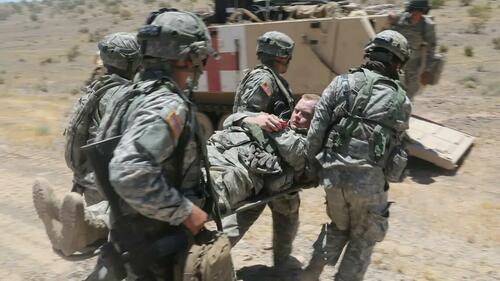 The US personnel wounded in these attacks in Syria amount to 25 troops, including a US military contractor, who was killed at a facility in Syria's northeastern Hasakah province on March 23. Washington claims the perpetrators of the attack were affiliated with Iran's Islamic Revolutionary Guard Corps (IRGC).
On the same day of the attack on the US base, US troops carried out "precision airstrikes" in eastern Syria. The presence of the US occupation forces in Syria is deemed illegal under international law.
According to a March 30 CNN report, six US soldiers had also been diagnosed with traumatic brain injuries as a result of attacks from Iran-backed groups in Syria.
Similar brain injuries were sustained by over 100 US soldiers in 2020 after Iranian forces targeted the Ain al-Asad military base in Iraq, where US forces were stationed.
Iran attacked the US base in retaliation for the US assassination of IRGC General Qassem Soleimani and Iraqi resistance leader Abu Mahdi al-Muhandis in a drone strike at the Baghdad airport on January 3 that year.
When Washington's effort to topple the Syrian government through militias failed, US planners partnered with the Kurdish-led Syrian Democratic Forces (SDF) to fight ISIS and thereby occupy Syria's strategic oil and grain-producing northwest, which had been under ISIS control.
This has allowed US officials to limit Syrian efforts at rebuilding the country and has exacerbated US-imposed economic sanctions, which have further harmed Syria's economy and increased suffering among Syria's civilian population.
Loading...