---
Pentagon Seeking To Verify Russian Troop Reduction Near Ukraine
Russia has confirmed that some - though not all - of the military drills that have been ongoing for weeks near the Ukrainian border, which sparked the current crisis wherein Washington charged the Kremlin with planning an "imminent" military invasion, are winding down as tank units are returning to their permanent basis. NATO chief Jens Stoltenberg said in response this is grounds for "cautious optimism" as diplomacy continues.
"So far we have not seen any de-escalation on the ground, not any signs of reduced Russian military presence on the borders of Ukraine," the NATO Secretary-General said at a press conference in Brussels. "We will continue to monitor and follow closely what Russia is doing," he added.
The Pentagon has said it is reviewing and closely monitoring the situation, seeking confirmation of the Russian draw down claims. "We are aware of reports of Russian claims that they are withdrawing some forces away from the border with Ukraine. Our analysts are reviewing, but we have nothing further at this time," a US defense official told PBS' correspondent. This after Russia's defense ministry said hours prior that many tanks and heavy armaments have "already begun loading onto rail and road transport and will begin moving to their military garrisons today."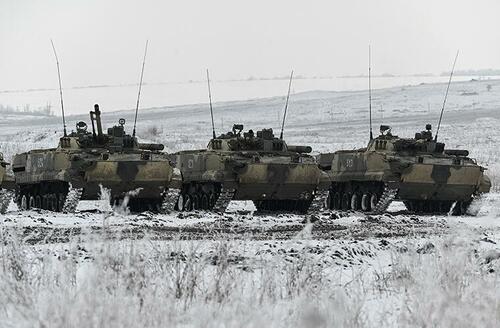 "We want to verify that that is in fact what's happening," said US ambassador to NATO Julianne Smith. "We'll know more, I hope, in the next day or two." She's in Brussels for a gathering of NATO defense ministers, where they will discuss plans for the possible creation of four multinational battlegroups in order to defend southeastern Europe.
"What's important is we try to verify - based on the fact we have seen other instances where Russia claimed to be deescalating, when facts on the ground proved that not to be true... Something we have to verify in the days ahead," Amb. Smith explained.
Prime Minister Boris Johnson also signaled optimism on Tuesday's news: "we are seeing a Russian openness to conversations," he said, but with the caveat that "the intelligence we are seeing today is still not encouraging" - in reference to some reports of a continued threatening Russian troop posture.
At the same time, the initial reaction out of Ukraine was we'll believe it when we see it...
On Russian statements regarding withdrawal of some forces from the Ukrainian border. We in Ukraine have a rule: we don't believe what we hear, we believe what we see. If a real withdrawal follows these statements, we will believe in the beginning of a real de-escalation.

— Dmytro Kuleba (@DmytroKuleba) February 15, 2022
The prior day, on Monday, Russia's foreign minister Sergey Lavrov had briefed Vladimir Putin in an open-door session filmed by Russian television crews that diplomatic avenues are "far from exhausted".
And continuing to suggest we're finally witnessing both sides walking back from the brink, Putin has said Tuesday that "Russia is ready to discuss confidence-building measures with the US and NATO," according to the AP.
Loading...