---
"A Vaccine Or Nothing" - Philippines Plans Russian Vaccine Trials To Begin In October
A couple of days after Philippines President Rodrigo Duterte volunteered to take a test dose of the Russia-approved vaccine (after President Vladimir Putin claimed one of his two adult daughters received a course of the vaccine during "the experiment"), the Philippines has officially agreed to run clinical trials of "Sputnik V", and if successful, it would be registered for use within the country by April 2021.
A spokesman for Duterte said on Thursday that trials would begin in October and, if they were successful, the "Sputnik V" vaccine would be registered for public use by April or May 2021, according to the FT.
This, even after Dr. Scott Gottlieb, the former head of the FDA who quit to "spend more time with family" just months before the outbreak began (thereby missing out on the star turn of a lifetime), said on CNBC that he "wouldn't take it", referring to the Russian vaccine, explaining that the "adenovirus vector" favored by the Ruskies is similar to CanSino's candidate, which, Gottlieb claimed, hasn't produced much promising data.
However, that technology is also being used by the University of Oxford/AstraZeneca partnership, which recently published some promising data that inspired a market rally. On the surface, this might seem to validate claims that "Russia-backed" hackers stole UK vaccine research.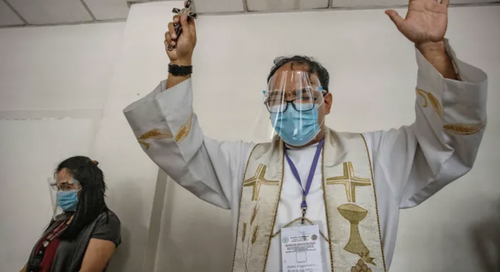 Though he will need to wait until the spring, according to his spokesman Harry Roque, Duterte will indeed be one of the first injected with the vaccine in the country: "It's not a metaphorical statement," said Mr Roque in an online briefing with journalists. "He is willing to undergo it."
Pundits told the FT that, as the country's outbreak roars back amid economic reopenings ordered by Duterte, which inspired him to revive restrictive lockdowns in the capital, Manila, it's clear his strategy is to bring a vaccine to market as quickly as possible.
"I think Duterte's strategy is a vaccine or nothing," said Richard Heydarian, a political analyst and author of a book on the leader. "This guy has gone from typical populist dismissiveness toward the crisis to becoming one of the world's biggest supporters of lockdowns."
To be sure, the advent of the vaccine in the Philippines will likely be met with a mix of skepticism and hope, since the country has a history of being burned by vaccines: As the FT points out, the country suspended Sanofi's Dengvaxia dengue vaccine in 2018 after Philippines officials connected it to a spate of illnesses and deaths, even as Sanofi has insisted that the vaccine is "safe".
Russian doctors and teachers start getting vaccinated, advanced trials are set to start Wednesday that will involve "several thousand people" and span several countries, including the UAE, Saudi Arabia and possibly Brazil.