---
Poland To Send MiG-29 Jets To Ukraine In Hopes Of Tilting US Debate
We detailed earlier how pressure is growing on the White House to send F-16 jets to Ukraine, particularly in the Senate where bipartisan lawmakers this week penned a letter to President Biden urging quick action as a "game changer on the battlefield" at a moment Ukrainian forces are nearly encircled in Bakhmut.
As far as NATO allies go, Poland has long been the country most loudly asking Washington to approve jets. Warsaw is now taking action, no doubt in hopes of tilting the momentum of the political debate in Washington toward supplying planes. President Andrzej Duda on Thursday announced his country plans to send around a dozen MiG-29 fighter jets.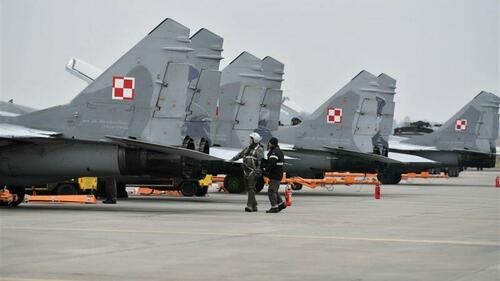 This will make Poland the first NATO country to fulfil Zelensky's requests for fighter jets since the war began. Given Ukraine already operates the Soviet-made planes, it's expected they'll be in use right away.
Duda specified that an initial four MiG-29s will be delivered "within the next few days" and that the rest would come after they go through servicing and maintenance. 
The Associated Press notes that the total to be transferred could be more than a dozen: "The Polish word he used to describe their number can mean between 11 and 19," according to the report.
"They are in the last years of their functioning but they are in good working condition," Duda explained. Warsaw has also said it's ready to be part of an international coalition supplying aircraft; however, the Biden administration has been a leading voice of reluctance on fears it would provoke direct escalation with Russia. NATO leaders have long stressed they need to make a common decision on jets.
An attempt by Poland in March of last year to send MiGs, on the condition that Washington would replace its fleet with more advanced US-made jets, fell apart after the Biden administration said it was premature, denying that such a plan was ever put in place.
But the all-important question looming in the background to all of this "debate" over jets for Ukraine is this: what happens when NATO-supplied aircraft begin shooting Russian fighters out of the sky? Some leaders in the West are already advocating and hoping for precisely this scenario...
Unsurprisingly, warmonger and Maidan coup leader Lindsey Graham recommends shooting down Russian jets in response to the lost US drone.

When WW3 starts, these guys will be hiding in a bunker while you'll be out there, paying the price for their stupidity.. pic.twitter.com/AsqvmaoWE6

— Gabe (@GabeZZOZZ) March 15, 2023
Loading...