---
Police Launch 'Partygate' Probe As No. 10 Insists Report On Illicit Gatherings Will Arrive In Days
Following the revelation of yet another 'illegal' party at 10 Downing Street (this time, a truncated lockdown-busting birthday celebration for the PM attended by his wife and interior decorator, along with the usual office staff), London's Metropolitan Police have decided to insert themselves into the biggest scandal to rock British politics in years.
According to the New York Times, Metropolitan Police Commissioner Cressida Dick confirmed on Tuesday that the police are investigating "a number of events that took place at Downing Street and Whitehall in the last two years in relation to potential breaches of COVID regulations" although she declined to give further details. In response to the news, PM Boris Johnson told reporters that no details from the police investigation will be included in the report produced by the Sue Gray investigation.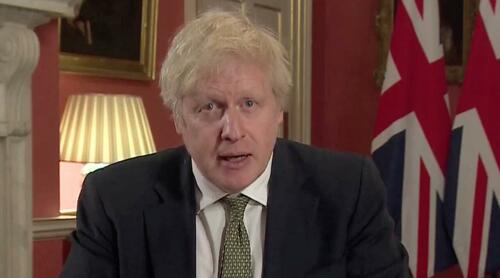 Other officials said earlier on Tuesday that they expect the results of the Gray investigation, which is being led by a longtime civil servant Sue Gray (deemed a figure of public trust), to be released during the coming days. BoJo has repeatedly exhorted his fellow MPs to withhold their judgment until the release of the Gray report, which many expect will be scathing, given Gray's reputation as somebody who doesn't really pull punches. A spokesman for the PM later said that at least some of the details from the report would be made available in the coming days.
Before the Metropolitan Police disclosed the existence of the investigation, some had speculated that the involvement of the police could delay the Gray report potentially by a week, or even weeks. This could create serious problems for BoJo in his quest to "Save Big Dog" by putting the issue behind him.
As the NYT explains, "[p]olice officers who guard the Downing Street complex are in a particularly good position to monitor the comings and goings of staff members." But the notion that the police involvement would truly spell trouble for the PM probably still seems remote to many.
At this point, an unknown number of Conservative lawmakers have submitted confidential letters demanding a vote of confidence in the prime minister. If the number of letters exceeds 54 - a fate that unfortunately befell Johnson's predecessor, the previous Conservative PM Theresa May - BoJo would face a potentially crippling vote of confidence.
We noted earlier that public anger surrounding what the Brits are calling "Partygate" (it has involved nearly a dozen parties) seems to have reached a fever pitch. BoJo's Wikipedia article has been repeatedly altered as a result to change his job title to "Chief Party Planner".
BoJo's new Wiki title pic.twitter.com/iZbuYeXwMo

— Newsquawk (@Newsquawk) January 24, 2022
That's bad news for a formerly PM, although it hasn't stopped him from finally rolling back the last of England's "Plan B" COVID restrictions.