---
Polish MP Proposes "Anti-Bug Law" To Require Labels On Insect-Containing Foods
A Polish deputy agriculture minister has proposed an "anti-bug law" which would require all food products containing insects to be labeled with a special warning.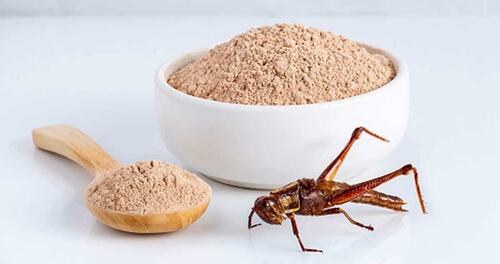 The move by the member of the ruling conservative party comes amid accusations that if progressive opposition parties win power during this year's elections, they will push an Orwellian 'eat the bugs' campaign to restrict the consumption of traditional meat. The opposition has not formally announced any such plans, according to Notes from Poland.
"Dried mealworm larvae, powdered cricket – these are among the insects that the eurocrats and Rafał Trzaskowski [the opposition mayor of Warsaw] call new food," said Janusz Kowalski, a deputy agriculture minister, while unveiling the plans in parliament on Thursday. "That is why we, United Poland [Solidarna Polska], have initiated the preparation of legal regulations, following the examples of Hungary and Italy, that will give Polish consumers clear knowledge about food products containing so-called bug additives," he continued.
"This is an anti-bug law."
Każdy produkt spożywczy z tzw. dodatkami robaczanymi, powinien być oznaczony. pic.twitter.com/ebO8koX7wf

— Solidarna Polska (@SolidarnaPL) April 6, 2023
Under the proposed law from the ruling Law and Justice party (PiS), products containing bugs would be required to include a label on their packaging stating "Warning, this food product contains insect protein."
"If Rafał Trzaskowski wants to eat mazurek [a traditional Polish Easter cake] make of dried insects, he has the right to do so," said Kowalski, referring to the opposition mayor. "We, as conservatives, as Poles, definitely prefer normal Polish food, Polish meat, Polish dairy products."
Polish farmers have backed a proposal for the EU to ban meat-like names - such as "burger" or "sausage" - for vegetarian products. They say it misleads consumers and threatens cultural heritage.

The European Parliament will vote on the amendment this week https://t.co/vwvrJzIxBJ

— Notes from Poland 🇵🇱 (@notesfrompoland) October 18, 2020
More via Notes from Poland;
In January this year, the European Commission approved products made from mealworm larvae and house crickets as safe for consumption. They were not the first insect products approved by Brussels, and the commission emphasised at the time that "nobody will be forced to eat insects".
Nevertheless, many conservatives in Poland and elsewhere in Europe saw it as part of a push to undermine traditional culinary cultures, especially meat consumption.
Soon after, further controversy was sparked in Poland when the Dziennik Gazeta Prawna newspaper wrote about a report from a group called C40 Cities that recommended cutting meat consumption as part of efforts to reduce emissions.
Warsaw is a member of the C40 group and its mayor, Trzaskowski, has attended and spoken at the organisation's events. Politicians and media linked with the ruling camp therefore conflated the EU and C40 stories to claim that the Polish opposition want to restrict or ban traditional meat and replace it with insects.
"The opposition want Poles to eat worms," headlined the main evening news on Polish state TV, a government mouthpiece.

The report showed no examples of the opposition wanting Poles to eat worms (because none exist) pic.twitter.com/2vwxOaPBgP

— Daniel Tilles (@danieltilles1) February 20, 2023
*  *  *
Trzaskowski responded to the accusations by making clear that he has no intention of restricting meat consumption in Warsaw, tweeting: "Please enjoy steaks to your heart's content."
Loading...