---
"Cash Delay" Deliveries Strike Polish ATMs As People Panic Hoard Amid Ukraine Crisis
Russian forces continue to invade Ukraine for the second day, causing mass panic in neighboring countries. Poland, which has a 326-mile border with Ukraine, is bracing for a wave of refugees. The spillover of chaos is also causing Polish people to panic hoard cash on Friday as bank ATMs run out of money, according to Bloomberg.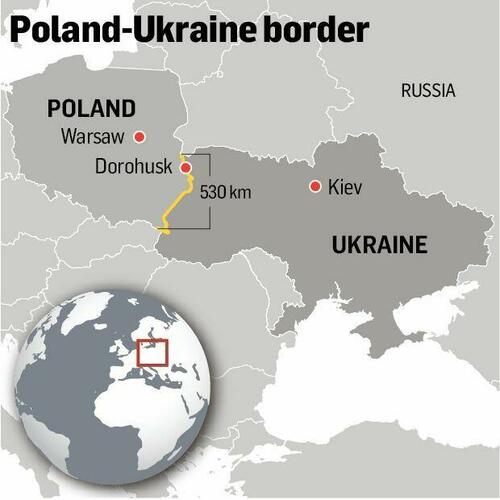 The National Bank of Poland (NBP) released a statement Friday indicating it had enough cash reserves though increased demand for cash contributed to some ATMs running out of money. 
Due to the increased demand for cash, Narodowy Bank Polski informs that it has sufficient reserves to fully cover the demand of bank customers for cash. All bank orders are carried out without value limits, in the full nominal structure, throughout the country.

Narodowy Bank Polski is in close cooperation with all entities servicing the cash market in Poland. Due to the increased scale of transactions, in some locations there may be delays in the delivery of cash to ATMs from the logistic centers of commercial banks and cash handling companies.
Poland's unit of ING Groep NV reports a massive increase in demand for cash after the invasion of Ukraine, according to Business Insider.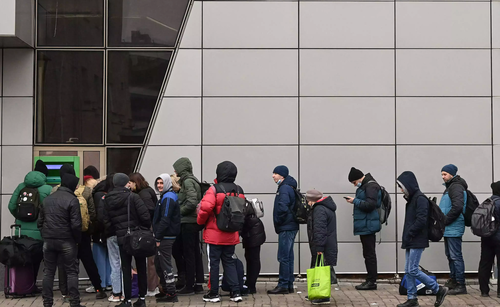 The bank's CEO Brunon Bartkiewicz said the cash crunch should dissipate in the coming days as Polish banks are stable and there's is no risk to people's savings.
Bloomberg points out, "another indication of tighter liquidity, the amount of surplus cash that Polish banks placed in 7-day bills at the central bank's weekly auction dropped to 187 billion zloty ($45 billion) on Friday, the smallest amount in 2022 and 22% below this year's average." 
Amid an emerging cash crunch, the country also expects a massive influx of refugees from Ukraine. Poland's Border Guard said 29,000 refugees were cleared to enter on Thursday as tens of thousands of more wait for entry. Brussels estimates that Ukrainian refugees could top one million as many will soon enter Poland, Slovakia, Hungary, and Romania.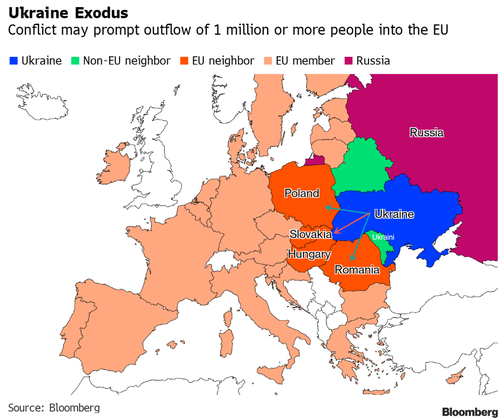 The nature of the evolving situation in Ukraine means spillover events are already emerging in neighboring countries as Europe braces for one of the most significant humanitarian crises not seen since World War II — with serious humanitarian, political and societal costs for the continent.