---
Polish PM: "We Want Permanent US Military Bases"
Authored by Grzegorz Adamczyk via Remix News,
During an interview with the CBS program "Face the Nation," Polish Prime Minister Mateusz Morawiecki said he hoped that U.S. President Joe Biden would confirm his determination to see Russia beaten in the war with Ukraine.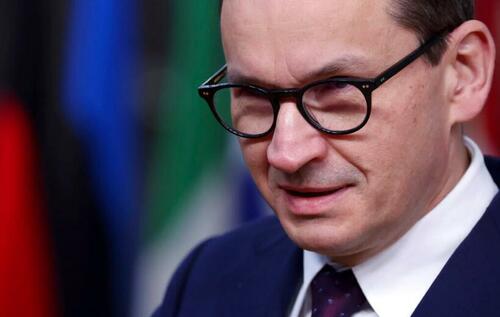 Morawiecki disagreed with those European leaders such as French President Emmanuel Macron and German Chancellor Olaf Scholz who are saying that Russia "cannot win this war and Ukraine cannot be defeated."
"We have to change that paradigm and we have to say, Ukraine must win and Russia must be defeated," said Morawiecki.

The reason for this is that "the very nature of Russia is to conquer other countries."
Asked whether Poland ruled out any negotiations while Putin stays in power, Morawiecki said that he had just returned from the Munich Security Conference and noted that the city was the site of another conference back in 1938 at which European leaders felt they had negotiated peace.
"This time around, there was no room for such naivety, and it was up to the Ukrainians to define what would be negotiated with Russia and when," said Morawiecki.
The Polish prime minister was also asked whether Poland was expecting any breakthrough in increasing the number of U.S. troops stationed in the country.
Morawiecki confirmed that Poland was in discussions with the Biden administration over making the U.S. presence in Poland "more permanent" and larger than the current 11,000 troops.
He recalled the words of the U.S. president in Warsaw last year when he said that every inch or square inch of NATO's territory will be defended.
But he warned that "if we fail to integrate Ukraine into NATO and the European Union, Ukraine will always be a buffer zone," which will mean it and the region are not secure. 
Asked whether Poland would supply fighter planes to Ukraine, Morawiecki said that a year ago, no one imagined that tanks and the Patriot systems would be made available to Ukraine.
However, he added that fighter jets could only be supplied "in combination with other NATO allies, and in particular, under the leadership of the United States."
Loading...