---
Pompeo To Host Warring Armenian, Azerbaijani Foreign Ministers In Washington Friday
According to new reporting in Politico, Secretary of State Mike Pompeo will for the first time host the foreign ministers of Azerbaijan and Armenia in Washington on Friday in the hopes of hammering out a ceasefire agreement that will hold, unlike the prior Saturday's effort, which lasted but a few hours before shelling resumed again.
The last two ceasefire attempts, the first of which was to allow the Red Cross to recover bodies from the Nagorno-Karabakh front lines, were brokered by Russia. Hundreds or possibly thousands have died in renewed fighting over the disputed ethnic autonomous territory, which Azerbaijan claims as its own, since September 27.
Politico says Friday's meeting will not involve the two delegations being in the same room, but Pompeo is scheduled to meet with them separately. There is the possibility that Pompeo could push for a direct meeting amid the course of talks, however.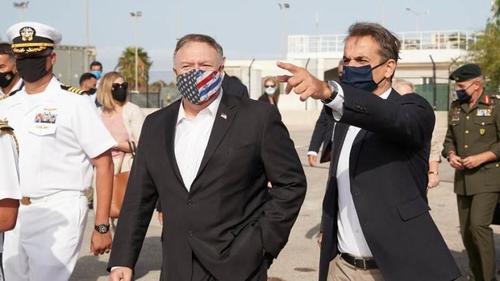 Azerbaijan's ambassador to the US, Elin Suleymanov, on Monday indicated his country is open to talks, saying "We want a substantive conversation."
Politico underscores further that "their same-day visits signal that the U.S. is deepening its efforts to tamp down the resurgent conflict" at a moment Turkey's military involvement on Baku's side is becoming increasingly evident. On widespread allegations of Turkey's quiet intervention, Pompeo late last week said Ankara is inflaming tensions and the dire situation in the region by arming the Azeris.
Azerbaijan Foreign Minister Jeyhun Bayramov is expected to meet with Pompeo first on Friday morning, with Armenian Foreign Minister Zohrab Mnatsakanyan to follow.
A week ago Pompeo had called for an urgent ceasefire, but stopped short offering assistance toward settling the crisis; however, that appears to have changed.
Pompeo with statements on Belarus political crisis and Armenia/Azerbaijan conflict in Nagorno-Karabakh today. No suggestion of a greater US diplomatic role in settling either crisis however. pic.twitter.com/nwD5gToAch

— Christopher Miller (@ChristopherJM) October 13, 2020
Interestingly, Iran has also offered to mediate the conflict, given Tehran has voiced fears it could spiral into a "regional war". Importantly, Iran's northern border runs along both countries and some Iranian towns are situated not far from the center of fighting. Some Iranian villages have even received errant mortar fire from the conflict, reportedly wounding some Iranian families.