---
Reports Claim No Deal Tonight As Brexit Deadlock Persists
Update (1330ET): As nighttime arrives in Brussels, reporters are claiming that No. 10 and European Commission President Ursula von der Leyen have canceled plans for separate statements later this evening. The two sides had reportedly hoped to announce a deal, but once, it remains elusive.
Though one reporter from Sky News said tonight seems like "an aspiration" for both sides, but that a deal isn't likely.
* * *
Update (1012ET): With all the confusion and conflicting headlines, chief UK negotiator Lord David Frost has apparently offered what sounds like a plausible summary for where things are at to Laura Kuenssberg of the BBC.
David Frost and EU's Steph Riso are still in negotiating room in Brussels - deal is NOT finalised - seems very likely it's heading that way tonight but not signed and sealed

— Laura Kuenssberg (@bbclaurak) December 23, 2020
Nor have all EU capitals seen all the legal text - it's clear this is on the final lap, but it's not done yet and there is still last min haggling going on this afternoon

— Laura Kuenssberg (@bbclaurak) December 23, 2020
So something approximating a final deal is still being circulated among the EU27 to make sure everybody approves, or at least that's what Lord Frost would like us to think.
But even that "final" bill isn't actually the "final" agreement: "It's clear this is on the final lap, but it's not done yet and there is still last min haggling going on this afternoon."
In addition to the "bizarre" disagreement on EV batteries which was initially reported by the Sun tabloid, the London Times reported Wednesday that Angela Merkel, Macron and other EU leaders have seized the reins of Brexit trade and fishing talks as the entire deal hinges on fish stocks worth less than £60 million.
Meanwhile, Ursula von der Leyen, president of the European Commission, has taken over the negotiations from Michel Barnier, the EU's chief negotiator, with rumors that she has expressed openness to an offer from Johnson, who agreed to lay out a new compromise proposal allowing the EU to keep 65% of the value of fish caught in British waters after a five-year transition period.
Ehile some progress has been made (suggesting more progress is possible) a deal is far from finished. But as it stands, it looks like BoJo and von der Leyen have taken over.
* * *
Update (1010ET): So much for that.
However other senior No 10 sources far more cautious: 'We're still talking'.

— Joe Pike (@joepike) December 23, 2020
Now back to "we're still moving toward a deal"...
December 23, 2020
Sting would love this...
* * *
Update (1000ET): So much for White Smoke: a No. 10 insider is reportedly telling a reporter from Sky News (not exactly an unreliable tabloid) that a deal is "done"...
Joe Pike @joepike · 2m BREAKING: No 10 source: 'The deal is done'.
Now we wait to hear any confirmation that may or may not be forthcoming.
* * *
Update (0930ET): Quote-unquote "senior EU diplomats" are now telling reporters that a deal could be sealed as early as Wednesday, which would allow everybody to go home and at least try to enjoy Christmas Eve (we hear Netflix has a solid slate of new holiday-themed movies this year).
* * *
The British and their former European partners have been arguing about "the fish" like an Italian family on Christmas Eve for nine months now. But now that people on both sides are insisting that the other major obstacles to a trade deal have been resolved, it appears an agreement over access for European fishermen (and women) is in the offing.
EU PREPS PROCEDURE OF PROVISIONAL APPLICATION FOR UK DEAL: RTRS
As one might expect, the pound is rallying, even though this wouldn't be the first time that headline-driven Brexit hopes have been dashed on the unforgiving rocks of reality. But with just days left before the UK is finally cut off from the EU customs union and single market (the country formally departed the EU a year ago, and the two sides have been operating according to the terms of a withdrawal treaty approved by both sides last year (but not before Boris Johnson supplanted Theresa May as PM and successfully gambled on an parliamentary election that delivered an outright majority for the Tories, considerably strengthening BoJo's hand).
But in recent days, fears of a super-infectious strain of SARS-CoV-2 have prompted more than 30 countries (including most of Britain's neighbors on the Continent) to freeze travel and trade links with Britain, giving BoJo a brief but painful preview of what might lie in wait for the British people.
Over the past hour, however, GBP has climbed on news from the EU side that an agreement has been reached and that European bureaucrats are putting together the final proposal so the European Council and others can sign off on the new trade deal.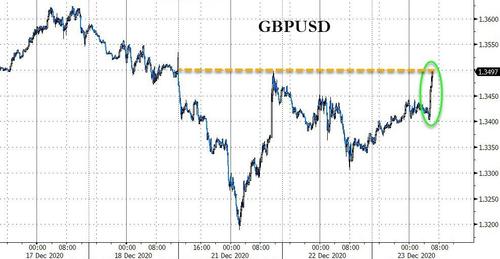 On Wednesday morning, Michel Barnier, the EUs chief negotiator, told a meeting of ambassadors from the EU27 member states Tuesday that there has been progress and that a deal could be signed before Christmas that is, assuming the British are ready to compromise fonn fishing,.
Prime Minister Boris Johnson and European Commission President Ursula von der Leyen intervened personally Monday and Tuesday, holding several phone conversations to try and keep talks going. Talks resumed early Wednesday in the Commission's Berlaymont headquarters in Brussels.
Other people close to the discussions are now playing down rumors that a trade deal is imminent after 9 months of extremely fraught negotiations.
According to Bloomberg, discussions are focused on two remaining disagreements, both involving fishing rights. They are: what access EU boats will have to British waters, and what rights the EU will have to impose retaliatory tariffs should the UK double-cross Brussels and raise tariffs in the future.
Finally, one anonymous source from the UK side said minutes ago that "there's no white smoke just yet but they turned up with matches today," while the Sun, a popular British tabloid, reports that a "bizarre" new disagreement over electric vehicle batteries has emerged as a last-minute issue, though EU diplomats claimed there's enough "flexibility" to ensure the issue won't be a deal-breakier.
While most Wall Street analysts believe a last-minute deal is inevitable, a team of analysts at Morgan Stanley warned clients in a recent note that the market is likely significantly under-pricing the risks of 'no deal', just like it under-priced risks of the original Brexit vote.
Analysts quoted by Bloomberg said if further "progress" is made, cable should revisit the December high at $1.3624, while EUR/GBP could reach £0.8929, the low from Dec. 1.