---
Prominent Hong Kong Activist Joshua Wong Arrested For Breaking 'National Security' Law
In the latest Hong Kong crackdown on a major dissident figure over actions dating back to the 2019 pro-democracy protests, Hong Kong student-protest leader Joshua Wong has been arrested again on Thursday in what he says is the third case against him related to his activism.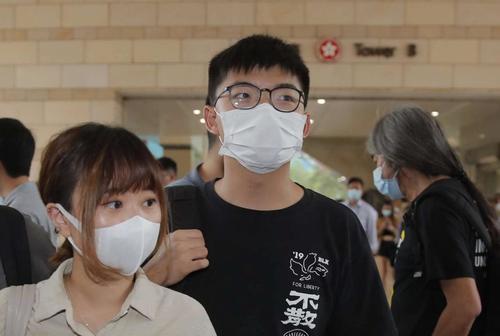 The Associated Press reports that Wong was arrested when he went to check in at Hong Kong's Central Police Station in keeping with his bail requirements.
Wong and his team broke the news in a tweet sent after he left the police station on bail once again. As the tweet states, the charges under the new national security law pertain to an Oct. 5 "unauthorized assembly." Wong is also accused of violating HK Chief Executive Carrie Lam's anti-mask order.
#BREAKING Joshua is arrested when reporting to Central Police Station at about 1pm today. The arrest is related to participating in an unauthorized assembly on 5Oct last year. He is told to have violated the draconian anti-mask law as well.

— Joshua Wong 黃之鋒 😷 (@joshuawongcf) September 24, 2020
Wong gained international notoriety for his work as a leader of the 2014 Umbrella Movement. However, he took a mostly low-key role in the leaderless pro-democracy demonstrations that carried on for the latter half of last year.
Wong rose to prominence as a student leader during the 2014 Umbrella Movement protests for universal suffrage, and is among a growing number of activists being charged for various relatively minor offenses since Beijing imposed a sweeping national security law on the territory that has severely restricted political speech.

He played a low-key role in mostly leaderless and sometimes violent anti-government protests last year that led to Beijing imposing the security law. However, with Beijing's encouragement, Hong Kong authorities have been pursuing charges against major opposition figures for illegal assembly and other minor infractions in what some call a campaign to harass and intimidate.
Wong's arrest follows the latest arrest of Hong Kong media mogul Jimmy Lai, whose company, Next Digital, runs one of HK's largest newspapers, which has taken a firmly independent, pro-democracy line.
Both Wong and Lai have vowed to resist the measures taken under the new national security law, which gives authorities broad latitude to punish anyone for pro-democracy speech, which Beijing views as "terroristic" and "seccessionist" rhetoric, encouraged by foreign agitators.