---
Pro-Navalny Protesters & Riot Police Clash Across Several Russian Cities
Jailed Kremlin critic and anti-Putin activist Alexei Navalny has been urging supporters to take to the streets since his homecoming a week ago. Immediately upon exiting his commercial flight from Germany he was taken into police custody and a hasty court proceeding sentenced him to 30 days in jail over a probation violation based on the terms of a 2014 conviction. 
On Saturday in various Russian cities, including in the Far East, hundreds and in some cases thousands took to the streets to demand his freedom.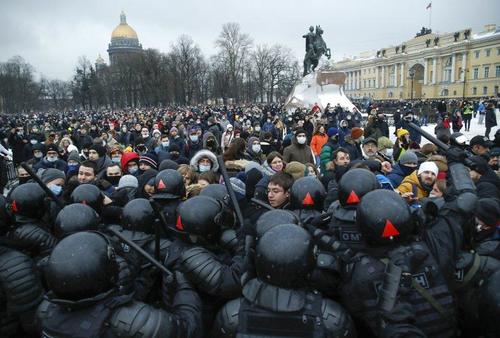 Russia's Interior Ministry said Saturday that 4,000 protesters were gathered in Moscow, which authorities have deemed 'unauthorized'.
At least 1,090 have been arrested at protests around Russia against @navalny's jailing pic.twitter.com/sRp2BtOl3v

— Alec Luhn (@ASLuhn) January 23, 2021
According to BBC and other international reports, "hundreds of people" have been detained, including Navalny's own wife wife Yulia. She's been by his side throughout Navalny's ordeal which began last August on a Siberian flight and ended in a hospital in Berlin.
Navalny and German investigators have claimed Russian intelligence poisoned him with a nerve agent just before he took the flight.
Yep not your same old Russian protests. The car belongs to the FSB & the driver has been hospitalized with an eye injury, state news says pic.twitter.com/X42qNy5L9E

— Alec Luhn (@ASLuhn) January 23, 2021
In various protest locations Saturday the demonstrators were met by police in riot gear. Western media is now spotlighting Navalny and the protests, despite that before the last few months he was relatively unknown among broad swathes of the Russian public.
Here's how CNN is describing events Saturday:
Hundreds of people have been arrested at the rallies across Russia that were held in defiance of the authorities and, in some cases, extremely low temperatures. According to OVD-Info, an independent site that monitors arrests, 1,338 people had been detained during the day.
Today's #protest in #StPetersburg, #Russia, where protesters blocked Nevsky Prospekt avenue:#RussiaProtestspic.twitter.com/3OVeNvEXZA

— Alex Kokcharov (@AlexKokcharov) January 23, 2021
And here's more via CNN based largely on 'opposition' sources:
The demonstrations kicked off in Russia's far east city of Vladivostok and spread to the west as the day progressed. Navalny's supporters said Friday they were planning protest across 90 cities and videos posted on social media showed crowds of people gathered in Vladivostok and a number of cities across Siberia and central Russia.
It remains unclear the extent to which this ambitious number of protests materialized.
However, at least one American state-run Radio Free Europe/Radio Liberty correspondent is calling it "possibly the biggest unsanctioned protest in Russia's history."
Serious clashes under way in Moscow but the protesters have come out in huge numbers.

Possibly the biggest unsanctioned protest in Russia's history. pic.twitter.com/DfbLlVGX2T

— Matthew Luxmoore (@mjluxmoore) January 23, 2021
In prior remarks last month Putin shrugged off Navalny as not important enough to warrant such drastic measures and targeting by Russian intelligence.
Indeed the dissident was largely unknown to much of the world and Western public before the alleged poisoning. A number of independent commentators have noted the potential for a manufactured 'color revolution' targeting Putin and the ruling government under the banner of the Navalny saga.