---
Prominent Russian Novelist Wounded In Car Bomb Assassination Attempt
One of Russia's best-known novelists has been targeted in an apparent attempted assassination near the city of Nizhny Novgorod on Saturday. RIA Novosti is reporting that a native of Ukraine is in custody related to the attack.
Zakhar Prilepin was wounded by a car bomb, which killed his driver. Immediately after the blast he was seriously injured but reportedly conscious, after which a suspect was quickly detained, according to Russia's Interior Ministry.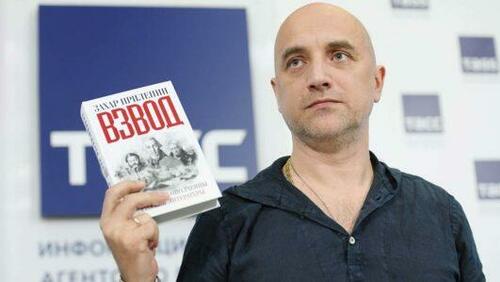 "The search for possible accomplices continues," the government statement said.  "Law enforcement officers are now investigating the circumstances and causes of the incident. Zakhar is OK," the regional governor said.
Prilepin is not only a contemporary literary giant in Russia, but he's considered to be very active in support of the Ukraine war, with the BBC and other Western sources describing him as a prominent commentator of ultranationalist politics. He's a former member of the State Duma and has been very active in conservative political movements within the country.
Further according to BBC, a pro-Ukraine opposition group has claimed responsibility for the attack:
The explosion reportedly took place on a remote road some 80km (50 miles) from the town of Bor. State media said the blogger suffered a concussion and fractured bones.

The partisan group Atesh, which is made up of Ukrainians and Crimean Tartars, claimed it was behind the attack.

"We had a feeling that sooner or later he would be blown up," they wrote on Telegram. "He was not driving alone, but with a surprise on the underside of the car."
The group said further it "had been hunting Prilepin since the start of this year."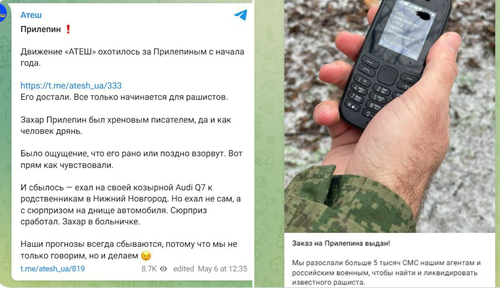 Below is a brief biographical snapshot of Prilepin and some of his novels via Russia's RT:
After the Western-backed coup in Kiev in 2014, Prilepin emerged as a staunch supporter of the Donetsk and Lugansk People's Republics, which broke free from Ukraine's rule and later joined Russia. In 2017, he formed his own volunteer battalion, taking the position of political officer. In late January, the writer's press service said that Prilepin had signed a contract with Russia's National Guard and set off for the conflict zone.

Prilepin has also authored several books, most notably 'The Pathologies', a novel about the Chechen War, as well as 'Some Will Not Go To Hell', describing the hostilities in Donbass.
State media sources have described the explosion as occurring on a highway, with the device having been previously planted underneath the car, and which could have been detonated by remote signal.
⚡️Another video from the place where Zakhar Prilepin's car was blown up pic.twitter.com/bEvZ7epSkv

— War Monitor (@WarMonitors) May 6, 2023
It marks the third in a string of assassination operations on Russian soil since the invasion of Ukraine began. In April pro-Kremlin military blogger Vladlen Tatarsky was killed when a bomb detonated inside a St. Petersburg event when he was leading a talk. Moscow has blamed Ukrainian intelligence, as well as pointed the finger to Kiev's Western backers for providing support for an emerging cross-border 'dirty war'.
In August the daughter of well-known Russian philosopher and political commentator Aleksandr Dugin was killed in a car bombing. Darya Dugina's death shocked Russia and grabbed global headlines, setting off speculation that Aleksandr Dugin himself was the likely target. Father and daughter reportedly may have switched cars at the last moment while traveling back from a Russian national festival event outside Moscow.
Loading...