---
Prigozhin 'Exiled' To Belarus In Exchange For Peace, Criminal Charges Dropped: What Was This All About?
Update(1735ET): This entirely bizarre slightly less than 24-hour short-lived coup attempt has just gotten even stranger, given the terms of the truce which evidently caused Evgeny Prigozhin to announce his Wagner fighter columns would turn around and go back to their bases.
The Wall Street Journal has confirmed based on Kremlin statements that "As part of the agreement, Prigozhin will leave Russia for Belarus, and criminal charges against him will be dropped, Putin's spokesman Dmitry Peskov said. His fighters will be allowed to sign contracts with the Russian military."
And Russia's RT provides some further details as follows based on Peskov's statement:
"He added that Wagner's fighters will not be persecuted, taking into account their efforts on the frontlines of the Ukraine conflict. Peskov explained that President Vladimir Putin's team "have always respected their exploits."

Those PMC contractors, who refused to take part in the mutiny – and whole units did not – will be allowed to sign contracts with the Russian Defense Ministry, Peskov stated.
Can this even be called "exile"?... given that Kremlin statements at this point aren't even so much as using the word which has a clear punitive implication. The irony remains that one can get a much harsher punishment for mere Cannabis vape pens in the country. In summary:
charges dropped against Prigozhin, who will leave Russia for Belarus
Wagner fighters who didn't take part in the uprising will sign contracts with the MOD
Wagner fighters who did take part not charged 
No word on potential MOD leadership changes
What's clear is that it does indeed look to be over, with no further immediate danger of civil conflict:
The Wagner troops are departing from Rostov, eliciting applause from the onlookers. pic.twitter.com/rdXPAKmRHl

— Russian Market (@runews) June 24, 2023
Sputnik is further confirming Wagner has handed HQ/bases in Rostov-on-Don back to the regular military:
📹 All PMC "Wagner" forces left the headquarters of the Southern Military District in Rostov-on-Don, a Sputnik correspondent reports pic.twitter.com/CtMZCBqtDa

— Sputnik (@SputnikInt) June 24, 2023
Despite the slap on the wrist (if even), the Kremlin is still talking "tough":
"The plotters' adventurist aspirations are essentially aimed at destabilizing the situation in Russia, destroying our unity and undermining Russia's efforts to reliably ensure international security," the Foreign Ministry said. "The mutiny plays into the hands of Russia's external enemies."

"The attempted armed mutiny in our country has aroused strong disapproval in Russian society, which firmly supports President Vladimir Putin," the Foreign Ministry said.
Regardless the speculation has begun, and is likely to continue for the coming days and weeks, over what precisely the world just witnessed here...
This is not a coup by Prigozhin. This is an inner war between the St Petersburg gang of Putin and the Moscow gang of Gerasimov and Shoigu. This is the beginning of Putin's election campaign to become reelected on March 17, 2024. His lapdog Prigozhin is masquerading a coup to put…

— Velina Tchakarova (@vtchakarova) June 24, 2023
One theory seems as good as any other at this point, again given the ultra-bizarre spectacle of the whole "march for justice" on Moscow... by convoys of heavily armed mercenaries.
I've gone on a coup by mistake! pic.twitter.com/YwwxJtayCy

— Paul (@LeoVLion) June 24, 2023
And then there was the heavy defense ministry pressure to essentially disband Wagner amid the long-running simmering tensions and war of words:
I think the catalyst for this was the move by the MoD to force all PMCs to sign contracts with them, which likely had Putin's support. There might be a short-term compromise or truce, but I don't think things can go back to normal after this. https://t.co/l64Xw5cC4Y

— Rob Lee (@RALee85) June 24, 2023
There's always the potential foreign 'hidden hand' theory behind any major insurrection like this, especially when it comes to a US-NATO enemy...
Does NATO have a deal with Wagner? Brokered by the CIA? pic.twitter.com/50ZvOT1Q5B

— @amuse (@amuse) June 24, 2023
Russian Arms Dealer Released by Biden Spotted With Wagner Group Boss https://t.co/GJLilzGlRm

— Merissa_Hansen🇺🇸🦅 (@merissahansen17) June 24, 2023
And finally, maybe Chechen leader Ramzan Kadyrov has it right: old fashioned greed and glory (which Machiavelli warned about all the way back in the 16th century). Here's Kadyrov on Prigozin's actions:
"I thought that some people can be trusted. That they sincerely love their Motherland as real patriots to the marrow of their bones. But it turned out that for the sake of personal ambitions, profit and because of arrogance, people can not give a damn about affection and love for the Fatherland."
Perhaps the truth will eventually emerge of the events over the last 24 hours, but what's clear is that Moscow wants to make this whole episode go away as rapidly as the crisis began, and is not even moving to arrest Prigozhin to make that happen. He will now just quietly "go away"... maybe a little vacation of sorts, into neighboring Belarus.
* * *
Update(1325ET): An emerging Russian state media headline: Prigozhin Agrees to Stop PMC Wagner March, Start De-Escalation After Lukashenko's Mediation...
Belarusian president held talks with Prigozhin today. Lukashenko says that Prigozhin has agreed to "stop the movement of armed persons on the territory of Russia and to take further steps to deescalate."
Prigozhin has reportedly accepted Lukashenka's proposal to stop the movement of PMC Wagner, according to Russian state media TASS. Reuters is also reporting the Kremlin-backed statements. Did we just witness a 22-hour coup? All over now?
Lavrov: Russia retains control over tactical nuclear weapons in Belarus — TASS
According to RT's reporting:
Belarusian President Alexander Lukashenko announced on Saturday that he had arranged a deal whereby Wagner Group leader Evgeny Prigozhin will abandon his mutiny in exchange for "security guarantees" for his fighters.

"Evgeny Prigozhin accepted the proposal of President Alexander Lukashenko to stop the movement of armed men of Wagner in Russia and take further steps to de-escalate tension," read a statement from Lukashenko's office.
🇷🇺💥 BELARUS PRESIDENT'S OFFICE SAYS RUSSIAN MERCENARY LEADER PRIGOZHIN HAS AGREED TO STOP MOVEMENT OF WAGNER FIGHTERS AROUND RUSSIA

BELARUS SAYS PRIGOZHIN HAS AGREED TO DE-ESCALATE THE SITUATION pic.twitter.com/2aOUIpGzg3

— PiQ (@PriapusIQ) June 24, 2023
Will Prigozhin be given safe harbor after the treason charge?
As for the Belarus-related ceasefire deal, there's been no initial confirmation from Wagner Telegram or media channels on a "done deal". There are conflicting reports that peace negotiations might be unsuccessful. 
But Reuters is reporting, Prigozhin in audio message: To avoid bloodshed we are returning our convoys to bases.
⚡️Zelenskiy, addressing Putin: "The longer your troops remain on Ukrainian land, the greater the devastation they will bring to russia"

— War Monitor (@WarMonitors) June 24, 2023
* * *
Update(1120ET): Wagner Group is making a move on the Russian capital, with multiple reports and videos now confirming Wagner convoys are headed toward Moscow, going north from Rostov region. At the same time, Chechen groups loyal to Putin are now sending their own armed convoys toward Rostov-on-Don, which has several key installations under the control of Yevgeny Prigozhin, accused of 'treason' by the Kremlin.
Reuters is reporting, "Mutinous Russian mercenary fighters barreled towards Moscow on Saturday after seizing a southern city overnight, with Russia's military firing on them from the air but seemingly incapable of slowing their lightning advance." Little to no significant resistance is being observed while Wagner convoys blow through makeshift roadblocks. Some observers say Wagner fighters have been spotted within a mere few hours outside the capital.
Another eyewitness video of a Wagner convoy reportedly breaking through then "truck obstacles" on the way to Moscow - the types of obstacles I posted above that are supposed to protect Moscow highways. https://t.co/MMdcEaNOQ7 pic.twitter.com/BaVpwxfg6U

— Samuel Bendett (@sambendett) June 24, 2023
"Reuters saw troop carriers and a flatbed truck carrying a tank careening past the city of Voronezh more than half way to Moscow, where a helicopter fired on them," the outlet noted. "But there were no reports of the rebels meeting any substantial resistance on the highway."
The Lipetsk governor has also confirmed armed Wagner forces are rapidly moving across the region, advancing in the direction of Moscow. While the Russian government erects barriers, it's unclear which military units have been mustered as Prigozhin threatens the capital.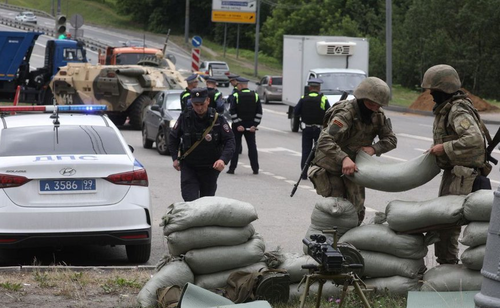 Along with roadblocks of construction trucks and 18-wheelers, there are reports suggesting roads are being destroyed to block the insurrectionists' progress:
Roads are being destroyed in the Lipetsk region in an attempt to stop Wagner forces driving to Moscow pic.twitter.com/Y0olMJA2Zn

— BNO News (@BNONews) June 24, 2023
Per regional reports:
NEXTA, an independent media outlet founded in Belarus that covers news in eastern Europe and Russia, reported that authorities were destroying the main roads in the Lipetsk region to keep Wagner Group tanks and vehicles from approaching Moscow. Other sources have published similar videos of excavators tearing up roadways.
Alternative methods to block the roads when trucks are not an obstacle for Wagner: simply dig them up

Video via SOTA pic.twitter.com/P4FN6XgqUf

— Anna Chernova (@Anna_Journal) June 24, 2023
Notes on recent updates, and a word of caution, over the last two hours via Mario Nawfal:
Worries of the Russian Nuclear Warheads moved to Belarus weeks ago 
Wagner forces continue their advance to Moscow with limited strikes by the Russian Air Force 
Reports of Putin and other officials leaving Moscow and heading to Saint Petersburg based on the movement of Military VIP aircrafts. TASS, which is Gov controlled media outlet, reported that Putin is heading to Saint Petersburg, but Putin's Press Secretary refuted those reports. It is very unusual and rare to see such a disconnect between TASS and the Kremlin.
MY THOUGHTS: 
This is a military coup, we can no longer dispute this, and things are moving VERY rapidly and are not looking good for Putin. 
We are seeing limited military clashes, showing likely defections among Russian forces 
Almost EVERYTHING right now can't be verified and should be taken with a grain of salt
Meanwhile, clashes could be imminent between Chechens loyal to Putin and Wagner mercenaries, which will be a nightmare scenario for surrounding civilians in the Rostov region...
⚡️Chechen troops in the suburbs of Rostov pic.twitter.com/VMiDCwjrhH

— War Monitor (@WarMonitors) June 24, 2023
Unverified reports that Wagner has begun arrests of Chechen and other military forces...
⚡️Ukrainian sources claim this video shows Wagner troops confronting Chechen troops in Rostov. Awaiting confirmation. pic.twitter.com/P1aD19sSgh

— War Monitor (@WarMonitors) June 24, 2023
The below map purports to show Wagner's progress north on Saturday: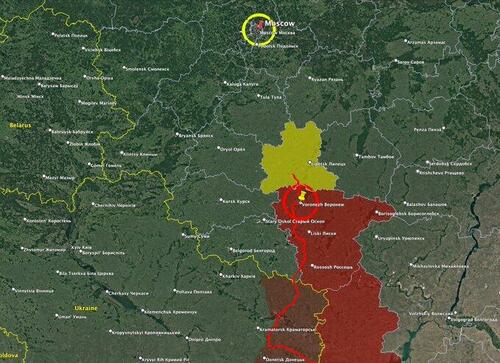 * * *
In his first speech addressing the crisis of Wagner's armed rebellion on Saturday morning, Russian President Vladimir Putin has vowed to crush what he called Yevgeny Prigozhin's "betrayal". Southern governors, for example Alexander Gusev who oversees the city of Voronezh, have since confirmed armed clashes between regular military forces and Wagner fighters within Russian territory. He described necessary "combat measures" as part of counter-terror operations in the southern region.
What was unclear by Friday night is now becoming very clear as of Saturday: all hell is breaking loose in this first significant moment in over two decades of Putin's iron grip on power being threatened by armed mutiny. "Any internal turmoil is a deadly threat to our statehood and to us as a nation. This is a blow to Russia and to our people," Putin said in the televised speech. "This battle, when the fate of our people is being decided, requires the unification of all forces."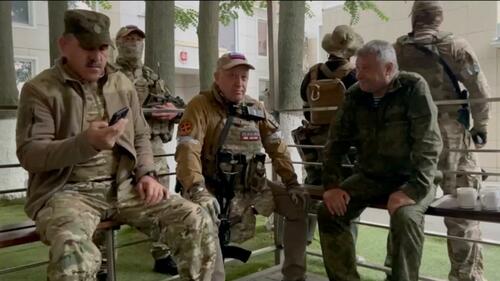 "What we have been faced with is exactly betrayal. Extravagant ambitions and personal interests led to treason," Putin said, referring to Prigozhin, head of the most powerful private military firm in Russia. "All those who consciously stood on the path of betrayal, who prepared an armed rebellion, stood on the path of blackmail and terrorist methods, will suffer inevitable punishment, before the law and before our people," Putin vowed.
He further in fiery language denounced the "stab in the back of our country and our people," after Prigozhin the day prior declared war against the defense ministry, urging all Russians to join his 25,000 fighters as they seek to "stop" and overthrow Defense Minister Sergei Shoigu and other top commanders.
In response to Putin's blistering speech, Prigozhin released a Telegram statement calling the president "deeply mistaken" regarding his assessment of betrayal of the motherland, refusing to surrender. The audio message released by his press service said as follows: 
"Regarding the 'betrayal of the motherland,' the president is deeply mistaken. We are patriots of our Motherland, we fought and are fighting, all the fighters of the PMC Wagner."

"And no one is going to turn themselves in at the request of the president, the FSB or anyone else," he added.
BREAKING: Putin addresses nation, responds to Wagner threats: "This is a criminal campaign. It is equivalent to armed mutiny. Russia will defend itself and repel this move. We are fighting for the life and security of our citizens."pic.twitter.com/GNzPsNWMWB

— Insider Paper (@TheInsiderPaper) June 24, 2023
This marks the first time he's directed criticism precisely in response to Putin, as before he appeared to carefully avoid direct references to the Russian leader in his denunciations of military planning and Kremlin decision-making.
Below summarizes fast-moving events of the last few hours:
Putin 5 min speech: accuses Prigozhin of betrayal, vows decisive action 
Wagner controls facilities in Rostov & Voronezh, M4 highway disrupted. Rebellion continues 
Chechen Kadyrov mobilizes to help Putin. Russia FM warns of 'civil strife'
The Wagner PMC Group has announced that they have Captured the Southern Military District Headquarters within the the City of Rostov-on-Don in the Rostov Region of Southwestern Russia. pic.twitter.com/730rL9uetq

— OSINTdefender (@sentdefender) June 24, 2023
Civilians have reportedly been ordered away from all military command centers in the now Wagner-held city center of Rostov-on-Don.
In Rostov (not sure what time) they ran from an explosion near the military district that Wagner took over. The interview following is in English. pic.twitter.com/PJfCq5qlYp

— 🌻 Fertilizer Finder 🌻 (@ManiacMagic1) June 24, 2023
The Wagner chief in his response harped on the familiar theme of the defense ministry's "corruption, deceit, and bureaucracy" and emphasized that his own fighters are patriotic and doing their duty.
"When we were told that we were at war with Ukraine, we went and fought. But it turned out that ammunition, weapons, all the money that was allocated is also being stolen, and the bureaucrats are sitting [idly], saving it for themselves, just for the occasion that happened today, when someone [is] marching to Moscow," he said.
It is the second time since Russian authorities (the FSB) declared Prigozhin was engaging in 'armed munity' that the Wagner chief declared a "march of justice" on Moscow. As for the capital (and other major cities), the military and security services have been ordered by the Kremlin to secure the streets and beef up their presence.
⚡️Wagner troops sitting at a restaurant in the centre of Rostov after they occupied the city.

June 24, 2023. pic.twitter.com/tJUS9Ui2sU

— War Monitor (@WarMonitors) June 24, 2023
Crucially, Wagner has declared control of the military command center and bases in the southern city of Rostov-on-Don, a claim which some emerging videos appear to give some degree of authentication to...
"Wagner chief Yevgeny Prigozhin, once a close Putin ally, said his troops had taken control of the military command centre and bases in the southern city of Rostov-on-Don, the nerve centre of Russia's offensive in Ukraine, and vowed to topple Moscow's top military leaders," AFP is noting.
The fight is on, and could spread further north, engaging political centers of the country:
Further north, on Wagner's possible route towards Moscow, the governor of Russia's Voronezh region said the armed forces had launched a "counter-terrorist operation" to suppress the revolt. A fuel depot on Voronezh city was on fire, he said.

The FSB security service accused Prigozhin of attempting to launch a "civil conflict" and urged Wagner fighters to detain him.
Russian police have moved against Wagner's headquarters in St. Petersburg, where things have been largely without incident thus far:
BREAKING: Russian police have surrounded the Wagner centre in St Petersburg.

It comes as Wagner fighters have taken control of Rostov, home to Russian military headquarters that oversees the fighting in Ukraine.

Latest: https://t.co/X3flQUBL0r

📺 Sky 501 and YouTube pic.twitter.com/AOi4c2KXo5

— Sky News (@SkyNews) June 24, 2023
Active fighting, even including with air power, has erupted as Wagner convoys seek to make their way north, deeper into Russia...
⚡️Russian airforce targeting a convoy of Wagner equipment on the M-4 highway in Voronezh region this morning pic.twitter.com/4tpgVqjYmx

— War Monitor (@WarMonitors) June 24, 2023
Meanwhile, this will without doubt be a huge blow to the morale of both Russian troops and Wagner fighters alike along the frontlines inside Ukraine. It's as yet unclear the degree to which Wagner has withdrawn from the Eastern Ukraine theatre, though it's now been confirmed that Wagner forces had marched into Rostov overnight.
Kiev will smell a grand 'opportunity'. It along with its Western backers are closely monitoring, with Ukraine officials saying this "rebellion" is a "sign of the collapse of the Putin regime."
"The internal Russian confrontation between the leader of the so-called Wagner PMC Prigozhin and the military and political leadership of the aggressor state is a sign of the collapse of the Putin regime," a statement by the Defense Intelligence of Ukraine said.
"First of all, we must understand that this is an internal Russian conflict and confrontation which are a direct consequence of the Putin regime's criminal military aggression against Ukraine," the statement cited in CNN added.
⚡️#UPDATE Incredible video showing flares from a Ka-52 helicopter deflect a Wagner anti aircraft missile https://t.co/0UsXXuDQSl pic.twitter.com/9uPpEHbnZf

— War Monitor (@WarMonitors) June 24, 2023
It must be remembered that these shocking events which threaten to unleash chaos within Russia come at a moment that by many accounts Ukraine's counteroffensive appeared to be failing. President Zelensky himself at the start of the week had conceded a "slower than desired" start to the offensive. But now this could breath new life into it amid reports Ukraine is taking the opportunity to assault front lines. 
Mykhailo Podolyak, an adviser to President Zelensky, told a Saturday press conference: "The launch of the Ukrainian counteroffensive has finally destabilized the Russian elites, exacerbating the internal split that emerged after the defeat in Ukraine." Time will tell if Russian commanders can keep their frontlines unified even as things crumble with the Wagner situation.
* * *
Below are key excerpts from Putin's Saturday speech vowing to crush the Wagner rebellion, as translated and compiled by state-run RT:
Importance of unity
President Putin argued that "Russia is today waging a grueling fight for its future," facing off with the "neo-Nazis and their masters." He went on to stress that "essentially the entire might of the West's military, economic and information machine" is being directed against the country.
"This battle, when the fate of our people is being decided," calls for national unity and consolidation, Putin said in his address. According to the president, all internal conflicts and bickering must be put aside at present as "our external enemies can and use them to undermine us internally."
The Russian head of state emphasized that any actions driving a wedge between Russians are nothing short of "backstabbing of our country and our people."
Bitter history lessons
Putin reminded Russians that a similar scenario played out in the country in 1917, when it was in the middle of World War I. He recounted how "intrigues, bickering, politicking behind the army's and the people's back" led to the "collapse of the state," and the "tragedy of the Civil War."
"Russians were killing Russians, brothers were killing brothers, while various political adventurers and foreign powers were capitalizing on it," the president said.
Putin vowed to prevent this from happening as well as to defend Russia and its people, "including from internal mutiny."
Nature of the threat
In his address, Putin clearly labelled the PMC coup attempt as a "betrayal." He cited "enormous ambitions and personal interests" of certain individuals as the reasons behind this "betrayal of their country and its people." He went on to accuse those responsible, without naming Prigozhin in particular, of turning their back on the joint military cause in Ukraine and the memory of the fallen fighters.
If successful, the coup would lead to "anarchy and fratricide," resulting, in the long run, in Russia's "defeat" and "capitulation," according to Putin.
The president characterized "any internal mutiny" as a death threat to the Russian state and nation. The president pledged to take "tough measures" against the mutineers, who have "willingly entered the path of betrayal" and prepared "armed insurrection."
Those responsible will be brought to account before the Russian people, the president assured the public.
Loading...