---
Putin: "Complete Nonsense" That Anyone Other Than State Actor Behind Pipeline Explosions
"I am certain that this is complete nonsense," President Vladimir Putin said in fresh statements to Russian media on Tuesday, making rare detailed remarks concerning the sabotage of the Nord Stream pipelines. He was referencing the latest narrative out of the West which claims a mysterious "pro-Ukrainian group" was behind the pipeline bombings.
Last Tuesday The New York Times published a story making the claim, and quickly an avalanche of follow-up stories have appeared across Western media asserting a similar narrative. Putin says that these stories are intended to run cover in order to hide a "state" actor. He stressed that only specialists backed by a government which possesses "certain technologies" could be capable of such a complex, deep underwater operation.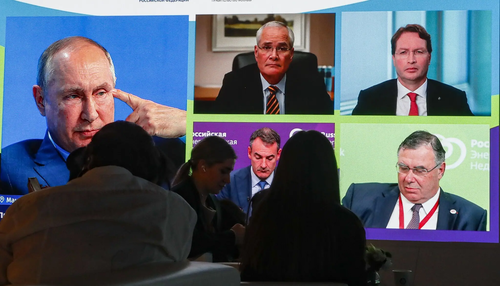 Putin's full statement given while on a visit to an aircraft plant in Russia's Buryatia republic region is as follows, per state media translation: "I'm sure this is complete nonsense. An explosion of this kind – of such power, at such depth, can only be carried out by specialists, and supported by the entire power of a state, possessing certain technologies."
The Western media narrative of a rogue "pro-Ukrainian" unit being behind the sabotage op began emerging almost a month after Pulitzer Prize winning investigative journalist Seymour Hersh published his bombshell report which said President Biden ordered the attack on the natural gas pipelines. It detailed the CIA's role in conjunction with an elite US Navy deep sea diving team as well, and with the help of Norwegian intelligence.
Putin in his new remarks also pointed the finger at the United States, but stopped short of a direct accusation. According to a translated summary of his words in Sputnik: 
He also suggested that one should probably consider who would be interested in the destruction of Nord Stream, noting that, theoretically, the United States could have been one such entity as such act of sabotage would help them cut the flow of Russian gas to the European market so that the US could supply greater amount of its own, much more expensive liquefied natural gas there.

The Russian president added that, while repairing the damaged Nord Stream pipelines would be no mean feat, it probably could be done, though such undertaking would require time, money and new technologies.
The Russian leader also weighed on on the possibility of a repair and the question of future operability:
He noted, however, that the Nord Stream project would have a future only if Russia's European partners were to remember about their own national interest, as it would seem that, currently, they are doing whatever it is they are told "from across the ocean."
Putin said that claims that the attack on Nord Stream was organized by some Ukrainian activists were nonsense. pic.twitter.com/KnFRrVBorj

— Anton Gerashchenko (@Gerashchenko_en) March 14, 2023
Following Hersh's report, US officials and establishment media sought to portray the famed reporter as a 'conspiracy theorist' who is far past the prime of his career. This despite Hersh's track record of blockbuster investigative journalism and his breaking major stories spanning decades speaking. It remains that he's among the most celebrated journalists in American history who was proven right time and again. 
Loading...