---
Putin Cracks Down On 'Angry Patriots' In Wake Of Wagner Mutiny
Russian President Vladimir Putin has continued cleaning house in the wake of last month's Wagner mutiny and short-lived uprising. In a bold move, he and his defense ministry are cracking down even on pro-Kremlin 'patriots'—but who have publicly criticized top decision-making and how Moscow has handled the Ukraine war effort. On Friday a prominent blogger who has taken a critical stance on war strategy and Putin himself was arrested. 
Igor Girkin is a longtime proponent of the invasion of Ukraine, and is an ex-security official who led Russian-backed separatists in Ukraine's eastern Donbas region in 2014. He also helped Crimea enter under the Russian Federation that same year.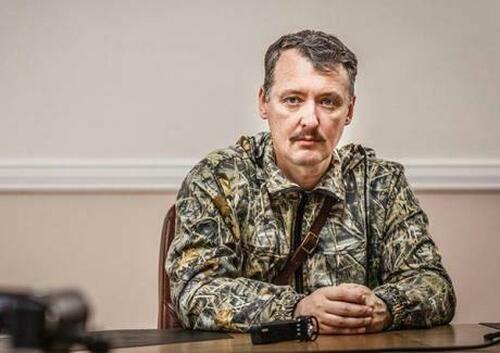 Shortly after last year's start of the February invasion, he co-founded an ultra-nationalist political group called the Angry Patriots Club, and is a popular pro-war blogger. These are hardliners who tend to think the Kremlin has been too restrained in Ukraine. 
In the wake of the June 22-23 Wagner mutiny, he suggested Putin is "not ready" for difficult decision-making under war-time conditions. And this week, he went so far as to call Putin a "low life". According to a CNN translation of some key quotes he's posted publicly:
The day after Wagner's brief insurrection ended, on June 25, he said that if Putin "is not ready to take the leadership over the creation of war-ready conditions" in Russia, "then he really needs to transfer the powers, but legally, to someone who is capable of such hard work."

But the final straw for Putin may have come on Tuesday, when Girkin called the president a "lowlife" and a "cowardly bum" in a blistering post on his Telegram channel.

"For 23 years, the country was led by a lowlife who managed to 'blow dust in the eyes' of a significant part of the population. Now he is the last island of legitimacy and stability of the state," the post read. "But the country will not be able to withstand another six years of this cowardly bum in power."
Girkin's lawyer confirmed Friday that following his arrest a Moscow court has given him pretrial detention until at least Sept.18. The charge against him is "extremism".
Below is analysis via regional observer Tatiana Stanovaya, who points out that "This is a direct outcome of Prigozhin's mutiny: the army's command now wields greater political leverage to quash its opponents."...
"This is a moment many within the siloviki have eagerly awaited. Strelkov had overstepped all conceivable boundaries a long time ago, sparking the desire among security forces — from the FSB to military chiefs — to apprehend him. The complaint came from a former commander of the Wagner Group. At this point, the source of the accusation is inconsequential — it does not come from Wagner in its current, let's put it softly, difficult state."

"Strelkov's arrest undeniably serves the interests of the Ministry of Defense. This is a direct outcome of Prigozhin's mutiny: the army's command now wields greater political leverage to quash its opponents in the public sphere. It's unlikely that there will be massive repressions against 'angry patriots,' but the most vehement dissenters may face prosecution, serving as a cautionary tale for others."
In the aftermath of Prigozhin's mutiny, we reported Putin would go after the "patriots" who made him look weak:

"It's real tough guy stuff. It's like when you go into the prison cell for the first time and punch the biggest guy you can find in the face"https://t.co/g3gYflyK3d

— max seddon (@maxseddon) July 21, 2023
Currently, Wagner mercenaries have set up bases in neighboring Belarus, where they are training Belarusian troops in special warfare techniques. Putin had offered those Wagner fighters who didn't directly participate in the mutiny military contracts with the regular army. He said alternatively they can relocate to Belarus. 
But overall, many saw it as but a slight slap on the wrist for what was a very serious challenge to the military and to Putin's rule, with nothing really of consequence having happened to Prigozhin himself.
Loading...