---
Putin Pulls Out Of Attending BRICS Summit Over Arrest Warrant Dilemma
South Africa now says Russian President Vladimir Putin will not attend the BRICS summit hosted in the country next month. As of just within the last days, the Kremlin was signaling he was committed to attending in person, despite the International Criminal Court (ICC) arrest warrant hanging over him.
South Africa's deputy president Paul Mashatile said in a recent statement, "We understand we are bound by the Rome Statute but we can't invite someone and then you arrest them. You can understand our dilemma."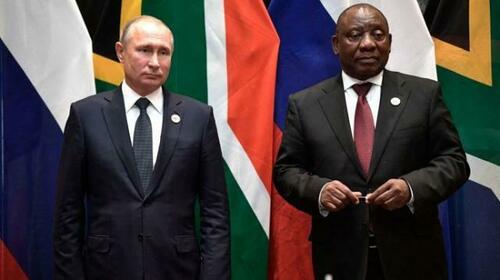 BBC is reporting the change in plans Wednesday, writing that "The announcement comes after South Africa's leader said any attempt to arrest Vladimir Putin would be a declaration of war against Russia."
His arrival on South African would have have required South African authorities to act, or else the country would be in violation of the Rome Statute. 
"Putin decided to participate in the BRICS summit via videoconferencing, it will be a full-fledged participation," Kremlin spokesperson Dimitry Peskov confirmed to RIA Novosti. Foreign minister Sergey Lavrov will attend, representing Russia. 
A statement by the South African presidency's office described Putin's decision not to attend as "mutual" and that the decision was reached as a result of a "number of consultations" on the summit. But more importantly, President Cyril Ramaphosa had said Tuesday:
"I must highlight, for the sake of transparency, that South Africa has obvious problems with executing a request to arrest and surrender President Putin," he said. "Russia has made it clear that arresting its sitting president would be a declaration of war."
While President Ramaphosa has been seen as sympathetic to Putin, it has been South Africa's leading opposition party, the Democratic Alliance (DA), which has pressured the government to arrest the Russian leader if he arrives for the summit.
The first major curb on his travel since Ukraine war...
Putin's not going to the BRICS summit in South Africa, where the government would have been obligated to arrest him under the ICC war crimes warrant.

This is the first major curb on his travel from Russia's invasion of Ukraine. Latest with @jsphctrlhttps://t.co/rb1S3zn1HV

— max seddon (@maxseddon) July 19, 2023
There is precedent for heads of state facing ICC warrants being granted temporary immunity - for example when Sudanese President Omar al-Bashir visited South Africa in 2015 despite at the time being wanted by the ICC for war crimes. But this was legally challenged within the South African courts at the time.
BRICS, an acronym for Brazil, Russia, India, China and South Africa - is increasingly being seen as an alternative to the G7 and these countries have largely broken from the West's approach to the Ukraine conflict. They've either been 'neutral' of have made statements which appear sympathetic to Moscow when it comes to the stand-off with NATO.
Loading...