---
Putin Reveals New Details On Positioning Tactical Nukes In Belarus
Russia's President Vladimir Putin has given new details concerning his order to move tactical nuclear weapons into Belarus. Prior and somewhat ambiguous statements from Putin as well as top Kremlin and Belarusian officials had suggested that nukes could already be in Belarus. These past statements have also been subject of widespread speculation and misinterpretation in Western press reports, which was perhaps purposeful on the part of Moscow, or part of strategic ambiguity.
But on Friday Putin clarified the timeline, after he first announced all the way back in March that Russian tactical nukes would be stationed in close neighboring ally Belarus. He told Belarusian President Alexander Lukashenko at a meeting Sochi that tactical nuclear weapons will be deployed in Belarus after hosting facilities are ready on July 7-8.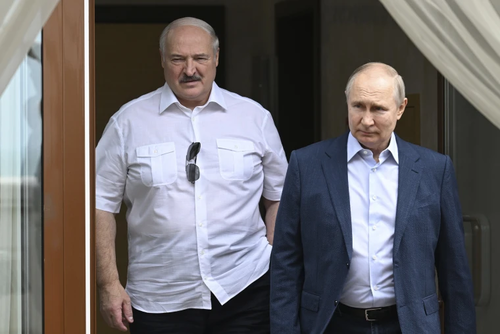 "So everything is according to plan, everything is stable," Putin said according to a Kremlin readout.
"Preparation of the relevant facilities ends on July 7-8, and we will immediately begin activities related to the deployment of appropriate types of weapons on your territory," Putin said, to which Lukashenko responded, "Thank you, Vladimir Vladimirovich."
Reuters points out the relevant context as follows:
More than 15 months into the biggest land war in Europe since World War Two, Putin says the United States and its Western allies are pumping arms into Ukraine as part of an expanding proxy war aimed at bringing Russia to its knees.
Only a mere months ago mainstream media sources and the major news networks, echoing top US officials, rejected the idea that the conflict is indeed a major proxy war pitting NATO against Moscow, with Ukrainians in the middle.
But now the tone of MSM reporting has clearly shifted and changed to that of belatedly acknowledging the US-NATO's outsized role in determining the course of the war...
Biden administration acknowledges it keeps crossing Putin's red lines because he hasn't launched a nuclear response yet. https://t.co/bmNOu3Ifzf

— Max Abrahms (@MaxAbrahms) June 1, 2023
As for the early July timetable on the arms transfers, reportedly the land-based short-range nuclear missiles will remain under Russian control and oversight while being hosted at Belarusian bases.
Starting months ago, Russian Ambassador to the United States Anatoly Antonov blasted what he described as America's hypocrisy for long stationing tactical nukes in Europe: "For the last 60 years Washington has been playing a key role in NATO's nuclear sharing missions by supporting deployment of its tactical nuclear weapons in five non-nuclear weapon states - Belgium, Germany, Italy, Netherlands, and Turkey," he said previously.
The Russian ambassador had further cited a proverb: "If your face is crooked, do not blame the mirror," in reference to this charge of US 'nuclear hypocrisy'. 
Loading...