---
Putin To Send Fighters From Middle East To Ukraine Despite 'Peace' Optimism
One day after pessimistic headlines followed the first high-level peace talks between Russia and Ukraine, Russian President Vladimir Putin on Friday said, "there are certain positive developments in the negotiations on Ukraine." This came hours after the president said he would send thousands of Middle Eastern fighters into the war-torn country. 
We covered Putin's comment earlier about the so-called "positive developments" that was a well-timed headline that sent equity futures soaring and crude prices lower (read: here). Now we focus our attention on the not-so-good news. 
Hours ago, Bloomberg quoted Putin as saying thousands of local fighters from the Middle East were ready to join its forces in Ukraine.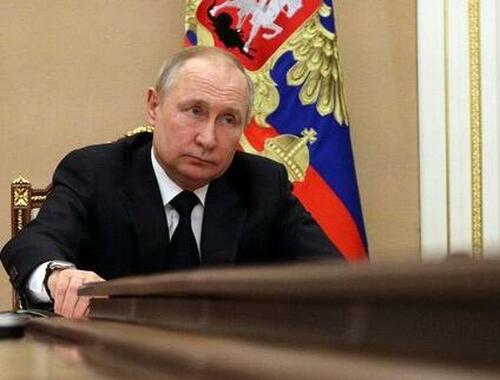 "We need to help them get to the war zone," Putin told his Security Council on a video conference call earlier on Friday. Defense Minister Sergei Shoigu said Russia received at least 16,000 applications from people in the Middle East who want to fight in Ukraine. 
Putin said: "If you see that there are these people who want of their own accord, not for money, to come to help the people living in Donbas, then we need to give them what they want and help them get to the conflict zone."
Shoigu said western weapons were flooding Ukraine in an "absolutely uncontrolled" way. The Russian military, he said, is strengthening its western border as NATO continues to expand its presence with troops and weapons.  
"The general staff is working on, and has almost finished, a plan to strengthen our western borders, including, naturally, with new modern complexes," Shoigu said.
Putin has been quoted as saying the "special military operation" in Ukraine ensures Russia's security. 
And for some more context about why Russia might have invaded Ukraine comes from the NYPost, who provided an account of an Ukranian shot by Russian forces who told him:
"We're not at war with Ukraine and Ukrainians, but at war with the USA inside Ukraine."