---
Putin Signs Law Forcing Wagner Fighters To Swear Oath
Putin spokesman Dmitry Peskov has told reporters on Friday that in a legal sense, Wagner group doesn't exist. This came as he announced a new presidential decree signed by President Putin on the same day, which stipulates that all Russian paramilitary fighters will be required to swear an oath to the Russian flag and nation.
Fighters, including from Wagner, must pledge "their loyalty to the Russian Federation... strictly follow their commanders and superiors' orders, and conscientiously fulfill their obligations," according to the new decree.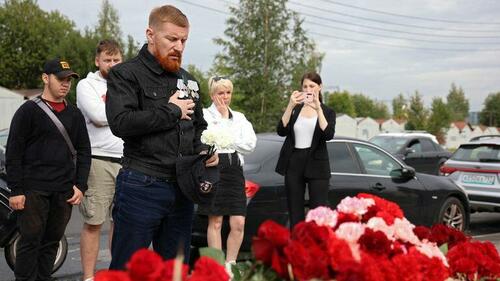 The decree was described as aiming to form "the spiritual and moral foundations for the defense of the Russian Federation" and applies to all mercenary outfits which are "contributing to the execution of tasks given to the armed forces."
And there was this, according to The Moscow Times: 
Asked about the future of Wagner, Kremlin spokesman Dmitry Peskov said Friday that "legally the Wagner private military group does not exist."

Private military companies are officially outlawed in Russia.
This fresh decree appears aimed squarely at Wagner fighters, given it also comes just two days following the jet downing which took Wagner Group leader Yevgeny Prigozhin's life (something still being verified as Russian investigators examine DNA).
This week there have been reports of Wagner mercenaries leaving Belarus in droves, while there are elsewhere conflicting reports they've been allowed to stay.
Belarusian President Alexander Lukashenko has meanwhile commented on the whole Prigozhin matter in a newly published interview. He revealed that he personally told Yevgeny Prigozhin to "watch out" for threats to his life. Apparently this happened not long before the plane crash. And more:
Mr Lukashenko said that the Wagner leader had never asked him for security guarantees. "I don't have to ensure Prigozhin's safety... the conversation was never in that vein."
Lukashenko also denied that Putin was behind the killing of the Wagner leader: 
A close ally of Mr Putin, the Belarusian president said that he believed the plane crash was "just too rough and unprofessional a job" for the Russian leader to be involved. "I know Putin: he is calculating, very calm, even tardy," Lukashenko said. "I cannot imagine that Putin did it, that Putin is to blame."
Putin appeared cheery after Russian media reported Prigozhin was dead, opening remarks at an event with a broad smile.

"Devotion to the homeland and loyalty to the military oath is what unites all participants of the special military operation," he said. https://t.co/aworTOa4Ow

— POLITICOEurope (@POLITICOEurope) August 24, 2023
This is something which the Kremlin itself said on Friday, calling Western assertions that Putin was behind the assassination of Prigozhin "absolute lies". But it should also be noted that the death of he and his top commanders aboard the same plane happened two months to the day of the June 23-24 mutiny and armed 'march on Moscow'.
All of this does appear to be President Putin engaged in some serious post-mutiny house cleaning and muscle-flexing. 
Loading...