---
Russia Blames Ukraine For Shelling Frontlines, Hours Into Christmas Ceasefire
Update (0929ET): There are already signs that the Russia-declared unilateral ceasefire is crumbling, as Moscow is accusing Ukrainian front-lines of unleashing fresh shelling on Russian forces, hours into the ceasefire: 
Russia says Ukraine is shelling Russian military positions during a 36-hour ceasefire, which Kyiv and its allies have dismissed as a sham.

The Russian defence ministry said its positions had come under attack in the Luhansk, Donetsk and Zaporizhia regions but that its troops were observing the ceasefire.

"Four mortar shells were fired at Russian positions by the Armed Forces of Ukraine in the direction of Lyman," it said.
Ukraine's leadership had already essentially said it doesn't plan to respect the ceasefire, calling it a "cynical ploy". Western countries had on Thursday dismissed it when it was first unveiled by Putin, starting with Germany and the US.
On Friday, EU foreign policy chief Joseph Borell added his voice, saying the ceasefire is "an attempt to gain time for the regrouping of troops."
⚡️Joseph Borell: Russia's humanitarian initiative on a Christmas truce should be accompanied by a "withdrawal of troops and military equipment from the territory of Ukraine", otherwise it can be seen as "an attempt to gain time for the regrouping of troops."

— War Monitor (@WarMonitors) January 6, 2023
Hours into the planned ceasefire, eyewitnesses were cited as saying shelling has continued: 
But AFP journalists heard both outgoing and incoming shelling in the frontline city of Bakhmut in eastern Ukraine after the time when the Russian ceasefire was supposed to have begun.

Moscow's forces also struck Ukraine's second-largest city Kramatorsk in the east, the deputy head of Ukraine's presidential administration said.

"The occupiers hit the city with rockets twice," Kyrylo Tymoshenko said on social media, adding that a residential building had been hit but there were no victims.
* * *
Russia's unilaterally declared Christmas ceasefire has now been in effect for four hours, as it began at noon Moscow time. While multiple explosions were reported in Kherson an hour before the ceasefire, reportedly killing one and leaving four injured, and there was shelling in Kramatorsk (Donetsk) region, there have been no reports of significant exchange of fire since noon (local time).
Russian state media on Friday announced, "At noon today, the ceasefire regime came into force on the entire contact line," according to national broadcaster Channel One. "It will continue until the end of January 7."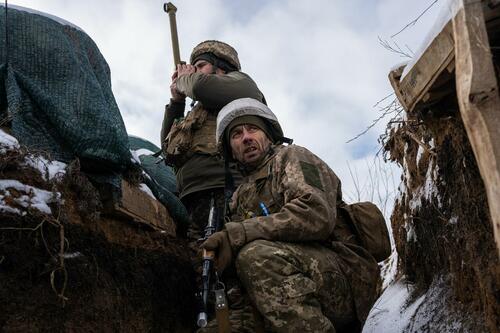 The 36-hour ceasefire was initially urged by Russian Orthodox Patriarch Kirill, before hours later being officially ordered by Putin, but which was swiftly rejected by both Kiev and Washington as a "cynical ploy" and "trap" - which they fear will allow Russian forces to regroup.
However, the Russian side described that it is to allow Orthodox believers to attend Christmas church services, which in the Eastern Orthodox Slavic lands falls on Jan.6th (Christmas Eve) through Jan.7th.
Still, Ukrainian authorities are urging citizens in occupied areas to not attend church services today or tomorrow on fears that attack on places of worship will occur. 
Ukraine's deputy prime minister Iryna Vereshchuk has claimed that Russian forces are planning a 'false flag' attack. "Ukraine has received information that Russians are preparing terrorist attacks in churches," Vereshchuk said Friday.
According to more in Sky News:
This morning, Ukrainian open source intelligence group InformNapalm reported getting tip-offs about planned false-flag attacks in churches in occupied territories. 

A false-flag attack is aimed at putting the blame on the other party - so it would be an attempt to make Ukraine appear as if it is breaking the current temporary ceasefire. 
As has at times been the case throughout the conflict, once these claims of "false flag is coming" begin circulating, it is to presage to an actual event around the corner. In this case, any strike on or near church grounds would certainly shatter the fragile unilateral truce - and would without doubt be immediately blamed on the Russian side.
Pro-Russian fighters in Donbas said they came under shelling attack just as the ceasefire went into effect:
⚡️#BREAKING Donetsk authorities: Ukrainian forces shelled the Petrovsky neighborhood of Donetsk with 6 artillery shells as the truce began

— War Monitor (@WarMonitors) January 6, 2023
Meanwhile, the Pentagon says it is "deeply skeptical" about Putin's intent in calling for the 36-hour ceasefire. "I think that there's significant scepticism both here in the US and around the world right now, given Russia's long track record of propaganda, disinformation, and its relentless attacks against Ukrainian cities and civilians," Pentagon spokesman Brigadier General Patrick Ryder said in a press briefing. "Our focus will continue to be on supporting Ukraine," Ryder added.
It remains to be seen, and is perhaps unlikely, that this ceasefire can go a full 36-hours; however, if it holds for a significant amount of time this could serve as a hoped-for precursor to future, possibly more permanent ceasefire leading to negotiated settlement to an end to the war.
But from a purely strategic, realpolitik perspective... it is not in Ukraine's interest for Putin's ceasefire to hold as Kiev doesn't want the Russian leader to be given any credibility on the world stage, and given it would demonstrate that Moscow might be serious about openness to legitimate ceasefire talks. For these reasons the truce is unlikely to hold for the duration.
"Everyone in the world knows how the Kremlin uses respites at war to continue the war with renewed vigour".

🇺🇦 President Volodymyr Zelenskyy claims Russia's planned ceasefire over Orthodox Christmas is a cover to halt Ukraine's advance to liberate occupied territories. pic.twitter.com/lc7irCslFC

— euronews (@euronews) January 6, 2023
After all, Zelensky already charged that the pause in fighting is a mere ploy for Russian forces to regroup and to take momentum away from the Ukrainian counteroffensive. Hearing this from their commander-in-chief gives the Ukrainian army little reason to refrain from proceeding with attacks on the Russian front lines throughout the weekend.
Loading...