---
Radical Climate Group Deflating SUV Tires, Says It Has 'Active Groups' In 18 Countries, Including US
Authored by Dorothy Li via The Epoch Times (emphasis ours),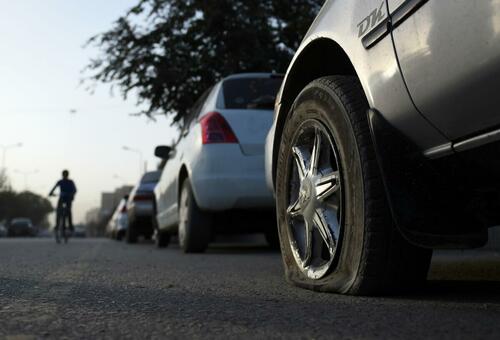 Under cover of darkness, activists from a radical left-wing group unscrewed the valve caps on tires, placed lentils or other pulses into the valve cap, and then screwed them back on. Tires of sports utility vehicles (SUVs) are covertly deflated.
In the name of combatting "climate change," the group that encourages people to carry out sabotage activities on SUV owners claimed its operations had been expanded to 18 countries, including the United States.
"Reports [are] coming in of very angry #CarShaggers who are upset they can't drive their massive tanks around Lisbon. Oh no!" the group said on its website on June 1. The group, calling itself the Tyre Extinguishers, announced its campaign had reached Lisbon, Portugal.
Tyre Extinguishers claimed that it now has "active groups" in 18 countries, including the United States, the UK, Canada, Austria, New Zealand, and Germany. According to the group's Twitter account, on the night of May 31, more than 40 vehicles were "disarmed" by activists in Potsdam, Germany.
The group said it wants to make it impossible to own an SUV in urban areas.
"To do that, we need people everywhere deflating 4×4 tyres, week-in, week-out," the group said on its website.
In its first reported tire-deflating operation in the UK in March 2022, the group said that "SUVs are unnecessary 'luxury emissions', flaunted by the wealthy," condemning the vehicles as "a climate disaster."
Its website released instructions on how to deflate tires and also pamphlets and stickers that activists could print at home and leave on targeted vehicles' windshields.
"ATTENTION – Your gas guzzler kills. We have deflated one or more of your tires. You'll be angry, but don't take it personally. It's not you, it's your car," read the leaflets.
"We did this because driving around urban areas in your massive vehicle has huge consequences for others," it continued. "We're taking actions into our own hands because our governments and politicians will not."
The group encourages activists around the world to target SUVs in "posh/middle-class areas."
In April, the group said its members "deflated the tires of 43 luxury SUVs around the neighborhood of Beacon Hill" in its "first action" in Boston.
Press release from TX Boston on our website here: https://t.co/XKUdBvcGOy pic.twitter.com/CWvqwJFOee

— The Tyre Extinguishers (@T_Extinguishers) April 20, 2023
Tyre Extinguishers said they only targeted "large, luxury" gas-powered SUVs, noting, "no tires were deflated on electric or hybrid vehicles nor any vehicles with handicap signage."
But local residents were frustrated by the vandalism.
"I'm all for taking action to save the environment but I just don't know that destroying people's personal property or damaging people's personal property is the way to go about doing it," a local resident named Lauren told Boston 25 News. Lauren said her parents' vehicle was targeted.
"My parents didn't need to go anywhere immediately this morning, but I know another person in the neighborhood who's a firefighter and couldn't get to the fire station," Lauren told the news channel on April 20. "There are plenty of people who work at the hospital and couldn't get to work on time."
Another resident reportedly missed a medical appointment due to the deflated tire.
The Boston Police Department interviewed 10 victims on April 20 and made no arrests, according to local media reports.
Tyre Extinguishers activists also carried out vandalism in other cities in the United States. Last year, the campaign claimed credit for deflating tires in the San Francisco Bay Area, Chicago, New York, and Scranton, Pennsylvania.
Describing itself as a "leaderless" group, Tyre Extinguishers claimed it had deflated the tires of more than 10,000 SUVs since March 2022. Last November, they claimed they had let down the tires of 900 SUVs in one night, with vehicles in New York and 7 European nations targeted.
Loading...