---
Re-Entry Window Activated As Chinese Rocket Tumbles Back To Earth This Weekend
China's Long March 5B Rocket is expected to re-enter Earth's atmosphere Saturday or Sunday, which we described earlier is driving fears that 20 tons of debris could fall on populated areas. The rocket will be one of the largest objects to descend from low Earth orbit in an uncontrolled re-entry.
The massive rocket - at 30 meters in length and weighing 22 tons - is likely to burn up in the atmosphere but could still unleash a dangerous rain of metal objects weighing up to 200 pounds, according to WSJ. 
All week, the rocket has been steadily losing altitude, and the re-entry window appears to be open.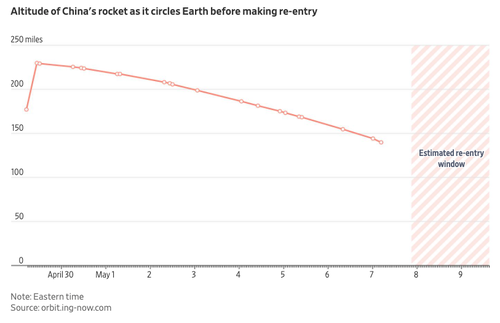 According to the Aerospace Corporation, the re-entry zone could happen as far north as Chicago, New York City, Rome, or Beijing, or as far south as New Zealand or Chile. The exact entry point into the Earth's atmosphere can't be pinpointed until within hours of re-entry.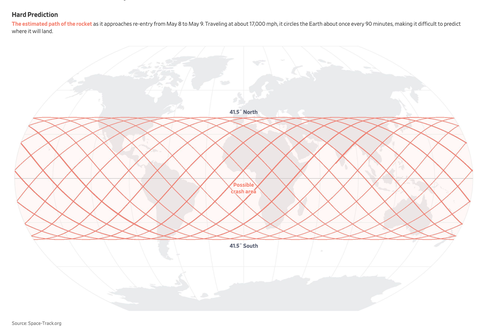 On Friday, a spokesman for China's Foreign Ministry said that authorities are closely monitoring the rocket and played down the risks hyped up by western media. 
 "To my knowledge, the upper stage of this rocket has been deactivated, which means that most of its parts will burn up upon re-entry, making the likelihood of damage to aviation or ground facilities and activities extremely low," spokesman Wang Wenbin told reporters. 
This is something which, though very rare, has happened in the recent past. In May of 2020, a Chinese Long March 5B made a similarly uncontrolled re-entry, resulting in debris raining down on inhabited areas of the Ivory Coast.
US Space Command said that it too is carefully tracking the rocket's location during the uncontrolled re-entry, but stressed that it "cannot be pinpointed until within hours of its re-entry," currently projected to happen on Saturday. 
The US military went so far as to clarify that no, it does not have orders to shoot down the rocket at this time - though we can imagine plans would change if it were confirmed to be hurling toward New York City or Washington DC. "We have the capability to do a lot of things but we don't have a plan to shoot it down as we speak," Defense Secretary Lloyd Austin told reporters Thursday. 
The Long March 5B rocket was launched on April 28 to send key components to China's new next-generation space station. Still, there are already ten more supply missions to the new space station planned, suggesting the likelihood of many more such scenarios to come.