---
Biden Finally Does 6-Minute Afghan Presser, Reiterates "Support Of Allies", Takes No Questions
Just four and a half hours after the press conference was initially scheduled for, President Biden stumbled out to a podium, read a teleprompter(barely), and then rushed for the door, taking no questions. He began by discussing the House vote then shifted to Afghanistan.
He spoke on Afghanistan for 6 minutes.
What was of note is the number of times he reiterated "full support, or "full cooperation" or "shoulder to shoulder" with US allies - which is questionable given his decision to stick with the Aug 31 deadline while his G-7 allies are pushing to extend it.
Key headlines (via Bloomberg)" 
*BIDEN: ON PACE TO FINISH AFGHANISTAN EVACUATION BY AUG 31

*BIDEN: MEETING AFGHANISTAN DEADLINE ALSO DEPENDS ON TALIBAN

*BIDEN: TENUOUS SITUATION IN AFGHANISTAN

*BIDEN: HAVE SERIOUS RISK OF SITUATION BREAKDOWN IN AFGHANISTAN

*BIDEN: WORLD WILL JUDGE TALIBAN BY THEIR ACTIONS

*BIDEN: U.S. WILL BE A LEADER IN EVACUATION OF AFGHANS

*BIDEN: CONDUCTING THOROUGH SCREENINGS FOR AFGHAN EVACUEES

*BIDEN: BLINKEN TO UPDATE ON U.S. CITIZENS STILL IN AFGHANISTAN
Watch the brief address below: 
*  *  *
Update (1600ET): US officials are reportedly telling US-based humanitarian groups to "get ready for 50,000 Afghans", according to Bloomberg, but we can imagine the real number will be higher.
U.S. TELLS REFUGEE AID GROUPS TO GET READY FOR 50,000 AFGHANS
U.S. TO START REDUCING NUMBER OF TROOPS IN AFGHANISTAN: WAPO
Meanwhile the White House is centering Biden's rationale to keep the Aug.31 deadline for full troop pullout at Kabul airport, despite the possibility that Americans might be left behind, on the lingering threat of terrorism.
Officials say whatever criticism the White House is receiving today would pale in comparison to the criticism if troops or others were injured in an attack on the airport, which was one of the biggest reasons the Pentagon recommended the withdrawal be complete by Aug. 31.

— Idrees Ali (@idreesali114) August 24, 2021
Update (1524ET): It's looking like the troop draw down order has already been executed, after Pentagon officials indicated they would need 'several days' to get the some 6,000 US soldiers out of Kabul International Airport, who meanwhile themselves are busy overseeing the evacuation operation.
BREAKING: The U.S. military has started withdrawing from Afghanistan reducing troop presence: U.S. officials

— Lucas Tomlinson (@LucasFoxNews) August 24, 2021
And so the final scramble to get out begins...
US embassy issues last alert for US citizens to leave afghanistan or they're on their own, then recalls it 30 mins later.

— Richard Engel (@RichardEngel) August 24, 2021
The White House has issued the following statement after the brief G-7 meeting which was done remotely, and was reportedly very brief:
During a meeting this morning with the G7 leaders, the President conveyed that our mission in Kabul will end based on the achievement of our objectives. He confirmed we are currently on pace to finish by August 31st and provided an update on progress in evacuating Americans who want to come home, third-country nationals, and Afghans who were our allies during the war.

He also made clear that with each day of operations on the ground, we have added risk to our troops with increasing threats from ISIS-K, and that completion of the mission by August 31st depends on continued coordination with the Taliban, including continued access for evacuees to the airport. In addition, the President has asked the Pentagon and the State Department for contingency plans to adjust the timeline should that become necessary.
After postponing for three hours, President Biden is set to speak at 1630ET. LIVE FEED:
* * *
Update (1450ET): 50 minutes after the second revised press conference time, and almost 3 hours after the initial press conference time, The White House is now reporting that President Biden will explain his decision to ignore G-7 allies and stock to the Taliban's plan to leave by Aug 31st at 1630ET (and comment on the House votes)
*  *  *
Update: 90 minutes after the press conference was due to start, The White House has announced that he press conference will now take place at 1400ET...
In the meantime-
BIDEN TOLD G7 LEADERS HE IS AIMING TO GET U.S. TROOPS OUT OF AFGHANISTAN BY AUG. 31, CITING THE "VERY HIGH" RISK OF A TERRORIST ATTACK -NEW YORK TIMES
*  *  *
Ahead of the press conference, Bloomberg reported that Biden told the G-7 that US "won't be able to get everyone out of Afghanistan", presumably by the deadline. However, Reuters reports that, despite that admission, Biden will stick to the August 31st deadline for Afghanistan withdrawal that the Taliban reiterated this morning.
It will be interesting to see how he explains that little dichotomy... and if anyone will be 'stranded'...
*  *  *
Update (1140ET): Following an urgent G-7 virtual meeting over Afghanistan, President Biden is expected to speak at noon, where it's looking like he's preparing to announce he will not order an extension of evacuations and a US troop presence at Kabul airport:
U.S PRESIDENT BIDEN HAS AGREED WITH PENTAGON RECOMMENDATION TO STICK WITH AUG 31 AFGHANISTAN WITHDRAWAL DEADLINE – ADMINISTRATION OFFICIAL
However, the question remains whether this can actually be done, given there's some 6,000 US troops on the ground and still tens of thousands of civilians to be evacuated. 
US allies Britain, Germany and France have urged him to stay past the deadline, on fears they won't be able to get everyone out.
* * *
Update (1100ET): This could be a problem. Given the Taliban's red-line deadline of Aug 31st for being out of Afghanistan, reports from the G-7 meeting suggest President Biden is facing another potential crisis. Bloomberg reports, according to an official familiar with comments during this morning's G-7 Afghanistan meeting, that President Biden admitted the US "won't be able to get everyone out of Afghanistan", presumably by the deadline.
Additional comments include Germany's Angela Merkel warning that "many will face great danger in Afghanistan," and UK's Johnson noted that "recognition and money" are leverage with the Taliban.
The question for The White House, and most specifically Jen Psaki, is: "does that mean those Americans are 'stranded'?"
*  *  *
If things weren't already bad enough with the past week of evacuation efforts and US scramble to get everyone out of Kabul international airport, the desperate situation is about to get a lot worse as Biden's previously stated Aug.31 deadline for full withdrawal fast approaches. 
A Taliban spokesman has put Washington on notice, telling Sky News there will be "consequences" if the Pentagon stays past the Aug.31 date, which is a mere week away. The Taliban official, identified as Suhail Shaheen, asserted that "President Biden announced that on 31 August they would withdraw all their military forces. So, if they extend it that means they are extending occupation while there is no need for that."
"If the U.S. or U.K. were to seek additional time to continue evacuations — the answer is no. Or there would be consequences. It will create mistrust between us. If they are intent on continuing the occupation it will provoke a reaction," he added. "It's a red line."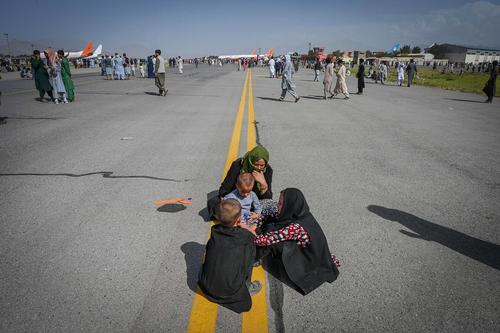 In the event of a Taliban attack if troops remain after that date, American troops, civilians, and Afghan evacuees could find themselves in a trapped and surrounded 'Black Hawk Down' type disastrous situation. 
Increasingly there are "no good options" - with the White House in its until now slow decision making barreling toward an even worse catch-22 situation than it already finds itself in: on one hand the Taliban is warning President Biden of no extensions beyond Aug.31, with on the other allies like the UK are demanding it. France is also said to be pushing for an extension.
"We are really down to hours now, not weeks, and we have to make sure we exploit every minute to get people out," UK Defense Secretary Ben Wallace said, expressing the view of many European allies who are also struggling to get their citizens out. 
Through Monday dozens of military as well as civilian aviation charter flights flew a record 16,000 passengers out of Kabul airport as the big push is underway to drastically ramp up the tempo as much as safety of airport operations allows. 
The Taliban again confirmed in a Tuesday press conference it will recognize no extension after August 31...
JUST IN - Taliban not to extend the August 31 deadline and Afghans are not allowed to go to #Kabul airport anymore, Taliban spokesman Zabihullah Mujahid says in a press conference. pic.twitter.com/KRKzqaIhaZ

— Disclose.tv (@disclosetv) August 24, 2021
It's official: the Taliban says it will not agree to any proposals for an extension of the evacuation out of Kabul.
US officials have hinted that the trigger has to be pulled within the next 24 hours in terms of decision-making, as plans would have to drastically change to increase the already massive undertaking in order to make the Aug.31 pullout date.
U.S. officials say the military will have to begin its withdrawal from Afghanistan by Friday to meet the August 31 deadline.

— Idrees Ali (@idreesali114) August 24, 2021
Getting the some over 5,000 US troops now on the ground out of the airport alone would take days to pull off in terms of putting the military logistics in place. Biden is expected to make a decision imminently.