---
Turkey, Russia Furious After Trump Sanctions Erdogan For S-400 Purchase
A year-and-a-half after Turkey first acquired Russia's advanced S-400 missile defense systems, introducing deep cracks within the NATO alliance particularly over fears the Kremlin could gain vital intelligence on NATO systems like the Lockheed F-35 jets, the United States has finally implemented sanctions on Turkey.
It's likely going to be the most consequential and surprising action of the Trump presidency a mere few weeks before President-Elect Biden enters the White House on January 20, coming after immense bipartisan pressure from Congress demanding that Trump act swiftly. This after he's long been criticized for "looking the other way" on Turkey's egregious anti-US behavior given his supposed 'special relationship' with Turkey's Erdogan. Crucially Biden has promised to "get tough" on Erdogan, which no doubt added to the pressure.
Particularly the newly announced US Treasury sanctions target Turkey's defense procurement agency, which is called the Presidency of Defense Industries (Savunma Sanayii Başkanlığı, or SSB). This is to include its senior officials on up to its president, Ismail Demir.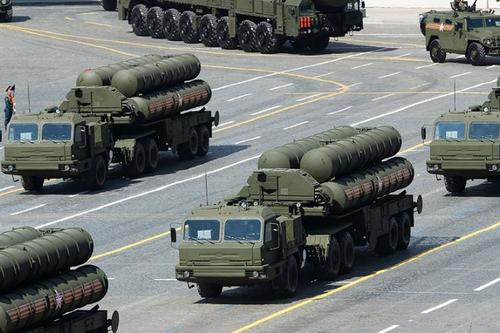 "The sanctions bar the company from receiving loans from international financial institutions and agencies including the U.S. Export-Import Bank," notes Bloomberg of the freshly unveiled punitive measures on the country that boasts of NATO's second largest military behind the US.
Days ago amid reports that sanctions were coming, Erdogan blasted any such potential plan as deeply "disrespectful" which would unleash far-reaching harm. 
"I don't know where this will lead to before Trump leaves but during the four-year Trump period, I didn't have any problems in communicating with America," Erdogan said Friday. 
"For America to get up and confront Turkey with a matter like CAATSA is disrespectful to a very important NATO partner," Erdogan had added, referring to the Countering America's Adversaries Through Sanctions Act under which the sanctions are being leveled.
BREAKING: US Sanctions #Turkey for Buying Russian S400 System

• Sanctions Presidency of defense industries
• Ban on all export licenses
• Sanctions Ismail Demir
• Sanctions SSB officers
• Visa restrictions https://t.co/VVS6MMZb0l

— Joyce Karam (@Joyce_Karam) December 14, 2020
Meanwhile, Russia was quick to react after the US Treasury midday announcement, with Foreign Ministry Sergey Lavrov calling the sanctions "illegitimate". He said it shows US "arrogance towards international law".
Turkey for its part has vowed "retaliation as necessary" without offering further details.
Importantly Erdogan during his earlier comments anticipating looming US action over the S-400s addressed the future relationship with the Biden White House. "He is someone who knows me very well. And I know him very well," Erdogan said of Biden, but he simply left it at that of the man who on the campaign trail dubbed the Turkish president an "autocrat".
One tangential question and reminder that remains is this... is this too part of Putin's supposed 'influence op' over the Trump White House? This is of course only for those who spent years hyperventilating while floating such derange conspiracy theories as "Trump is a Russian asset" and related paranoid notions.