---
Rocket Attacks On Baghdad's Green Zone Stepped Up Amid US 'Warning' It'll Shutter Embassy
Rumors seemed to fly all day Sunday on Mideast social media channels based on unnamed US sources that a major attack on the US Embassy in Baghdad's Green Zone was imminent.
This at the same time it's being widely reported that the State Department is actually considering shuttering the embassy's operations altogether, angry at the Iraqi government's inability to reign in the Shia paramilitary groups likely responsible for repeat mortar and missile attacks on the area.
BREAKING: Local sources in Iraq are reporting of a plot to storm the US Embassy in Baghdad and take hostages. The Green Zone may be evacuated. https://t.co/VDOuPdAJIz

— Scott Stedman (@ScottMStedman) September 27, 2020
And now Monday more Katyusha rockets have been launched targeting the embassy, though they are being reported to have landed somewhere in the Green Zone off target.
This after the prior day The Wall Street Journal reported the following:
The Trump administration has warned Iraq it is preparing to shut down its embassy in Baghdad unless the Iraqi government stops a spate of rocket attacks by Shiite militias against U.S. interests, Iraqi and U.S. officials said Sunday, in a fresh crisis in relations between the two allies.

Secretary of State Mike Pompeo delivered the warning in recent calls to Iraqi President Barham Salih and Iraqi Prime Minister Mustafa al-Kadhimi, the officials said.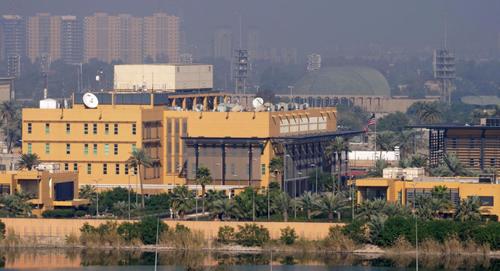 We doubt the majority of Iraqis will miss the American presence, given in recent years anti-American demonstrations have grown, demanding the end of US troop presence. 
Given the US "warning" to Baghdad, it's now much more likely the rocket attacks and rumors of a Benghazi style ground assault upon the embassy complex will grow.
The pro-Iranian militias, seeing the Americans are "on their way out" will only attempt to hasten the swift exit.
This is a weird way to use the word deterrence. https://t.co/DyYrCHWy9L

— Max Abrahms (@MaxAbrahms) September 27, 2020
One unnamed Iraqi official said of this latest controversy: "The Americans aren't just angry. They're really, really, really angry," according to AFP, while another noted, "The honeymoon is over."