---
Italian Authorities Seize $70 Million Yacht Belonging To Russian Billionaire
Update (1615ET): Another yacht belonging to a Russian businessman has been seized, this time in Italy. Italian police have reportedly seized the "Lady M Yacht", a €65 million ($71 million) yacht belonging to Alexey Alexandrovits Mordaschov located in Imperia, in the Italian province of Liguria. The seizure was said to be in compliance with the recent EU sanctions.
For those who don't know him, Mordaschov, he is Russian billionaire businessman, and the main shareholder and chairman of Severstal, a Russian conglomerate with interests in metal, energy and mining companies.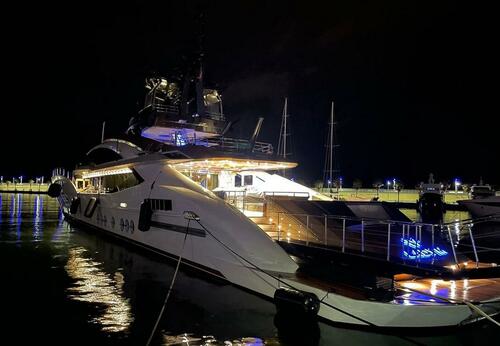 During the tidal wave of news coverage of Russia's invasion of Ukraine, seizing the yachts belonging to sanctioned Russian oligarchs has become something of a national pastime in the West. One former CIA employee has started a movement to "seize the fleet", and Vice News has written about how one US Congressman is trying to "get regular Americans in on the action", according to Vice News.
Storming a sanctioned Russian oligarch's $100 million mega-yacht and seizing the vessel on behalf of the government might sound like a job for professionals.

Or maybe not. One Congressman has a plan to get normal people in on the action. https://t.co/YN6ttwxGvB

— VICE News (@VICENews) March 4, 2022
What's more, President Biden this week announced a "KleptoCapture" task force that is aggressively targeting Russian oligarchs by seizing real estate and other prized assets.
Many yachts belonging to wealthy Russians have already departed the west for Moscow, including one commonly linked to Russian President Vladimir Putin. But as we explained last week, much of the wealth allegedly belonging to Putin, including the yacht, and several luxury properties (including a Black Sea resort that reportedly cost $1 billion), are impossible to connect to him, because they're owned through intermediaries - at least, according to financial records leaked from major offshore law firms and banks.
* * *
Not all Russian oligarchs have escaped Europe with their assets, as the Biden administration made it very clear earlier this week they will "seize the yachts, luxury apartments, and private jets" of Russian billionaires. 
We asked the question on Wednesday: "Are Russian Oligarchs Fleeing By Sea To Indian Ocean As Biden Aims To Seize Billions?" 
The answer appears to be 'yes.' Come to find out, not all Russian oligarchs made it out. France announced it impounded the superyacht belonging to Rosneft Chief Executive Officer Igor Sechin. The move comes as part of continued EU sanctions against Russia, French Finance Minister Bruno Le Maire disclosed this week. 
The yacht is called the Amore Vero (true love), and it was "confiscated overnight in the Mediterranean port of La Ciotat," Bloomberg reported on Thursday morning. The report says that the port is located near Marseille, on the French Cote d'Azur.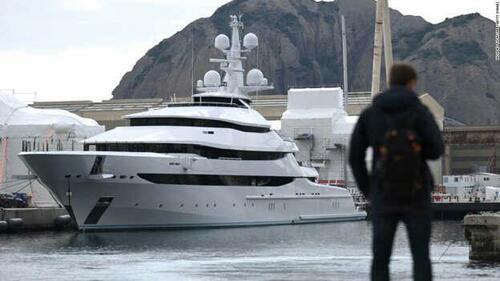 Bloomberg wrote that when it was confiscated, the yacht was "preparing an urgent departure." 
The French Finance Ministry said: "At the moment the inspection was carried out, the boat was readying to weigh anchor urgently, without having finished the planned work." 
Le Maire said this week on Twitter: "Thanks to French customs for enforcing the EU sanctions against people close to Russia's leaders."
French Budget Minister Oliver Dussopt clarified that the yacht was "prevented from leaving" but that the asset hadn't been frozen, the report clarified. It was initially planned to stay at the port until April 1, after arriving in early January. 
We pointed out some of the biggest Russian-owned luxury yachts are sailing around the Indian Ocean. 
President Biden warned in his State of the Union address on Tuesday night that the U.S. and Europe would "seize" the assets of Russian billionaires.
"Tonight, I say to the Russian oligarchs and the corrupt leaders who built billions off this violent regime — no more," Biden said. "We're coming for your ill-begotten gains."
The movement of Russian oligarchs worldwide after the Ukrainian invasion comes as western sanctions are complicating things for Russia and the elite class.