---
Russia Blasts US & EU "Meddling" In Belarus As Both Declare Lukashenko Is Not President
Belarusian President Alexander Lukashenko was sworn in on Wednesday during a "secret ceremony" following weeks of protests and unrest over allegations his Aug.9 reelection to a 6th term was "rigged". He and his supporters have alleged a "color revolution" being ultimately orchestrated with outside support from NATO and the US.
Perhaps not helping matters is that Washington on Wednesday declared that it no longer recognizes Lukashenko as the legitimate president of the country, pulling in essence the same thing it did in Venezuela (where the US still sees Juan Guaido as valid "interim president" though Maduro clearly rules the country).
"The United States cannot consider Aleksandr Lukashenko the legitimately elected leader of Belarus," the State Department said. "The path forward should be a national dialogue leading to the Belarusian people enjoying their right to choose their leaders in a free and fair election under independent observation."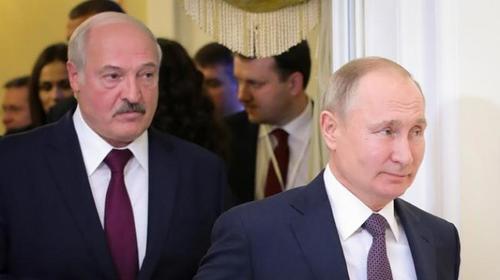 The declaration of official non-recognition was made yet without presenting any particular or firm evidence of the alleged election rigging.
The European Union has also followed the US in declaring Lukashenko's reelection invalid. Here's the statement as posted to the EU's European Council website: 
Recalling the Declaration by the High Representative on behalf of the European Union of 11 September, the EU once again reiterates that the 9 August Belarus Presidential elections were neither free nor fair. The European Union does not recognise their falsified results. On this basis, the so-called 'inauguration' of 23 September 2020 and the new mandate claimed by Aleksandr Lukashenko lack any democratic legitimacy.

This 'inauguration' directly contradicts the will of large parts of the Belarusian population, as expressed in numerous, unprecedented and peaceful protests since the elections, and serves to only further deepen the political crisis in Belarus.
The statement also implicitly promoted further mass protest and demonstrations, which have seen up to 100,000 people take the streets of Minsk over the past multiple weekends. Over the past week a police crackdown appears to have been more fierce, however.
Notably hardliner line from top Republicans on Lukashenko—SFRC chair Risch's call for him to go comes as Pompeo's State Dept says it "cannot accept" him as "legitimately elected leader" of #Belarus + @HouseForeignGOP @RepMcCaul says today's inauguration was "illegitimate." https://t.co/xFMXAGei5k

— Conor Finnegan (@cjf39) September 23, 2020
The Kremlin on Friday blasted the EU and US declarations, saying they "contradicted international law and amounted to indirect meddling in the country."
"We, of course, do not welcome such decisions, made by a number of European states. We believe that these decisions contradict the international law in general and constitute indirect meddling in internal affairs," a Kremlin spokesman said.