---
Russia Confirms Ukrainian Missile Strike On Black Sea Fleet HQ, Personnel Missing
Russia's Defense Ministry (MoD) has confirmed that the headquarters of its Black Sea Fleet in Sevastopol was damaged in a Ukrainian attack Friday.
The MoD said the strike was conducted by multiple missiles, but that anti-air defenses intercepted the majority of them. There was damage to the "historic building" which houses the navy HQ, but few other details were given. One military service member remains missing, according to the initial statement. This suggests there were potentially multiple casualties, but the MoD statement didn't give these details.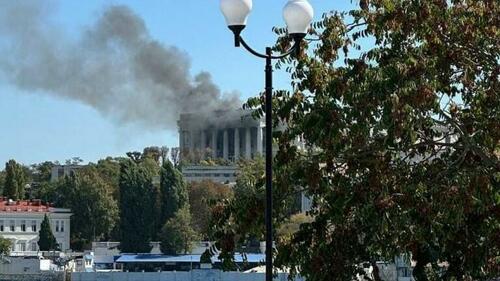 "The serviceman was not killed, but is missing," the statement said as a search is underway, as presumably there's debris and wreckage being investigated. 
Citing Crimean Governor Sergei Aksyonov, one report details: 
Video shared by anonymously run channels on the Telegram messaging app showed charred columns and smoke coming out of a building identified as the Russian Navy's headquarters.

Razvozhayev said emergency crews were fighting to put out the fire that broke out at the headquarters, but added that no civilian infrastructure in the area had been damaged.
The governor has told area residents to be on the alert given that more attacks could be coming. In the hours after the attack, the movement of public transport was restricted in Sevastopol.
Video of the smoke from the strike recorded in Sevastopol pic.twitter.com/RyfS9UWACk

— Dmitri Alperovitch (@DAlperovitch) September 22, 2023
TASS indicated that wreckage after the missile attack is scattered over hundreds of meters, and a large emergency response followed.
Ukraine's military is owning up to this fresh attack on Crimea, in a rare acknowledgement accompanies with the threat of more to come:
In an apparent acknowledgement of Ukraine's responsibility for the barrage, the country's air force commander posted a video of air sirens blazing and smoke rising from the building along with a message thanking the pilots.

"We promised that 'there will be more,'" Lt. Gen. Mykola Oleschuk said.
Despite the attack doing nothing to change the reality of the front-line situation, Kiev's supporters are also hailing a 'victory':
In 10 days, Ukraine:
1. Destroyed a submarine and a warship by hitting a Sevastopol dry dock
2 . Reopened unilateral commercial shipping to Odesa
3. Hit a Sevastopol bunker with the back-up Black Sea Fleet HQ
4. Struck the main HQ in central Sevastopol. https://t.co/6YgmhaoTJU https://t.co/D9USYzvlUw

— Yaroslav Trofimov (@yarotrof) September 22, 2023
Ukrainian sources have previously suggested there's a psychological operations component to these attacks - to keep the population in fear and in turn increase pressure on the Kremlin.
Crimean authorities have urged people in the Sevastopol area to "Please remain calm" and have assured "The situation is under the control of the emergency services."
Loading...