---
Russia Establishes Anti-Drone Police As Threat To Cities Grows
Russia has launched an anti-drone police force in St. Petersburg, which is likely to also be rolled out in other major cities, as the population comes under increasing threat by drone activity from Ukraine.
The force's head, Roman Uvarov, described its purpose as to "ensure the protection of public order" during large public events, such as this week's Victory Day celebrations which took place in major cities across Russia.
Reuters describes that "The unit will include officers armed with sniper rifles and carbines, groups trained to neutralize unmanned aerial vehicles, and mobile patrols to detain those suspected of operating drones."
"Video footage from this year's Victory Day parade showed heavily armed officers standing on rooftops above Palace Square holding drone-detection equipment and groups of snipers patrolling along the nearby Neva river in boats," the report continues.
The creation of anti-drone units follows the May 3rd drone attack on the Kremlin complex, which Russian leaders called a 'terroristic' attempt to assassinate President Putin.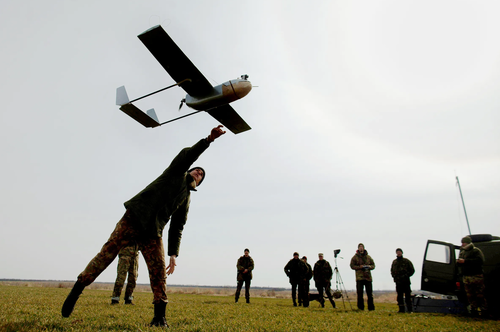 A small drone was filmed exploding just above a large dome of the Kremlin complex. Anti-drone weaponry may have intercepted it in the split-second before impact, some footage appeared to show. 
In addition to these small-scale drone attacks on cities, there's been a devastating drone campaign targeting Russia's oil infrastructure as well...
When an oil depot in Russian-annexed Crimea was attacked in late April, the resulting fire sent a plume of thick black smoke into the sky.
The incident at the facility in Sevastopol was one of at least five attacks on oil infrastructure in southern Russia in less than two weeks. There was also a double attack on the Ilsky oil refinery in the Krasnodar region, a strike on an oil refinery in the Rostov region, a reported attack Wednesday on the Druzhba oil pipeline carrying Russian crude to Eastern Europe and an attack on an oil storage facility Thursday in Russia's Bryansk region. 

Attacks on energy infrastructure in both countries have been a common tactic since Russia's full-scale invasion of Ukraine last year.
🚩Clearest footage of the drone attack against the #Kremlin pic.twitter.com/4Gvztzq86r

— Michael A. Horowitz (@michaelh992) May 3, 2023
The strikes on oil facilities could be aimed at dampening Russia's logistical and supply lines ahead of Ukraine's counteroffensive, which has been previewed as coming at some point in the Spring.
Loading...