---
Russia Evacuates Diplomats From Ukraine In Ominous Sign
The Russian Ministry of Foreign Affairs has announced its decision to evacuate its diplomatic staff from the embassy in Ukraine and three consulates across the country, citing "threats of physical violence."
"Since 2014, the Russian Embassy in Kiev and the Consulates General of our country in Odessa, Lviv and Kharkiv have been subjected to repeated attacks," the statement indicated. Pundits in the West are seeing in this an ominous sign that Russia could take its military operations beyond the Donbas region. This also as the White House on Tuesday morning began calling Putin's independence declaration as start of "an invasion".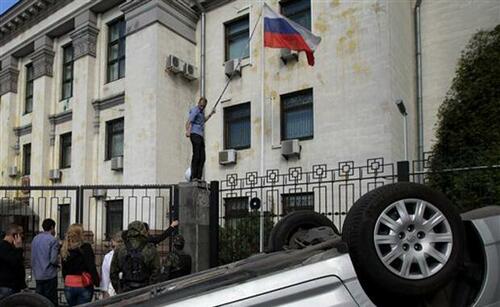 "Provocations were regularly staged against the Russian Center for Science and Culture in Kyiv, harm was caused to the health of its head, and damage was also caused to the property of the Center. Russian diplomats also became objects of aggressive actions. They received threats of physical violence," the foreign ministry statement said.
"Their vehicles were set on fire. Contrary to their obligations under the Vienna Conventions on Diplomatic and Consular Relations, the Kyiv authorities did not react to what was happening," it continued. 
The timing of the move came immediately after Russia's Federation Council gave formal approval for Putin to legally exercise the right to deploy troops abroad, and after that there were reports of convoys moving toward the border with the breakaway republics of Donetsk and Luhansk.
Meanwhile, the US has continued to accuse Moscow of preparing a broader invasion of Ukraine, with Ambassador Linda Thomas-Greenfield telling a UN Security Council emergency meeting, "Today, President Putin has torn the Minsk agreements to shreds. We have been clear that we do not believe he will stop at that," she said. 
Those are two very bad signs in a row

— Michael A. Horowitz (@michaelh992) February 22, 2022
Thomas-Greenfield called the signing of the treaties for the republics' independence from Ukraine a "clear violation of international law and Ukraine's sovereignty and territorial integrity."