---
Russia Holds Drills Focused On "Repelling Air Attacks" On Moscow
Days after widespread reports that Russia had erected Pantsir-S1 anti-air defense systems on top of some key buildings in Moscow, which triggered speculation that Russia is expecting more attacks from Ukraine on its soil, the Kremlin ramped up anti-air exercises outside Moscow.
The defense ministry confirmed in a Saturday statement, "In the Moscow region, a training session was held with the personnel of the anti-aircraft missile brigade of the Western Military District on repelling air attacks on important military industrial and administrative facilities."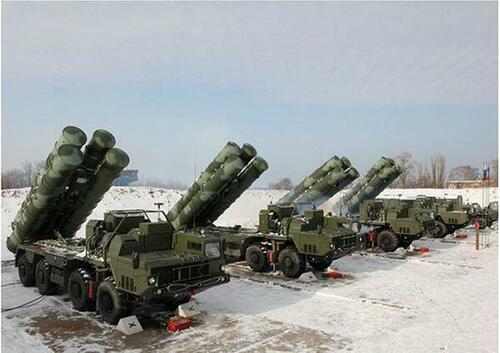 The combat exercise was centered on operation of a S-300 anti-aircraft missile system. "As they marched, soldiers repelled an attack by a mock enemy sabotage group on a military convoy," the statement continued.
"Under the cover of a smoke screen, the air defense convoy was able to get out of the attack and continue fulfilling its tasks," the defense ministry said in reference to the 150 soldiers that participated. 
Russia has suffered several drone attacks on its soil coming from Ukraine, including multiple strikes in past months on Engels military airfield in the Saratov region, which lies 600km deep inside Russia.
While Moscow itself hasn't seen any such ariel strikes, there has been speculation that key facilities in the region have been hit with sabotage attacks - but this has remained unconfirmed from the Russian side, which is unlikely to admit such attacks when they do occur.
⚡️Another "Pantsir-S1" was placed on the roof of the Ministry of Internal Affairs in Moscow. pic.twitter.com/8mKzNF8CJY

— War Monitor (@WarMonitors) January 21, 2023
As Russian forces make gains this month in the east and south of Ukraine, particularly in the southern Zaporizhzhia region as well as near city of Bakhmut in Donetsk, it appears the Kremlin could be making preparations for possible counter-attacks directly on its soil, and as NATO countries deepen their involvement in the conflict.
Loading...