---
Florida Suffers Deadliest Day Yet As Reopening Begins; Whistleblower Accuses DHHS Of Ignoring Coronavirus Threat: Live Updates
Summary:
Pence confirms that White House task force 'winding down'
UK overtakes Italy for biggest death toll in Europe
Pfizer kicks off US vaccine study
Former FDA director dismisses NYT's 3k/day projection
NYT points out US cases, deaths are still growing ex-NY Metro Area
BARDA whistleblower files complaint accusing DHHS of ignoring threat from coronavirus
Italy reports lowest daily new cases in 2 months
Florida reports record 72 daily deaths Tuesday
Sweden says it has evidence of viral spread as early as November
Hong Kong to further relax restrictions
Russia reports 30k+ cases in 72 hrs
Australia and New Zealand start planning to open borders to each other
*        *         *
Update (1940ET): Pence has confirmed that the White House will indeed wind down the coronavirus task force - the platform that launched Dr. Fauci to superstardom - over the next month, but we suspect the good doctor will remain an important presence in the administration's response.
*        *         *
Update (1540ET): As new information comes to light suggesting that the novel coronavirus might have been circulating in the US as early as January - before officials in China informed the world of SARS-CoV-2's infectious potential - Rick Bright, the BARDA whistleblower who claimed he was "pressured" to push hydroxychloroquine, has now filed a whistleblower complaint with the US Office of the Special Counsel (a separate entity from the now-disbanded entity that oversaw the Mueller probe) alleging DHHS didn't take the threat of the coronavirus seriously.
Every time Trump complains about China being held accountable for allowing the virus to spread, the NYT and MSM journalists insist he should be focused on the problem at hand, not apportioning blame. But when it's Trump who's being accused...
...Here's more from Axios.
In his complaint, Bright claims he was excluded from an HHS meeting on the coronavirus in late January after he "pressed for urgent access to funding, personnel, and clinical specimens, including viruses," to develop treatments for the coronavirus should it spread outside of Asia.

Bright alleges it "became increasingly clear" in late January that "HHS leadership was doing nothing to prepare for the imminent mask shortage."
Bright claims he "resisted efforts to fall into line with the Administration's directive to promote the broad use of chloroquine and hydroxychloroquine and to award lucrative contracts for these and other drugs even though they lacked scientific merit and had not received prior scientific vetting."
He adds that "even as HHS leadership began to acknowledge the imminent shortages in critical medical supplies, they failed to recognize the magnitude of the problem, and they failed to take the necessary urgent action."
*        *         *
Update (1250ET): Italy reports 1,075 new cases of the coronavirus on Tuesday - its lowest daily total in 2 months - and 236 new deaths, bringing its countrywide total to 213,013 cases and the death toll to 29,315 deaths.
NEW: Italy reports its lowest number of new coronavirus cases in eight weeks.

— Norbert Elekes (@NorbertElekes) May 5, 2020
Italy's update:

- Number of new cases down
- Number of new people tested up
- Number of new deaths up
- Number of new recoveries up
- Number of hospitalized down
- Number of ICU patients down

— Norbert Elekes (@NorbertElekes) May 5, 2020
As more companies grapple with the timeline for bringing staff back to the office, the NYT has reportedly told its editors and journalists that the earliest they will be welcomed back to their Times Square office is the Tuesday after Labor Day.
New York Times leadership tells staff in memo that "the earliest day we will ask people who are currently working remotely to return to our offices in New York will be on Sept. 8, the Tuesday after Labor Day."

— Oliver Darcy (@oliverdarcy) May 5, 2020
Meanwhile, New York reported fewer than 3,000 new cases once again, in line with recent trends.
NEW YORK REPORTS 2,239 NEW VIRUS CASES; TOTAL 321,192
*        *         *
Update (1120ET): More than a month has passed since the US reported fewer than 1,000 coronavirus-linked deaths in a day. And as President Trump heads to Arizona, he has a word of advice for the nation's governors.
Governors should let roads and highway construction begin before heavy traffic starts, which will be soon. Some Governors never stopped, which proved to be very smart. They built and fixed roads during long no traffic periods. Also, saved big dollars!

— Donald J. Trump (@realDonaldTrump) May 5, 2020
In Brooklyn, a salute for health-care workers and other 'essential' workers risking their lives for everyday Americans.
In the sky over Brooklyn... pic.twitter.com/X37eUjcImr

— wade lambert (@wadeNYC) May 5, 2020
Earlier, we highlighted a NYT analysis showing that the number of deaths and new cases has continued to climb across the US if one excludes the data from the New York metropolitan area.
On Tuesday, Florida Public health officials reported another 72 fatalities - a new daily record - raising its death toll to 1,471 a the Orlando Sentinel reports that a new model developed by the University of Washington projects nearly 4,000 deaths will accrue in Florida over the coming months, more than double the prior projection, as the state begins the process of reopening this week.
Tuesday's update of 72 new reported deaths are not all from Monday, but run across several days, the Sentinel clarified. For 2 weeks in a row, Tuesdays have been the biggest jump in reported deaths since the state switched it method of reporting from twice daily to issuing one daily report.
Across Florida, new COVID-19 cases on Tuesday climbed by 542 to a total of 37,439. To date, the state has performed nearly 470,000 tests, with 8% coming back positive.
In NY, Cuomo reported 230 new deaths in NY, vs. 226 a day earlier, in line with recent levels, as he kicked off Tuesday's briefing.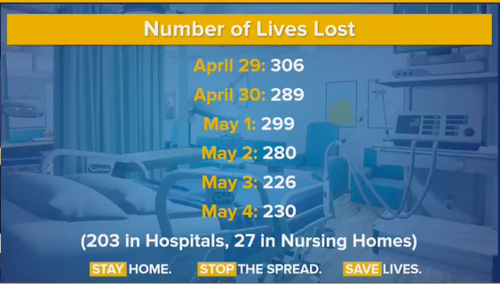 Overall hospitalizations were down once again, along with the number of new hospitalizations - ie the number of people who came in yesterday with a diagnosis of COVID-19, or people who were in a hospital and diagnosed.
Holding a briefing with updates on #Coronavirus. Watch Live: https://t.co/HUbR89h7mF

— Andrew Cuomo (@NYGovCuomo) May 5, 2020
At this rate, NY State will likely pass 20k deaths by Thursday, with Tuesday number ~19,500.
NEW YORK STATEWIDE TOTAL CORONAVIRUS HOSPITALIZATIONS ABOUT 9,600 ON MAY 4, VS 9,647 A DAY EARLIER
3-DAY ROLLING AVERAGE OF NEW COVID-19 HOSPITALIZATIONS AT 659 ON MAY 4, VS 717 A DAY EARLIER
CORONAVIRUS DEATHS INCREASE BY 230 ON MAY 4, VS. 226 DEATHS A DAY EARLIER
*        *         *
Update (0910ET): While the coronavirus outbreak in the hardest-hit parts of the US has begun to recede, with the number of new cases and deaths clearly on the decline, the New York Times has pointed out that if we exclude the data from the New York metro area, the number of new cases and deaths in the US is actually still increasing.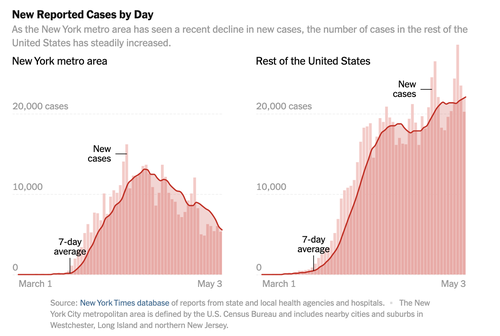 To be sure, most of the primarily southern states that are reopening - Georgia, Texas - are still nowhere near full capacity. The NYT argues that this trend suggests the US will see an explosion of new cases as the reopenings immediately ignite a second wave. Fortunately, it seems a wide majority of Americans are still afraid of catching the virus - even if they think the government's economy-crushing response has been unreasonably heavy handed.
*        *         *
Update (0820ET): As we apparently neglected to mention earlier, US drug giant Pfizer kicked off a major vaccine study on Tuesday, administering the first doses of its experimental treatment to test subjects, as Dr. Gottlieb reminds us.
Pfizer begins U.S. safety trials with their covid19 vaccine candidate. https://t.co/ELFG1VewrU

— Scott Gottlieb, MD (@ScottGottliebMD) May 5, 2020
Before we go, the UK has once again overtaken Italy as the country with the highest official death toll in Europe with 32,000 deaths as Italy's outbreak slows markedly while the UK's progress has been somewhat less notable, per Reuters.
*        *         *
Last night, we reported that the number of confirmed coronavirus-linked deaths around the world had surpassed 250,000. The astronomical new milestones reached over the past week - the number of 'confirmed' cases topped 3 million while deaths topped a quarter-mil - belie the reality that from Asia, to Europe to the US, restrictions on personal movement and business activity are being rolled back.
One of the biggest news stories of the week so far is an NYT report citing 'projections' ordered by the CDC showing the number of deaths doubling to 3k/day by next month. The NYT cited this as evidence that the push to reopen is premature, even as the CDC and the researchers at Johns Hopkins who compiled the projections played down their importance and predictive qualities.
Expanding on those criticisms, former FDA Director Dr. Scott Gottlieb explained that the projection is mostly meaningless during an appearance on CNBC's "Squawk Box". Gottlieb explained that considering how far we are into this outbreak, it's surprising how little researchers know for certain about the virus.
"What they do is they work with outside academic groups - and in this case they worked with a group at Hopkins that was under contract. This was one of a number of different runs that the Hopkins researchers came up...it's not at all clear that this is a definitive model...of what might happen," Gottlieb said.
On the other hand, Gottlieb added that the 3,000/day death toll projection isn't the worst that he's seen.
"No, from what I've heard is there were others that were worse. As we start to reopen the economy more - you saw airline travel pickup Friday for the first time in 30 days - they're going to pick up. We are going to have a background of spread, and we are going to have to figure out what that looks like," Gottlieb said.
Whether the US manages to start reopening without a massive surge in deaths is going to depend on a number of factors, Gottlieb explained.
"I think the issue going forward is going to be 'where can you go to get tested?' - but if you get to the point where doctors don't want to run these tests because if you get a positive result you need to deep clean the office and quarantine your staff," Gottlieb said.
Moreover, Dr. Gottlieb explained that the US outbreak actually hasn't been subsiding. Most of the nationwide "progress" is largely due to the success that New York State has had bringing its outbreak - the worst of any state in the US - to heel. If one were to 'back out' the New York numbers from the national data, Gottlieb explained, the picture they paint is considerably less rosy. "You certainly can't conclude that the epidemic has reached its peak..." Gottlieb said.
Despite worries about a 'second wave', the US and EU4 - Italy, Spain, France and Germany -  have continued to push toward reopening, Russia has continued to move in the opposite direction. According to Reuters, the number of new coronavirus cases reported in Russia on Tuesday has risen by 10,102 over the past 24 hours, compared with a record 10,581-case jump the previous day. Over the last 72 hours, Russia has confirmed some 30k+ cases, bringing its total confirmed caseload to 155,370, along with 1,451 deaths, with many more cases likely still unconfirmed, Reuters reported.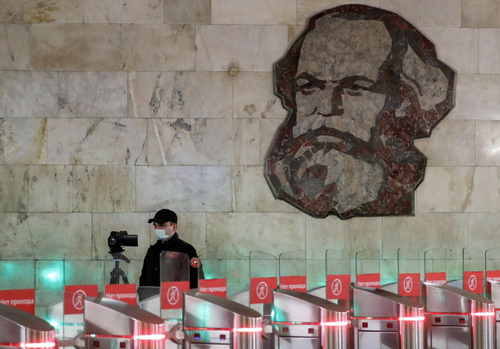 New York Governor Andrew Cuomo and California Gov Gavin Newsom took the public by surprise yesterday when they each announced plans to speed up the phased reopening in their states. Cuomo ordered local officials to start preparing "now" for May 15, when New York's reopening is expected to start. In California, Gov Newsom - who just last week said it was too early to speculate about a reopening date - said that some more retail businesses in his state would reopen by the end of the week. Germany's provincial leaders reportedly agreed during a phone call with Merkel on Tuesday to reopen more businesses and allow more students to return to class. On Tuesday, Germany reported a fifth consecutive decline in the number of new cases being confirmed.
On Tuesday morning, the biggest news out of the US pertained to a vaccine trial run by Pfizer: the drug giant said Tuesday that the first patients participating in Pfizer's massive vaccine trial have been dosed. The study will examine the efficacy of four trial drugs.
The number of new coronavirus cases confirmed in Germany declined for the fifth day in a row on Tuesday, assuaging concerns about a recent uptick in Germany's rate of viral spread seen after it started allowing some more businesses to reopen.
Hong Kong's government said Tuesday it would further relax restrictions on public gatherings and allow gyms, cinemas and beauty parlors to re-open by the end of the week as the flow of new coronavirus cases slows to a trickle, with practically every new case found to be imported, rather than locally transmitted.
Australia and New Zealand said efforts to resume travel between the two countries would take some time, as they cautiously re-open their mostly shuttered economies after containing outbreaks of the novel coronavirus.
A team of analysts at Goldman Sachs published a research note yesterday arguing that Sweden's strategy for confronting SARS-CoV-2 likely couldn't be replicated in the EU and the US. Well, on Tuesday, Sweden's chief epidemiologists said the country may have had its first case of the virus as early as November.
As far as we know, local authorities in Wuhan weren't even aware of the outbreak in November.
Over the past few weeks, we've seen more evidence suggesting that domestic spread of SARS-CoV-2 had started in US and other countries as early as January. We can't help but wonder: if accurate, this would cast the battle against the virus in a whole new light.