---
China Hid Severity Of Coronavirus To Hoard Supplies, New Intelligence Shows: Live Updates
Summary:
Russia reports 4th straight record new cases
Spain sees lowest deaths since March 18
Zimbabwe asks IMF for $2 billion rescue loan
Moscow Mayor warns 2% of city likely already infected
NYPD issue 'dozens' of summonses, make several arrests for 'social distancing' violations
New York case total: 316,415
Roche receives emergency auth from FDA for COVID-19 tests
MIT study says only 1/3 Chinese KN95 masks work as well as US N95s
New Intel leak says US believes China lied about the virus to buy time to grab up PPE
New Jersey reports another~200 deaths
Northeastern states join together to buy PPE
LA County coronavirus cases pass 25k
Pompeo doubles-down in a tweet
Niger reports polio outbreak as vaccinations halted
UK, NY see lowest deaths in weeks
France's controversial 'StopCovid' app nearly ready
Boris Johnson names son after doctors who saved his life
Global COVID-19 confirmed cases passes 3.5 million
*        *        *
Update (2000ET): Though the number has no actual bearing on reality, President Trump said Sunday evening that he expects between 75,000 and 100k deaths from COVID-19 in the US, goal posts that have been steadily moved higher, eliciting howls of anger from liberals, even as the rate of doubling slows and states begin reopening.
Trump says we're going to lose anywhere from 75,000-80,000 to 100,000 people, then, a bit later, says it's 80,000 or 90,000. He's steadily moved the number up from the 50,000-60,000 total he cited on April 20.

— James Mitchell Ⓥ (@MesMitch) May 4, 2020
*        *        *
Update (1750ET): Across the five boroughs, police are busy writing tickets, issuing summonses and - in at least a few cases, we're told - making arrests.
While the Americans who are able enjoy a beautiful Sunday in the sun, here are a handful of the most important coronavirus-related headlines from the last few hours;
The number of coronavirus cases in LA County surged past 25,000 Sunday as public health officials confirmed another 791 cases, along with another 21 deaths, the Baldwin Park, CA Patch reports.
There are now 25,662 cases of COVID-19 and 1,229 deaths related to the disease caused by the virus, according to the Los Angeles County Department of Public Health.

"The people lost to COVID-19 are mourned by all of us in L.A. County, and to their loved ones, we wish you peace and healing," Barbara Ferrer, the county's public health director, said Sunday.

As has been the case throughout the pandemic, 92% of the people who died from the virus had underlying health conditions, and the virus continued to have a slightly disproportionate impact on communities of color.

For the 1,121 deaths for which data was available, 38% were Latinx, 29% white, 19% Asian, 13% black and 1% Native Hawaiian or Pacific Islander, according to the Los Angeles County Department of Public Health.

The confirmed cases include 745 in Long Beach and 417 in Pasadena, which have their own health departments.

Los Angeles County continues to represent about half of the cases and deaths across the state. Officials in Sacramento reported Saturday that the state had 53,616 cases and 2,215 deaths.
New York on Sunday reported another 3,438 new cases of coronavirus, slightly higher than the recent average, as well as the 280 new deaths we mentioned earlier (the lowest single-day total in weeks). That brought New York's total to 316,415 cases and 19,189 deaths.
And as more states prepare to reopen during the coming week, Mississippi Gov. Tate Reeves on Sunday defended the steps his state has taken to reopen its economy despite not meeting the White House guidelines recommendation of 2 weeks of declining cases. Mississippi reported its largest single-day total of new cases on Friday, with 397. Gov Tate argued this was an "anomaly" and that his state simply hasn't seen enough cases to warrant continuing with the lockdown.
"You have to understand that Mississippi is different than New York and New Jersey," Reeves said on "Fox News Sunday." "What we have seen is for the last 35-40 days, we've been between 200 and 300 cases without a spike. Our hospital system is not stressed, we have less than 100 people in our state on ventilators."
Watch a clip from the show below:
The governors of NJ, Conn., NY and several other northeastern states (remember that whole alliance thing?) announced on Sunday that they were forming a consortium to buy PPE together.
Combining the efforts several states into a regional purchasing initiative will help our states obtain needed PPE, tests, and other medical equipment without competing against each other.

Thanks to our neighbors in NY, NJ, RI, MA, PA, and DE for joining us in this initiative. https://t.co/yRKBrcMlWr

— Governor Ned Lamont (@GovNedLamont) May 3, 2020
New Jersey Gov Phil Murphy congratulated New Jerseyans for "behaving" this weekend after he opened the parks for what was expected to be a beautiful day. However, Murphy said if he gets reports of "bad behavior" or if cases spike over the next 2 weeks, he "won't hesitate" to close the parks again.
Across the state, hospitalizations continued to decrease while the rate of doubling of new cases continued to slow.
UPDATE: We've received 2,912 additional positive #COVID19 test results, bringing our statewide total to 123,717. pic.twitter.com/xy2Fn9qos0

— Governor Phil Murphy (@GovMurphy) May 2, 2020
Unfortunately, even with the positive trends we're seeing, we continue to lose too many residents to #COVID19.

With heavy hearts, we must report an additional 205 deaths from among our New Jersey family.

We've now lost 7,742 blessed souls to this virus. pic.twitter.com/j57wNMcIwn

— Governor Phil Murphy (@GovMurphy) May 2, 2020
On Sunday, health officials in Beijing reported just 2 new cases for the entire country over the last 24 hours - one of which was imported. That was great news for China, but you know what wasn't so great? The results of an MIT study, published Sunday, finding only one-third of Chinese KN95 masks work as effectively as N95 masks.
All this comes following another US intel leak to the AP claiming something many already widely suspected: Chinese leaders lied about the outbreak during the early days to buy time to grab up all the PPE and other critical supplies to ensure the safety of the Chinese people, while leaving the rest of the world to fend for itself.
This hoarding behavior was behind the global shortages of PPE that left hundreds of thousands of medical professionals working with garbage bags instead of gowns and ineffective clothe masks. Thousands contracted the virus and hundreds of health-care workers died unnecessarily all around the world because China chose to hoard supplies.
Which also means Beijing could have said a lot more than they did about how widespread the virus might already be, which is why we're only just now finding out that there was community spread in the US as early as January.
China didn't just stock up on PPE being produced in the country; officials ordered PPE being manufactured all across Asia and cleaned them out.
U.S. officials believe China covered up the extent of the coronavirus outbreak — and how contagious the disease is — to stock up on medical supplies needed to respond to it, intelligence documents show.

Chinese leaders "intentionally concealed the severity" of the pandemic from the world in early January, according to a four-page Department of Homeland Security intelligence report dated May 1 and obtained by The Associated Press. The revelation comes as the Trump administration has intensified its criticism of China, with Secretary of State Mike Pompeo saying Sunday that that country was responsible for the spread of disease and must be held accountable.

The sharper rhetoric coincides with administration critics saying the government's response to the virus was slow and inadequate. President Donald Trump's political opponents have accused him of lashing out at China, a geopolitical foe but critical U.S. trade partner, in an attempt to deflect criticism at home.

Not classified but marked "for official use only," the DHS analysis states that, while downplaying the severity of the coronavirus, China increased imports and decreased exports of medical supplies. It attempted to cover up doing so by "denying there were export restrictions and obfuscating and delaying provision of its trade data," the analysis states.

The report also says China held off informing the World Health Organization that the coronavirus "was a contagion" for much of January so it could order medical supplies from abroad — and that its imports of face masks and surgical gowns and gloves increased sharply.
All of this comes as Beijing once again trades rhetorical barbs with Secretary of State Pompeo, who told ABC on Sunday that US intel agencies have "enormous evidence" that SARS-CoV-2 likely leaked from a biolab in Wuhan.
The secretary doubled down in a tweet sent 3 hours ago from his official account.
The Chinese Communist Party continues to block access to the Western world, the world's best scientists, refusing to cooperate with world health experts, to figure out exactly what happened. This unacceptable during an ongoing threat, an ongoing pandemic. pic.twitter.com/qa156CfTAB

— Secretary Pompeo (@SecPompeo) May 3, 2020
More Republicans have embraced the "China hawk" position since the advent of the outbreak...for obvious reasons. Speaking Sunday on Fox News Channel's "Sunday Morning Futures" with Maria Bartiromo Ted Cruz said he believes China "is the most significant geopolitical threat to the United States for the next century."
China's efforts to fabricate its economic resurgence narrative has come under a lot of pressure this weekend. In Italy, the Italian press has been pushing back against reports in Chinese press claiming Italians have been chanting "Grazie Cina" over Beijing's "donations" of PPE and other assistance in fighting the virus.
Classic.

Consumer confidence is collapsing in most major countries in Asia Pacific, but not in China.

Fabricated data.…. CCP at its finest. pic.twitter.com/VslzmXKer3

— Otavio (Tavi) Costa (@TaviCosta) May 1, 2020
Finally, Bloomberg reports that the EU Commission will not unveil its proposal for a recovery fund this week as expected...extending the interminable delay for a recovery package that Christine Lagarde warns was needed yesterday.
Just imagine what will happen to the euro area when there are no tourists across the periphery nations this summer and fall?
*        *        *
Update (1345ET): The UK Department of Health and Social Care just confirmed the death-toll figures we reported earlier, as well as the latest batch of new cases.
As of 9am 3 May, there have been 1,206,405 tests, with 76,496 tests on 02 May.

882,343 people have been tested of which 186,599 tested positive.

As of 5pm on 02 May, of those tested positive for coronavirus, across all settings, 28,446 have sadly died. pic.twitter.com/801yyNWcr3

— Department of Health and Social Care (@DHSCgovuk) May 3, 2020
Update (1312ET): As we reported yesterday, the NYPD dispatched some 1,000 additional officers to patrol city parks on Saturday and issue tickets to anyone found barbecuing, drinking and violating social distancing rules prohibiting "crowds".
And while the chief of police said he hoped no summonses would be issued, given the vast drop in city coffers, it appears the cops went on a ticketing frenzy, issuing dozens of summonses for lax social-distancing in city parks on Saturday, the nicest day of the year so far, as shell-shocked New Yorkers emerged from their shells.
"In parks specifically yesterday, we issued 43 summonses," Shea said Sunday in a joint press briefing with Mayor Bill de Blasio.

An additional eight summonses were issued outside of parks for a total of 51, said Shea, who noted that while "not every single one" of the write-ups was for failing to maintain a social distance "the majority were."
In addition to the summonses, the NY Post reported that three arrests were made citywide.
Meanwhile, although JHU hasn't gotten there yet, at least one tally of international confirmed cases is saying we've passed the 3.5 million mark.
NEW: Number of confirmed coronavirus cases has reached 3,500,000 worldwide.

— Norbert Elekes (@NorbertElekes) May 3, 2020
*        *        *
Update (1200ET): The UK reported 315 new coronavirus deaths on Sunday, its smallest daily increase in more than a month, bringing its countrywide total to 28,446.
In NYC, Mayor de Blasio said during his Sunday briefing that the "vast majority" of New Yorkers are complying with social distancing rules (obeying social-distancing rules, despite flocks of people who went outside this weekend to enjoy the early spring weather. The city issued a total of 43 summonses in parks and eight outside.
The city is a step closer to performing its own coronavirus tests, the mayor said. He said that by Friday 30,000 swabs for testing would be ready, ramping up to 50,000 full tests later this month.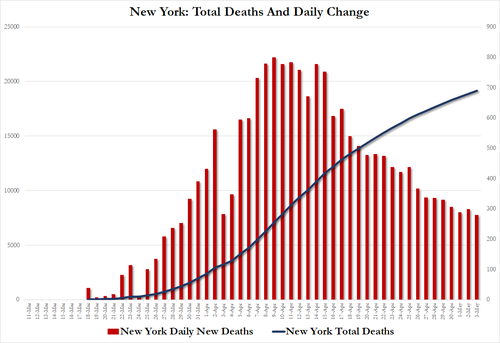 In Albany, Gov Cuomo is starting his Sunday press briefing by reporting 280 new deaths over the last 24 hours, the lowest number since March 30. The hospitalization rate has also fallen again.
Holding a briefing with updates on #Coronavirus. Watch Live: https://t.co/5IukEpYock

— Andrew Cuomo (@NYGovCuomo) May 3, 2020
The governor announced plans to sign a law requiring all hospitals in the state to have 90 days worth of PPE on hand at all times.
NEW: New York State will require all hospitals to have on hand a 90-day supply of PPE at quantities sufficient to meet the rate of use during the worst of this crisis.

— Andrew Cuomo (@NYGovCuomo) May 3, 2020
"Those who don't learn from history are doomed to repeat it."

The 1918 Influenza Epidemic lasted over 10 months and came in three waves.

The 2nd wave was worse than the first wave.

We must be cautious. The war isn't won yet.

— Andrew Cuomo (@NYGovCuomo) May 3, 2020
Italy also saw some good numbers today, reporting its lowest number of deaths since early March.
BREAKING: Italy reports 1,389 new cases of coronavirus and 174 new deaths.

Total of 210,717 cases and 28,884 deaths.

— Norbert Elekes (@NorbertElekes) May 3, 2020
NEW: Number of recovered coronavirus patients in Italy has reached 80,000.

— Norbert Elekes (@NorbertElekes) May 3, 2020
Continuing the trend of both deaths and new cases declining, along with net hospitalizations and...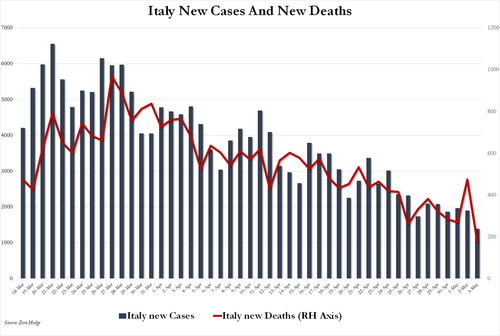 ...yet another day where the number of recovered patients outnumbered the newly diagnosed.
NEW: For the 7th time since coronavirus outbreak, Italy has reported more new recovered patients than new cases.

— Norbert Elekes (@NorbertElekes) May 3, 2020
NEW: Number of recovered coronavirus patients in Italy has reached 80,000.

— Norbert Elekes (@NorbertElekes) May 3, 2020
Singapore reported a good number.
NEW: Singapore reports 657 new cases of coronavirus, 18,205 cases in total.

647 of new cases are foreigners.

— Norbert Elekes (@NorbertElekes) May 3, 2020
And Portugal also reported its best numbers in 6 weeks as it prepares to reopen on Monday.
NEW: Portugal reports 92 new cases of coronavirus, 25,282 cases in total.

Portugal's lowest increase since March 16.

— Norbert Elekes (@NorbertElekes) May 3, 2020
NEW: Portugal ended coronavirus state of emergency, begins reopening on Monday.

— Norbert Elekes (@NorbertElekes) May 3, 2020
As more doctors around the world warn about the dangers of halting vaccination campaigns - particularly in impoverished parts of the developing world - to focus on the coronavirus, Niger has reported its first outbreak of polio this year as vaccinations were rolled back.
AFRICA: Niger reports new polio outbreak after vaccination suspended during coronavirus pandemic. - WHO

— Norbert Elekes (@NorbertElekes) May 3, 2020
Letting its vaccination programs lapse is just the latest blow to the WHO's credibility.
Before we go: According to JHU, we;re only about 50k confirmed cases away from the 3.5 million mark. The latest number was 3,452,285.
*        *        *
Every day, it seems, Russia sets a new record for the largest number of new COVID-19 cases confirmed in a day. As we reported yesterday, Health officials in Moscow announced more than 9k new cases. On Sunday, they announced more than 10k new cases, another record sum. In the span of just two weeks, Russia has gone from having a relatively inconsequential number of positive cases to housing one of the largest outbreaks in the world. Of course, the infections didn't just happen overnight. It's merely the latest evidence that by the time Russia closed its Far Eastern border back in January the seeds of domestic transmission may have already been planted.
That would jive with evidence that the first COVID-19 death in the US might have occurred as early as Feb. 6, meaning parts of New York, California and Washington were probably already suffering from local human-to-human transmission.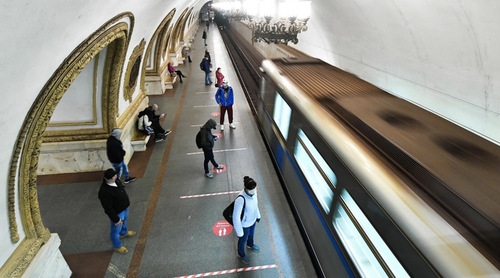 Russia added 10,633 cases of Covid-19, the highest daily number for the nation so far, increasing for a fifth day in a row. The total number of cases has risen to 134,687, according to the government's virus response center. Around a half of the new cases are asymptomatic and Moscow accounts for nearly 56% of new infections. Russia's total Covid-19 fatalities rose to 1,280.
As the Guardian reported, Moscow's mayor warned on Saturday that up to 2% of Moscow's population may be infected, as hospitals in the Russian capital were overwhelmed and another top government tested positive. If Mayor Sergei Sobyanin's projection is correct, that would mean more than 240,000 Muscovites have already been infected, 4x the official number.
Russia confirmed 10,633 new coronavirus infections Sunday, bringing its countrywide total to 134,687and marking a new one-day record increase. Russia is now the seventh most-affected country in terms of infections, having surpassed China, Turkey and Iran last week. Roughly 1,280 deaths have been confirmed countrywide. More than half of the confirmed cases are in Moscow or the surrounding area. Sunday's increase was Russia's fourth record-day jump in a row.
After announcing that Russian PM Mikhail Mishustin, on Friday authorities announced the housing minister was the latest top official to test positive. Vladimir Putin has not been pictured in public for nearly a month and is working from his residence outside Moscow.
Hospitals in the capital are already at capacity, with television footage showing ambulances forced to wait for hours to deliver the infected.
As Moscow's hospital system groans, anger is rising across Russia. Recently, the government shuttered two dozen hospitals for quarantines, with many doctors falling sick. Russian independent media and non-governmental organizations have reported anonymous pleas from outraged medical workers who said they had been ordered to the frontlines without adequate protection.
Across the world, the number of 'confirmed' coronavirus cases has climbed to 3.5 million, with hundreds of thousands - potentially even millions - of cases likely uncounted. The number of deaths, meanwhile, is slowly approaching 250,000 (it stood at 244,239 as of Sunday morning). During it annual meeting, the IMF said it had set aside $1 trillion of lending capacity to help emerging-market member states particularly hard hit by the pandemic and some of the ramifications for global financial conditions (negative prices on oil futures, the rapidly strengthening greenback, etc.). 189 countries are members of the IMF, and so far, mostly South American states like Ecuador have asked for large bailouts.
But on Sunday, the FT reported that Zimbabwe had asked for a loan to help clear billions of dollars in debt and avoid an economic collapse. The FT cited a letter from Finance Minister Mthuli Ncube to the IMF.
Zimbabwe is about $2 billion behind on payments to lenders, including the World Bank and African Development Bank, and has been excluded from emergency loans from international institutions, the newspaper said.
Following reports that it planned to roll back some lockdown measures, Singapore said Sunday that companies with employees who can work from home will probably be asked to continue doing so even after the country's partial lockdown ends on June 1, while sectors like manufacturing should prepare for a gradual reopening in the coming weeks, Singapore's Trade and Industry Minister said.
After successfully blocking the president's businesses from receiving any government assistance, political opponents of President Trump have now succeeded in preventing Trump's friends and associates - no matter how tenuous the connection - from benefiting from the program. For example, Texas hotelier Monty Bennett, whose companies are among the biggest known recipients of rescue loans for small businesses hurt by the pandemic, said he will return the money. Bennett is a major Trump donor.
On the pharmaceutical front, as the debate over remdesivir's effectiveness rages, Roche said it received authorization from the FDA for its Elecsys coronavirus antibody test. The test, designed to determine if a patient has developed antibodies against the virus, has a specificity greater than 99.8%.
There were 164 new fatalities, bringing total deaths to 25,264, according to Health Ministry data. That compared with 276 daily fatalities reported Saturday. Total infections rose by 838 to 217,466, down from the previous increase of 1,147. The figures include adjustment on how previous new cases were counted in certain regions, the ministry said.
During a Sunday morning interview with CNN's Jake Tapper - building on Fed Chairman Jay Powell's exhortation for the federal government to push through more stimulus - on its "State of the Union" program, Larry Kudlow was pressed to explain why Congress doesn't just plow ahead with more stimulus.
"Waiting any further - does it make any sense?...There's a real need, we need more money in that program," Tapper said. The confrontational interview followed a CNN report claiming the second round of the 'PPP' had delivered 2.2 million small business loans worth an aggregate $175 billion.
Circling back to Europe, the controversial app - known as StopCovid - that France is developing to trace those who could be infected, known as StopCovid, could be ready by the end of May, the government spokeswoman Sibeth Ndiaye told France Inter Sunday. That would be after France starts lifting its lockdown, from May 11, though the government also announced plans to try and extend its 'state of emergency' order until July.
Aside from a few one-off spikes, France has seen deaths and new cases mostly flatten in recent weeks. The country's total case number stands at 130,979 while its death toll is less than 2k at 1,953.
Having returned to work after his struggle with the virus, UK PM Boris Johnson sent a message of encouragement to his supporters... 'We will beat this together'.
If you keep going in the way that you have kept going so far, we will come through this all the faster and the United Kingdom will emerge stronger than ever before. pic.twitter.com/e3xaYF1XEt

— Boris Johnson #StayHomeSaveLives (@BorisJohnson) May 3, 2020
He also announced that he would be naming his newborn son after the two doctors who saved his life during his struggle with the coronavirus.
Johnson's fiancee Carrie Symonds announced their child's name, Wilfred Lawrie Nicholas Johnson, in an Instagram post on Saturday. The baby was born last Wednesday.
Finally, Spain reported 164 new fatalities over the last 24 hours, compared with 276 for the prior day, bringing the country's death toll to 25,264, according to Health Ministry data. That marked the country's lowest single-day death toll since March 18. Spain counted 838 new cases, bringing its total to 217,466. According to Bloomberg, the figures reflect adjustments made to older cases.