---
Russia Strikes US-Backed Fighters In Syria Near American Base
Authored by Dave De Camp via AntiWar.com,
Russia announced on Friday that it conducted an airstrike against a group of US-backed militants in Syria near al-Tanf, a US military base located in the south of the country.
Russia said it targeted Liwa Shuhada al-Qaryatayn (ShQ), a group that has fought against the government of Syrian President Bashar al-Assad. Moscow said the Russian Aerospace Forces "identified and destroyed" a group of ShQ militants.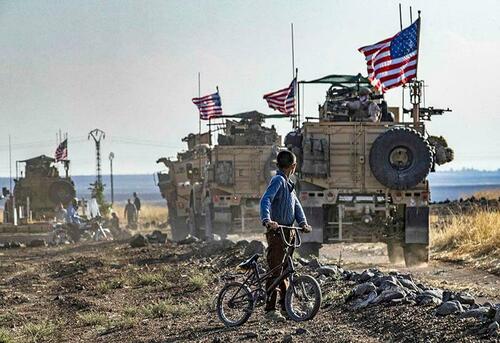 "This terrorist group is based in the Al-Tanf zone, supplied and trained by instructors from the US Army Special Operations Forces," the Russian Defense Ministry said. "Operating from the desert, the Liwa Shuhada al-Qaryatayn militants carried out acts of sabotage against the civilian population and civilian infrastructure in Syria."
The Pentagon confirmed that the strikes took place in comments to Newsweek, but didn't provide any details. US Central Command told Newsweek that "CENTCOM is aware of the strike, but does not have information to provide to you on this."
The US was said to cut off support for ShQ in 2017. In 2018, the group was said to be relocating from the southern area near al-Tanf to northern Syria.
The strikes mark the second time that Russia has targeted US-backed fighters near al-Tanf. Back in June, Russia targeted Maghawir al-Thawra, formerly known as the New Syrian Army. Russia notified the US before launching the strikes on Maghawir al-Thawra, which targeted buildings the group was using at al-Tanf.
U.S. sanctions target efforts to rebuild Syria's electric grid.

This has cascading harm on civilian life - usually hurting the most vulnerable, women & children, the most

The UN has just put the gory details into a report for those who remain convinced sanctions will do good. https://t.co/gVMHldTXpx

— Joshua Landis (@joshua_landis) August 7, 2022
The notification came through a deconfliction line that the two powers have been operating for years to reduce the chance of a miscalculation in Syria. 
US officials told CNN in June that they didn't believe Russia's reasoning for the initial strike and that Moscow was instead trying to "send a message" that it can conduct such an operation without retaliation. Either way, these incidents highlight the danger of the US military presence in Syria, where it maintains an occupation force of about 1,000 troops.