---
Russian Cruise Missiles Destroyed In Drone Attack On Crimea Amid Xi Visit, Ukraine Says
Ukraine's defense ministry on Tuesday has touted the Monday night destruction of Russian cruise missiles which were stationed in Crimea. Videos posted on social media showed a series of explosions in the northern part of Crimea, centered on the town of Dzhankoy, a key logistics hub through which a railway line runs.
The Ukrainian military is saying that a shipment of Russian Kalibr cruise missiles was successfully destroyed in what appears to have been a drone attack. While not directly owning up to the operation, Kiev is hailing the 'mystery' attack deep inside Russian-held territory.
"The mysterious series of blasts continues the process of Russia's demilitarization and prepares the Ukrainian peninsula of Crimea for de-occupation," a statement Ukrainian Military Intelligence said.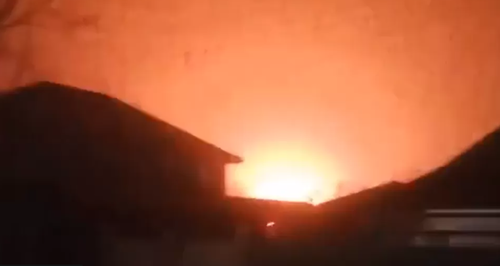 Russian media sources indicated a "night attack by Ukrainian drones" on a technical school as well as residential areas. Up to five locations were reportedly targeted, the Russian media sources also claiming they were all shot down - though little can be confirmed. According to a description in BBC:
Dzhankoi has been used by Russian forces as a rail hub between Crimea and other areas of occupied Ukraine. Russian TV reports said that Tuesday's strike had not caused any damage to rail infrastructure.

Russia's investigative authority said a residential building and a shop were damaged, according to initial findings. All the targets were civilian, it claimed.
The overnight attack seems to be Kiev's "answer" to President Putin's surprise visit to Sevastopol over the weekend, where he toured sites and met with Sevastopol governor Mikhail Razvozhayev on the 9th anniversary of Kremlin joining Russia after the 2014 'popular referendum' (which Ukraine and the West calls an 'illegal' annexation).
The timing of the provocative drone attack operation on Crimea is also interesting given China's President Xi Jinping arrived in Moscow on Monday for the first time since the war began, meeting with Putin to discuss the Beijing-proposed peace plan.
⚡️Fragments of the drones that hit northern Crimea, looks like it hit a store of some sort. pic.twitter.com/ERmVjNLdc6

— War Monitor (@WarMonitors) March 20, 2023
On Tuesday it was announced that Xi has invited Putin to visit China at some point this year, which received a positive response.
Concerning the latest from the 3-day visit, TASS details, "On Monday he held a one-on-one meeting with Putin that lasted about 4 1/2 hours. Talks are scheduled to continue in the Kremlin after 3 pm on Tuesday. The leaders are expected to make statements for the press afterward."
Location of the fresh drone attack in northern Crimea...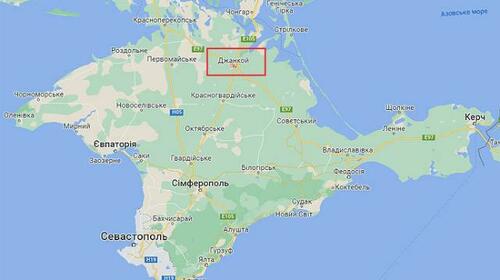 Loading...