---
Navalny Ends Prison Hunger Strike On Doctor's Advice
Just days after Alexei Navalny's legal team warned that the Russian political dissident could die at any moment, prompting western media outlets like Time Magazine to shriek about how the Russian regime was trying to kill Navalny in plain sight, the Kremllin critic has decided to end a 24-day Hunger strike, according to a post on his Instagram account.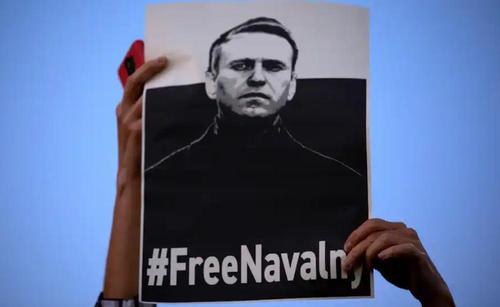 In his statement, Navalny (or whoever was writing the post with Navalny in prison) started with a reference to "Alice in Wonderland", before claiming that a team of doctors had recommended that he end the strike, which he agreed to do, reasoning that he had accomplished enough (after inspiring a wave of protest rallies in Russia that were closely followed by Western media outlets). Navalny was reportedly examined at a civilian hospital on Tuesday. And as we reported, five physicians affiliated with Navalny urged him to consider that medical care as sufficient for ending the hunger strike, according to a story published by Russia's independent Mediazona news outlet. He said in his Instagram post that he has now been examined twice by a panel of civilian doctors. He initially started the hunger strike in March because he said his jailers weren't meeting his demands for medical attention.
As Alice from "Wonderland" said: here you have to run to stay put. And to get somewhere, you have to run twice as fast.

I ran, tried, fell, went on a hunger strike, but all the same, without your help, I just broke my forehead.

With the tremendous support of good people across the country and around the world, we have made tremendous progress. Two months ago, they smirked at my requests for medical assistance, they did not give any medicines and did not allow them to be transferred. A month ago, they laughed in my face at phrases like: "Can I find out my diagnosis?" and "Can I see my own medical record?"

Thank you - now I have been examined twice by a council of civilian doctors. The last time was right before the rally. They do research and analyzes and give me the results and conclusions.

Doctors, whom I fully trust, issued a statement yesterday that you and I had achieved enough for me to lift the hunger strike. Well, and - I will say frankly - their words that the analyzes show: "in a minimum time there will be no one to treat" ... mmm ... seem to me worthy of attention.
Readers can find the post, published in Russian, below:
Navalny ally Leonid Volkov wrote in a social media post that the protests were what drove the authorities to seek an outside exam for Navalny and then provide the results to his medical team. Tatiana Moskalkova, the Kremlin's human rights ombudsman, said Wednesday that Navalny's life isn't at risk and that he's getting all necessary care including an intravenous drip after Russian authorities transferred him to a prison hospital in Vladimir, a city 180 kilometers (110 miles) east of Moscow, back on April 18
Russia's treatment of Navalny has angered the Biden administration, which threatened "consequences" for the Kremlin if Navalny were to die in prison. However, that didn't stop Russian President Vladimir Putin from being welcomed to Biden's international virtual climate summit, which entered its second day on Friday.