---
Putin's Request For Right To Use Military Abroad Approved In Russian Parliament
Russia's parliament moved to formalize the major decisions announced by President Putin, including on Tuesday the country's Federation Council unanimously ratifying what's been called "the agreements on friendship, cooperation, and mutual assistance with the Donetsk and Lugansk people's republics" submitted by Putin, according to state sources.
The successful ratification was reportedly met with senators breaking out in applause, and are said to be identical for both Donetsk and Luhansk. Heads of the breakaway Ukraine republics - Denis Pushilin and Leonid Pasechnik, respectively - signed the treaties, which stipulate that "the sides will build their relations as friendly states, being consistently guided by the principles of mutual respect of their sovereignty and territorial integrity and peaceful resolution of any disagreements".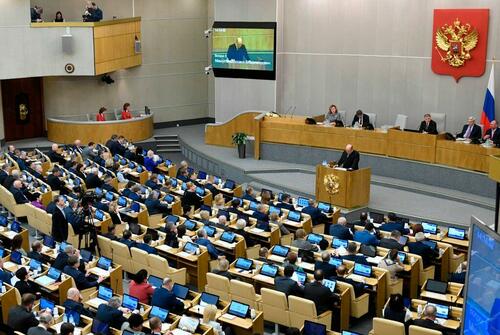 And crucially, Putin has also now formally requested of the upper chamber of the Russian parliament permission to deploy Russia's armed forces abroad. Overnight the Pentagon said it observed what the Kremlin has dubbed "peacekeeping" forces moving in the the Donbas regions. 
However, it's as yet unclear the degree to which significant numbers of troops are already on the ground across the Russian border. 
"The request has been already weighed by the Senate's committees, the Speaker of the Russian Federation Council, Valentina Matvienko, has said," according to Russian media. The meeting of Russia's senate was broadcast live, in what's becoming an ongoing 'live event' and bit of muscle flexing aimed at the West.
The Senate quickly issued official authorization for Donbas troop deployment. And in response NATO Secretary Jens Stoltenberg was quick to condemn what he called "the most dangerous moment in security in a generation."
Given that Putin has now warned Ukraine against escalating or attacking its forces which will soon pour into Donbas in large-scale formation, the question remains how the West will respond beyond possibly meager sanctions...
In the world of politics, Putin appears to be baiting Biden. If Biden pulls out of this weeks meeting, he walks out on diplomacy. If Biden attends and Putin invades further, Biden looks ineffective.

— RenMac: Renaissance Macro Research (@RenMacLLC) February 22, 2022
At the moment CNN is citing US officials who say Russia may still be prepping a broader "invasion" of Ukraine, but there's as yet no evidence for that.
"The US is still seeing preparations for a potential broad invasion including loading amphibious ships and loading equipment for airborne units."- CNN https://t.co/I7VMebK6PJ

— ELINT News (@ELINTNews) February 22, 2022
Additionally US Ambassador to the United Nations Linda Thomas-Greenfield was cited as saying the Donbas deployment is a "pretext for a further invasion". She said in a statement: "Russia's announcement is nothing more than theater, apparently designed to create a pretext for a further invasion of Ukraine."
* * *
Meanwhile the rhetoric from both sides continues to escalate, as speculation abounds over Putin's intentions...
⚠️Putin raises the prospect of the use of force against Ukraine.

"As to whether issues could be resolved by force, whether you can use force and stay on the side of good, why would you say that good forces should be helpless, or defenseless - good should not be defenseless"

— Intel Dispatches (@inteldispatches) February 22, 2022
Loading...