---
Russian TV Host Threatens Nuclear "Destruction" Of America
Authored by Paul Joseph Watson via Summit News,
A Russian TV host dubbed "Putin's chief propagandist" has threatened the nuclear destruction of America and NATO countries, asking, "Why do we need the world, if Russia isn't there?"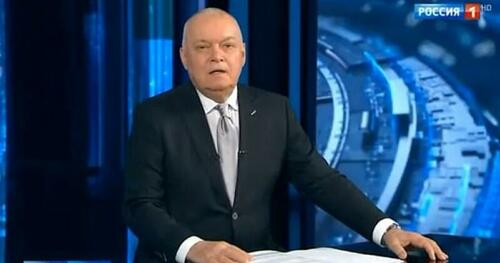 Dmitry Kiselyov made the comments on national television just hours after President Vladimir Putin put his nuclear deterrent forces on high alert.
"Our submarines can shoot more than 500 nuclear warheads," said Kiselyov, adding, "This would guarantee destruction of the USA, and all other NATO countries."
The TV host suggested that there was no point to life continuing on earth if Russia ceased to exist, asserting, "In accordance with the principle, why do we need the world, if Russia isn't there?"
Kiselyov went on to hype the strength of Moscow's nuclear arsenal, bragging, "Russia's nuclear arms are delivered by the world's fastest strategic bombers."
"That's without even mentioning Russian Strategic Missile Forces. The Russian nuclear potential is the strongest in the world."
Kiselyov also savaged British Foreign Secretary Liz Truss for suggesting that Russia's actions in Ukraine could spark a military confrontation with NATO.
"A conflict between Russia and NATO over Ukraine – nothing like this has been said before," he said.
Yesterday, Putin ordered his nuclear forces to adopt a "special regime of duty" in response to what he called "aggressive statements" from NATO leaders and economic sanctions.
NATO representatives labeled the move a dangerous escalation, with secretary general Jens Stoltenberg responding, "This is dangerous rhetoric."
*  *  *
Brand new merch now available! Get it at https://www.pjwshop.com/
In the age of mass Silicon Valley censorship It is crucial that we stay in touch. I need you to sign up for my free newsletter here. Support my sponsor – Turbo Force – a supercharged boost of clean energy without the comedown. Get early access, exclusive content and behinds the scenes stuff by following me on Locals.
Loading...