---
In Russia's 9th Large Missile Attack Wave This Month, Ukraine Claims Majority Intercepted
As we detailed previously, a large wave of Russian missiles targeted cities across Ukraine Wednesday night, it what appears an ongoing attempt to overwhelm Ukraine's anti-air defenses.
By Thursday morning it was confirmed that at least 30 cruise missile were launched against Ukraine in the overnight hours, resulting in one person killed and at least two wounded. But Ukrainian authorities are once again claiming to have shot down the vast majority of inbound missiles, with Ukraine's air force saying in a statement that 29 out of 30 of the missiles were intercepted. 
BBC and others have tallied that this is the ninth large wave of missile attacks launched by Russia this month alone. But the report notes that Ukraine has also been shooting down more, also just after deploying US Patriot missile systems - at least one of which has already been struck by the Russians.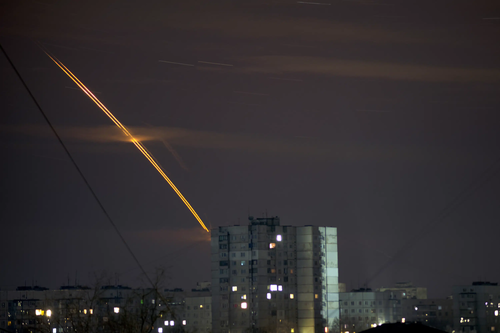 "So far in May, Russia has carried out four mass launches - two them between 16 and 18 May alone - compared to one each in April and March, and two in February," BBC details. "The last time Russia attacked with such intensity was in the period after New Year, when four attacks took place in quick succession between 31 December and 26 January."
Unconfirmed videos which circulated widely on social media showed a large-scale overnight attack in progress, including on targets as far south as Odessa on the Black Sea. 
But naturally, statements put out by Russia's defense ministry contradict the Ukrainian claim of the majority of missiles shot down: 
Russian forces hit Kiev's large foreign equipment and armament depots and army reserves with seaborne and air-launched precision weapons, destroying substantial weapon and ammunition stockpiles during the special military operation in Ukraine, Defense Ministry Spokesman Lieutenant-General Igor Konashenkov reported on Thursday.

"Last night, Russian forces delivered multiple strikes by seaborne and air-launched long-range high-precision weapons against large foreign armament and equipment depots and enemy reserves. The goal of the strikes was achieved. All the designated targets were hit. The strikes destroyed considerable stockpiles of the Ukrainian army's armaments and ammunition and thwarted the advance of reserves to the areas of combat operations," the spokesman said.
Russia has appeared to be particularly going after foreign arms shipments of late. For example, a weekend direct hit on what's reported to have been an arms depot close to Khmelnytskyi led to speculation that radioactive dust may have been released due to the possible presence of UK-supplied depleted uranium shells.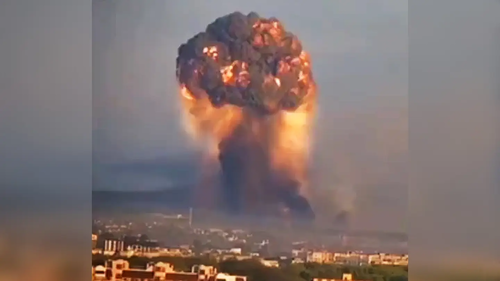 As for the ongoing fight for Bakhmut, Ukrainian officials have belatedly admitted that Russia is making progress in the town this week.
"Ukraine said Tuesday it had pushed Russian forces from the flanks of Bakhmut but conceded that Moscow's forces were pushing deeper inside the embattled town," according to The Moscow Times, following days of conflicting narratives on the battlefield situation.
Loading...