---
Russia's FSB Says Ukraine, West Are Recruiting Youth For 'Sabotage' Ops
In an unusual accusation, the head of Russia's FSB security service, Alexander Bortnikov, on Tuesday said that Ukraine and its Western allies are running a clandestine program to recruit young Russians to stage armed attacks.
"In the conditions of Russia conducting the special military operation, Ukrainian special forces and their Western curators have launched an aggressive ideological indoctrination and recruitment of our citizens," Bortnikov said before a meeting of the National Anti-Terrorism Committee held in Moscow.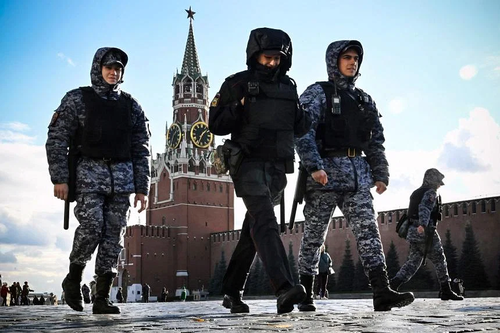 "Especially the younger generation, to involve them in sabotage, terrorist and extremist activities," he added, without citing any particular evidence.
The context he's believed to have been referencing is the cafe explosion which took the life of well-known Russian military blogger Vladlen Tatarsky on April 2nd. This happened after a young woman, now a detained suspect, handed him a figurine that was loaded with explosives. 
The Kremlin has also pointed the finger at supporters of jailed Putin critic Alexey Navalny for the blast which grabbed the world's attention, given it was clearly a sophisticated assassination. AFP notes however that:
He gave no details of the kind of supposed crimes these included, where they took place or who they targeted but alleged "the perpetrators were young people and teenagers, including minors".
The other major political assassination to have occurred on Russian soil connected to the war in Ukraine is that of 29-year old Daria Dugina, daughter of Putin ally Aleksandr Dugin. There was initial speculation suggesting that the explosion was a botched assassination attempt on Dugin himself that only ended up claiming the life of Darya as she drove his car after a festival in a Moscow suburb. 
The moment of an explosion in a cafe in St. Petersburg. Propagandist Vladlen Tatarsky held an event there. He is reportedly killed and six others were wounded. pic.twitter.com/lWijn522qN

— NOËL 🇪🇺 🇺🇦 (@NOELreports) April 2, 2023
Darya Dugina emerged from the wake of her father's intellectual influence as a political commentator who echoed Dugin's philosophical tenets. Dugina herself was a vocal supporter of the Putin government and its military intervention in Ukraine which she framed as the rejection of western expansion and influence into Eurasia. The Kremlin has pointed the finger at Ukrainian intelligence as well as the support of Western intelligence services for these terrorist attacks.
Loading...