---
Russia's Wagner Chief Accuses Defense Ministry Of Treason As Spat Widens
Going back to the battle of Soledar, when Wanger Group was reportedly the first to enter the city and claim victory for itself, there's been a widening rift between the mercenary outfit with links to Putin and the regular Russian military.
The rift widened this week in a spat which is going increasingly public, as Wagner's founder Yevgeny Prigozhin, often referred to as "Putin's chef", accused the defense ministry and its Chief of the General Staff of purposefully blocking badly needed munitions to Wagner fighters.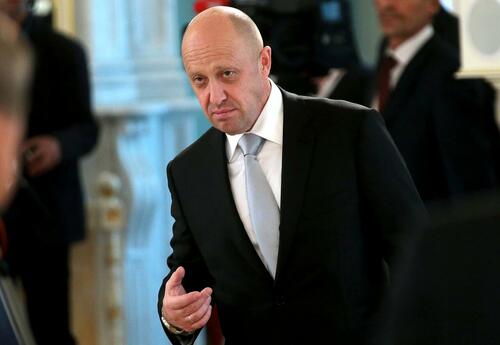 The defense ministery stands accused of ordering national forces to withhold munitions supplies, and to avoid assisting with any air transport.
"There is quite simply direct obstruction going on," Prigozhin said. He's ratcheted his rhetoric, provocatively going so far as to use the word "treason" applied to the high military chain of command, which is a first.
"This can be equated with high treason," he said, saying the lack of ammo supplies are to blame for his fighters "dying en masse." The blistering words which demonstrate a clear battlefield rift came in the form of a seven-minute audio message published Monday by Wagner's press service, wherein—
"...an apparently angry and emotional Prigozhin said he was required to "apologize and obey" to secure ammunition for his fighters. Speaking at times with a raised voice and occasionally swearing, he said: "I'm unable to solve this problem despite all my connections and contacts."

Prigozhin said Russia's military production was now sufficient to supply the forces fighting at the front and the supply difficulties his fighters were experiencing were the result of conscious decisions.

"Those who interfere with us trying to win this war are absolutely, directly working for the enemy," he said.
What's more is that Prigozhin is going straight after the generals and even Kremlin officials while appealing to popular discontent over the war's execution. His message is likely to reverberate more among Russian hawks. He said defense ministry officials were negligent while "eating breakfast, lunch and dinner off golden plates" and regularly send their family members off to vacation in Dubai.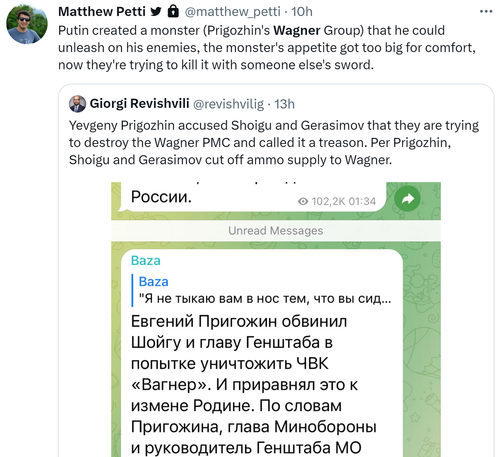 But Wagner has proven hugely controversial even among the hawks, given things like its policy of recruiting straight from Russian prisons - including individuals convicted of violent crimes - and in return promising them freedom.
Tensions also soared when Prigozhin and his officials said that it was Wagner alone which captured the salt mining town of Soledar, and without the help of regular forces. This was blasted by military brass, and seen as an attempt at self-promotion and and part of the firm raking in in money. Now, Wagner's leadership says there's a plot afoot to take down the organization.
Loading...