---
Russia's Wagner Goes On Recruiting Blitz, Opening Centers In 42 Cities
Despite ongoing tensions with the Russian Defense Ministry, private security firm Wagner is going on a recruiting blitz, fresh off battlefield successes in Ukraine's east, notably in Soledar and now Bakhmut. 
Head of the mercenary group and personal friend of Putin, Yevgeny Prigozhin, on Friday announced the openings of recruitment centers in dozens of cities throughout Russia. The firm's methods have come under controversy and scrutiny for the practice of recruiting from prisons, often sending violent convicts to the front lines and in return promising them freedom.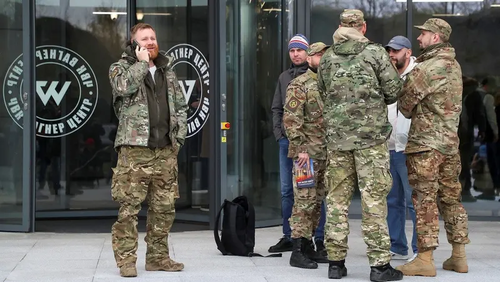 "Recruitment centers for PMC Wagner have opened in 42 Russian cities," Prigozhin announced. He described that sports centers and martial arts clubs in particular will serve as fresh recruiting grounds. 
"Despite the colossal resistance of the Ukrainian armed forces, we will move forward," the 61-year-old said. Prigozhin continued referencing rising tensions with the defense ministry: "Despite the spanners that they are throwing in the works at every turn, we will overcome this together," he said.
Internal military tensions were highest following the Russian victory over Soledar, given Wagner was the first to claim victory, but without acknowledging the role of the regular army. This led to unprecedented public criticism of Wagner, which is viewed by Russian commanders as increasingly going rogue and being uncooperative, as well as not 'playing by the rules'.
Prigozhin also within the last month lashed out at the military for not sharing ammunition even as Wagner fighters are often spearheading vital operations. After the dispute rose to the level of international media attention, it appears the Kremlin is officially distancing itself: 
Yevgeny Prigozhin, leader of the Wagner Group of Russian mercenaries, on Thursday said he has been cut off from all Russian government communication channels.

In a message posted on his Telegram channel, Prigozhin claimed he had been blocked by the Kremlin due to his public appeals for his Wagner troops to be provided with more ammunition.
Newsweek notes his words as follows: "In order to stop me from asking for ammunition, they turned off all special [government] phone lines in all of the offices and [Wagner] units ... and blocked all [my] passes to the agencies responsible for making decisions."
Wagner filmed a destroyed American M-113 from the 93rd UKR mechanized brigade. It appears some of those riding inside did not meet a good ending. pic.twitter.com/AhQctcyvJA

— Koba (@Roberto05246129) March 10, 2023
But the angry back-and-forth between Wagner and military officials is unlikely to let up anytime soon, given Prigozhin previewed his next actions: "Now I can only ask [for more supplies] through the media and... most likely will be doing just that."
Loading...