---
Saudi Arabia Makes Its Eurasian Shift
Authored by Agha Hussain via The Cradle,
Saudi Arabia's recent reconciliations with Iran and Syria under Chinese-Russian guidance is perceived as a step toward reducing Riyadh's dependence on the US, while also advancing Beijing and Moscow's political and economic influence in West Asia.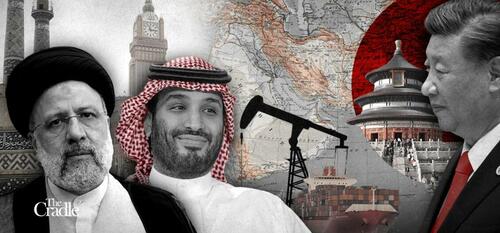 On 6 March, 2023, Iranian and Saudi officials held a meeting in Beijing where they agreed to restore bilateral relations. The agreement was significant not only for the mutual de-escalation of tensions in West Asia, but also for Saudi Arabia's growing importance in the process of Eurasian integration led by China and Russia.
By welcoming Chinese mediation, the kingdom has positioned itself as an independent actor capable of opening doors for Beijing and Moscow in a region where they have traditionally been overshadowed by a great power rival, the US. This move boosts Saudi Arabia's importance in the geopolitical landscape and strengthens its ties with Beijing and Moscow.
Asserting autonomy from the US
For much of its history, Saudi Arabia was a staunch ally of the US in the Persian Gulf region. However, Crown Prince Mohammed bin Salman's (MbS) military quagmire in Yemen – among other things – damaged Washington's perception of the kingdom as a stable and reliable outpost in the region. The feeling was mutual and forced MbS to seek assistance from other nations to help lower tensions on Saudi frontiers.
Between 2021 and 2022, Riyadh engaged in several rounds of an Iraq-hosted dialogue with Iran to negotiate assistance from Tehran in preventing its allies in Yemen and Iraq from attacking Saudi territory.
What is particularly noteworthy to China and Russia is that MbS did not use this diplomacy as a means to restore the US' traditional centrality in the kingdom's regional and security policies. Instead, he made a point of cooperation with Beijing and Moscow while simultaneously snubbing Washington.
For example, in October 2022, Saudi Arabia partnered with OPEC+ partner Russia to cut oil production, breaking commitments made to US President Joe Biden during his July visit to Jeddah. MbS also overshadowed Biden's trip with a much grander welcome for Chinese President Xi Jinping in December, during which Riyadh also hosted the first China-Gulf Cooperation Council (GCC) Summit to underscore the Saudi view of China as a regional partner rather than just a bilateral one.
Against this backdrop, the Saudi decision to sign a Chinese-brokered deal with Iran without Washington's involvement has been interpreted as a "middle-finger to Biden," in the words of former US State Department analyst Aaron David Miller.
Similarly, Riyadh's nascent Russian-brokered detente with Syria, whose Iran and Russia-allied government is still opposed by the US, also illustrates Saudi Arabia's willingness to move away from its traditional pro-American stance.
Moving the region eastward
To China and Russia, these moves by MbS signify more than just diplomatic victories over the US. They represent Saudi Arabia's support for their efforts to shape the dynamics in the Persian Gulf, where both Eurasian powers have hitherto kept a low profile on account of the decades-long western domination of the region – now on its way out.
Facilitated by Saudi Arabia, Beijing, and Moscow can engage the Persian Gulf as a bridgehead to expand their influence in the broader West Asian region and thus advance their Eurasian integration designs.
China, in particular, has taken the lead in this regard with its ambitious, multi-trillion-dollar Belt and Road Initiative (BRI). The Persian Gulf is already well integrated with the BRI thanks to the burgeoning Chinese-GCC energy trade and China's growing investments in industrial parks and ports across the GCC. However, the conflicts and disorder across the rest of West Asia have thus far hindered China's ability to make significant BRI investments in the region.
As noted in a March 2022 analysis for Inside Arabia, China views the stability of its economic interests in the Persian Gulf as essential to the success of its plans, and sees its Sino-GCC ties as a model for stabilizing the wider West Asia under the BRI. To this end, China has supported GCC-led conflict resolution efforts in Yemen and has also put forward its Five Point Initiative in March 2021, calling for region-wide stabilization efforts and the establishment of an indigenous security architecture.
In this context, the Iran-Saudi normalization deal is great news for China. It affirms Beijing's idea that its partnerships in the Persian Gulf can serve as a starting point for stabilization efforts for the whole of West Asia; after all, Tehran and Riyadh's rivalry played out far more in places like Yemen, Lebanon, Syria, Iraq, and Palestine than it did in the Gulf itself.
The Beijing Agreement was not only a positive development for China's BRI, but also for the Russian-led International North-South Transport Corridor (INSTC). Just as Moscow supports the BRI as a means of promoting multipolarity and decreasing US dominance, it has actively worked to advance the INSTC, which connects India by sea to Iran and then to northern Europe via Azerbaijan and Russia.
With the calming of tensions between Iran and Saudi Arabia, the INSTC stands to benefit from increased economic opportunities. Russia can explore possibilities such as increasing its own trade with the Persian Gulf via Iran through the INSTC and, further, with the rest of West Asia. Thus, the Iran-Saudi detente is good news for Russia's own connectivity projects and regional integration efforts.
Bolstering the SCO
On 29 March, 2023, Saudi Arabia announced its intention to become a dialogue partner of the Shanghai Cooperation Organization (SCO), an institution founded by China to foster multilateral security and diplomatic coordination on regional issues in Eurasia.
The SCO already includes China, Russia, India, Pakistan, Kazakhstan, Kyrgyzstan, Uzbekistan, and Tajikistan, covering China's immediate Eurasian neighborhood in Central and South Asia as well Russia.
With the ongoing accession of Iran as a full member of the SCO, Saudi Arabia's entry as a dialogue partner would bring two of the most important states in terms of conflict resolution in West Asia into the organization's ranks.
This is the kind of expansion of the SCO's membership, scope, and relevance that is sought by China and also Russia. Moscow has long viewed the SCO as an ideal platform to present a unified Sino-Russian front against US interests, with an early example of this being the SCO's July 2005 Astana Summit declaration demanding the withdrawal of US military presence from Central Asia.
Thus, an extension of the SCO's mandate to West Asian issues offers Moscow the opportunity to push for Sino-Russian cooperation against the US in West Asia as well, continuing in the spirit of their Eurasian partnership as enshrined in the SCO.
Riyadh's new horizons in Eurasia
Arguably, Saudi Arabia's move toward the SCO is highly advantageous to both China and Russia. By proving its utility to the latters' efforts for a bigger, more interconnected Eurasian community, the kingdom is also well-placed to pursue its own ends in Eurasia that pertain to Saudi national interests.
For instance, Saudi Arabia can double down on its plans for significant investments in Central Asia, a part of the Eurasian space that Russia closely monitors for any signs of activity by countries it sees as antagonistic to its Eurasian designs.
The Central Asian republics' attempts to diversify their economies away from oil and gas present lucrative investment opportunities to Riyadh as it seeks its own diversification beyond energy under the ambit of MbS' mega-project, Vision 2030.
Additionally, Saudi Arabia can leverage its elevated reputation with China and Russia to deter potential opposition from competitors to its moves in Eurasia. An example of this is Riyadh's investments in the Turkmenistan-Afghanistan-Pakistan-India (TAPI) gas pipeline project, a rival to neighboring Iran's own ambitions to penetrate the large South Asian gas market.
If Riyadh lacked a Eurasian understanding with Beijing and Moscow, Tehran – considered a vital Eurasian state – would be tempted to raise alarm over its dealings with Ashgabat, which also buys Saudi defense equipment.
The kingdom's Eurasian pivot
The move toward a more diversified foreign policy has been a relatively smooth transition for Saudi Arabia. Despite its major military failure in Yemen and resulting security concerns, the kingdom has been successful in finding new partners.
By embracing the Eurasian paradigm promoted by China and Russia, Saudi Arabia is able to fill the gaps exposed in its foreign policy after the breakdown of its strategic rapport with Washington in the region.
This ultimately presents flexibility for the kingdom to pursue its own national interests, while also contributing to the larger goal of a more interconnected Eurasian community.
Loading...