---
Saudi Foreign Minister Lands In Syria, Meets Assad, In 1st Since War's Start In 2011
This is the visit that Washington policymakers and establishment Middle East "experts" have been dreading, and signals that the West's proxy war to oust Assad is definitively over - at least in terms of the end of hawks and neocons' longtime hope of seeing Assad overthrown...
Saudi Foreign Minister Prince Faisal bin Farhan landed in Damascus on Tuesday for the first time since the start of the war in 2011.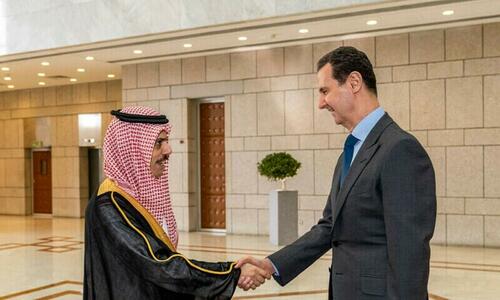 It's also an image that many thought would never happen, and paves the way for a possible future visit of Assad to Saudi Arabia, where he could eventually meet directly with King Salman or crown prince Mohammed bin Salman.
The high-level visit comes just following last week's "surprise" trip by Syrian Foreign Minister Faisal Mekdad to the kingdom. Clearly, relations are fast being restored and rumors are that the next move is for Assad to be invited back into the Arab League.
According to a summary of Tuesday's visit in regional news source Al-Monitor: 
Farhan was received by Syrian President Bashar al-Assad. The two discussed efforts towards finding a "political solution" to the Syria conflict that would "preserve Syria's unity, security, stability, Arab identity, and territorial integrity."

They also talked about the "return of Syria to its Arab fold and the resumption of its natural role in the Arab world," according to a statement from the Saudi Ministry of Foreign Affairs.
Already the United Arab Emirates (UA) had resumed relations with Syria in 2018. Other regional countries now seem to be lining up to restore normal relations.
📷 | pic.twitter.com/YxjC766s5T

— Foreign Ministry 🇸🇦 (@KSAmofaEN) April 18, 2023
For example, Tunisia and Syria agreed to fully restore relations last week, after a three-day visit of Syrian FM Mekdad to Tunis.
This wave of thawed relations between Assad and Arab states was without doubt helped to a large degree by the China-brokered peace deal between Saudi Arabia and Iran. Syria is Iran's closest ally in the Levant, and is also a hub of support to Lebanese Hezbollah. It's likely to complicate the US-brokered Abraham Accords, and may hinder recognition between Saudi Arabia and Israel. 
Loading...